Brownie Awards 2020
24nov3:00 pm5:00 pmBrownie Awards 2020
Event Details

The 2020 Brownie Awards will be held as an e-gala, presented live online on Tuesday, November 24th from 3:00p.m. to 5:00p.m. EST.

The Brownie Awards recognize the builders, innovators and visionaries who are dedicated to the rehabilitation of brownfield sites that were once contaminated, under-utilized and undeveloped into productive residential and commercial projects that contribute to the growth of healthy communities across Canada.

This year's e-gala will feature a special keynote panel discussion on Celebrating Brownfields – Removing the Stigma from Vital Urban Redevelopment, which will engage a national conversation on the stigma that still exists around the use of the term brownfield, and what can be done to overcome this.

The event will also include the presentation of 10 awards, with six individual categories, as well as the best small-scale project, best large-scale project, best overall project, and the Brownfielder of the Year.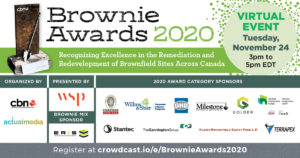 Tickets for the 2020 Brownie Awards e-gala are available for $55 each (includes HST). For more information, or to purchase your tickets, visit: https://www.crowdcast.io/e/brownieawards2020/register
To learn more about the Brownie Awards, visit: https://brownieawards.ca.
Time

(Tuesday) 3:00 pm - 5:00 pm