Using materials where they make the most sense.
By Vincent Davenport and Mark Gaglione 
In Canada, mass timber construction is literally being taken to new heights, propelled by changing building codes across the country, an increasing awareness of embodied carbon, and a maturing supply chain to deliver competitive pricing.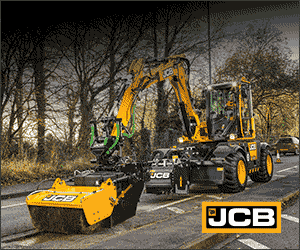 While the sustainability benefits of using timber are widely recognized, design professionals are often faced with situations where timber alone does not efficiently achieve all of the competing objectives of today's complex projects. In these situations, timber hybrid structures, which use mass timber in combination with more conventional steel or concrete elements, are increasingly being considered to achieve design objectives.
In recent years, mass timber as a structural material has captured the attention of EllisDon's clients, who see it as a way to lessen the carbon footprint of their built assets, while visibly presenting a differentiated product to the market.
An innovative approach 
As mass timber structures gain popularity nationally, the industry is being called upon to utilize timber in situations typically reserved for steel and concrete. This trend has sparked a number of industry-led initiatives to combine materials in new ways, prefabricated into panels offsite, to meet the market's existing needs (clear spans, exposed aesthetics, etc.) while incorporating new mass timber materials.
One such initiative is the new Hybrid Timber Floor System (HTFS) being developed by EllisDon and its design partner, DIALOG, to enable mass timber to be utilized within longer span structural grids currently not viable utilizing standard mass timber sections. The concept takes an innovative composite, prefabricated approach to combining cross-laminated timber (CLT) with post-tensioned concrete in a factory environment off-site.
"The Hybrid Timber Tower project represents DIALOG's beacon of hope in the monumental climate change challenges our world now faces. Wood has significantly less embodied carbon than steel and concrete which reduces the embodied carbon of the tower, and wood also stores carbon. In fact, one cubic metre of wood stores the equivalent of one tonne of CO2. This means that tall buildings could now be designed to be lower in embodied carbon and store huge amounts of carbon," says Craig Applegath, founding partner, DIALOG.
The patent-pending HTFS consists of steel post-tensioned tendons encased in a concrete band which itself is recessed into a CLT panel. By assembling all of these components offsite in 40ft panels within a controlled factory environment, a number of the challenges of hybrids raised previously can be addressed or managed. The panels are shipped to the site and topped with a composite concrete topping cast in-situ. Conceptually, the composite action between the post-tensioned tendons, the concrete and CLT allows for spans of up to 12 meters (40 feet), offering the open floorplate required for Class A office commercial floor space.
One of the primary motivations for the study is to develop a timber-based hybrid system that can be utilized in building configurations that are typically reserved for concrete and steel, such as long-span commercial settings. The hybrid timber floor system presents a reduction in embodied carbon and if deployed at scale could benefit the industry by replacing large quantities of structural steel and cement on a project-by-project basis. Research is underway to assess the HTFS's structural and fire performance and prepare the design for commercial applications.
"Developers always have to weigh out the benefits of the building framing material, by compromising cost or speed, desirability to tenants, and our common goal of more sustainable buildings. The hybrid panel presents a novel intersection of goals allowing for carbon sustainability, an accelerated construction schedule, and long-span exposed ceilings desired by many tenants," says Phil Jones, vice president, Engineering & Logistics, EllisDon
Hybrids come in many forms
Aside from custom prefabricated hybrid solutions like the HTFS, hybridization of timber structures takes many forms, but when used effectively it enables designers to streamline structures in pursuit of sustainable architecture. Hybrid mass timber structures can be loosely categorized into three groups. Each group varies in the degree of hybridization and the drivers behind the switch to a hybrid system. In some cases, the driver is cost, in other cases the driver is schedule, and in more and more cases the driver is sustainability.
The degree of hybridization and the final system selected, will often be specific to the market, due to local price variations in both material and labour, and even the project, due to geometry, optimal grid layout, and overall building height constraints.
Isolated Elements—In some cases the hybrid element of a building may be localized to a few specific conditions or locations where a different material is better suited. This could be in a corridor for headroom, a terrace/balcony for long-term durability, or an especially large span for structural efficiency. Due to the complexity and variety of unique conditions within each project, pure "all timber" structures are rare and usually include at least a handful of these hybrid elements as part of their final design.
Hybrid Lateral System—It is very common to see a mass timber gravity system used in combination with non mass timber lateral systems. In this scenario the main beams, columns, slabs would be built out of mass timber products but the members resisting the lateral loads would be composed of an alternative material (structural steel, precast concrete, cast in place concrete). A very common example of this is a mass timber gravity structure coupled with cast in place concrete core(s). Other system combinations include mass timber coupled with structural steel cores, structural steel bracing, or a precast concrete core.
Hybrid Gravity System—Structures where the gravity system (beams, columns, slabs) are made up of a combination of materials in addition to mass timber. These systems typically combine mass timber with other off-site prefabrication systems like structural steel and precast concrete. In some cases, it's a combination of parts assembled together, in other cases these are actual hybrid elements where the two or more materials are combined through a manufacturing process. These systems usually take advantage of steel and concrete for large spans thinner sections and use the timber in between as a floor panel to keep some of the timber's aesthetic appeal. They can be as simple as a nail laminated timber plank on a W-section beam and as complex as a composite concrete/timber slab system sitting on a composite concrete-steel beam system. These types of hybrid approaches are gaining in popularity and industry proficiency and are the main focus of this article.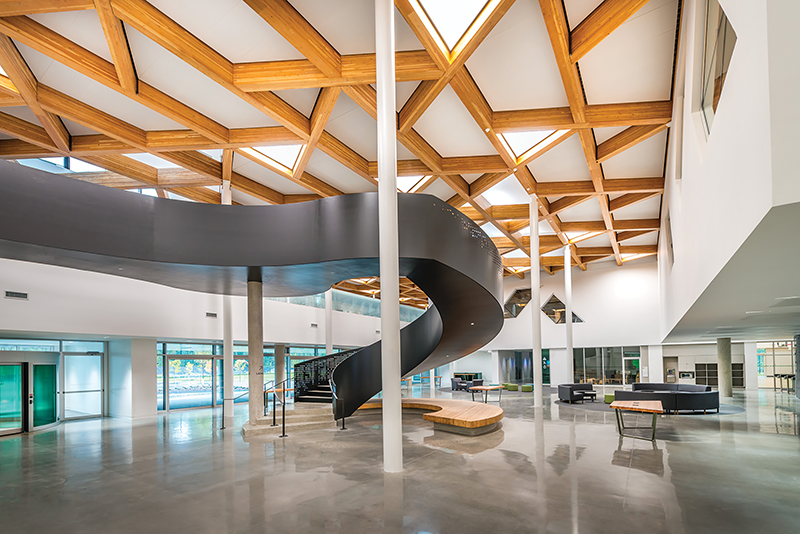 Key considerations
The potential benefits of a hybrid structure, whether its cost effectiveness or a floor height consideration because you can't fit a deep glulam beam into your zoning envelope, are typically well understood. The challenges, on the other hand, do not tend to be as clear at first glance, and are typically the key to successfully implementing a hybrid structural approach.
These hybrid structural systems exist at the intersection between multiple conventional (and somewhat siloed) design and sub trade groups. This combination of parts that don't typically get combined can create some complexities that must be overcome in order to ensure a successful marriage of the parts.
Anytime dissimilar materials are adjoining on site it is prudent to consider the varied manufacturing tolerances and varied physical behaviours through environmental shifts (hot, cold, wet, dry) to ensure that connections and interfaces are designed to be constructable and durable. Timber and steel tolerances are generally quite aligned, however when interfacing with concrete or cast-in elements a larger variation is to be expected and needs to be accounted for through design to ensure smooth construction.
When multiple materials are utilized within a structural system there also needs to be consideration made for the sequence of installation, which subcontractors will be performing each materials installation, and how this impacts the overall schedule. In unionized environments the delineation of scope between contracted parties is also something that needs close attention when multiple interdependent materials are utilized.
Hybrid structures generally involve multiple supply chains and multiple subcontractors. Subcontractor optimization is a very important part of the planning process and should be considered in parallel to the design. The best design on paper is not the best design if you can't efficiently buy it in your market. Unlike more conventional structural subcontractor trade groups who are very used to working together (reinforcing trade and the formwork trade) many of the combinations required for a hybrid structural system are not only not familiar with each other, they may not even know what mass timber is.
As the market further matures, uncertainty among subcontractors is reducing however it's still very important to educate prospective subcontractors in mass timber constantly to ensure un-sound logic doesn't find its way into estimates. The supply and installation contracts, along with the chosen sequence of work becomes a balancing act between cost, schedule and the project's appetite for risk.
Resistance to change 
Resistance comes in all sorts of shapes and sizes, sometimes it yells in your face, other times it takes the forms of conservative assumptions in the background that preclude feasibility. Both are problematic, but the latter is much more detrimental. This might be the single most difficult challenge for a new innovative hybrid system. While we will not claim to have a solution, we are guided by a few ideas to help chip away at the issue:  
• Pick your partners wisely. Pick partners both in design and execution who are both willing to get behind a new system and who have experience with hybrid systems previously.    
• The contractor has to embrace the role as the integrator. 
• Educate educate educate. Workshops, info sessions, plant visits, reference projects visits, mock-ups, whatever it takes to replace ingrained assumptions in the industry about new approaches with real tangible information.
Mark Gaglione and Vincent Davenport are both managers at EllisDon's Construction Sciences Division.
[This article originally appeared in the November/December 2021 edition of  ReNew Canada.]
Featured image: DIALOG has designed a prototype for a 105-storey supertall hybrid mass timber structural system using the Hybrid Timber Floor System (HTFS), developed in partnership with EllisDon. (EllisDon)