As the world searches for ways to increase the amount of clean electricity produced, many countries, including Canada are looking to nuclear energy as a possible solution.
According to a 2018 report from the United Nations' Intergovernmental Panel on Climate Change (IPCC), to keep global temperatures from rising more than 1.5°C by 2050 will require a nearly 700 gigawatt  increase in global nuclear electricity generation and that comes with a corresponding increase in the amount of used nuclear fuel that must be safely stored.
This is where the Nuclear Waste Management Organization (NWMO) comes in.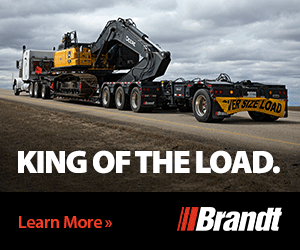 Since its establishment in 2002, by the Government of Canada, the NWMO has been charged with implementing a plan for the safe, long-term management of used nuclear fuel that involves building a deep geological repository (DGR) more than 500 metres underground and surrounded by a natural shield of solid rock.
"This design ensures that the used nuclear fuel will remain contained and isolated for a very long time," says Russell Baker, NWMO's manager of public and media relations, who recently gave ReNew Canada and other media representatives a tour of its Discovery and Demonstration Centre in Oakville, Ont.
The NWMO is an independent, non-profit organization that is funded by the waste owners in Canada: Ontario Power Generation, New Brunswick Power, Hydro-Québec and Atomic Energy of Canada Limited.
In 2007 an Adaptive Phased Management plan was adopted that involves both technical methods and management approaches. The technical method involves building the deep geological repository, while the management approach involves phased and adaptive decision-making, supported by public engagement and continuous learning.
In 2010, the NWMO launched the process for selecting a site for the repository, and 22 communities expressed interest in learning about the project and exploring their potential to host it. Following years of intensive technical assessment and community engagement, two potential sites remain in the process: one in the Wabigoon Lake Ojibway Nation (WLON)-Ignace area in northwestern Ontario and the other in the Saugeen Ojibway Nation (SON)-South Bruce area in southern Ontario. The proposed site in the WLON-Ignace area would be in crystalline rock, while the proposed site in the SON-South Bruce area would be in sedimentary rock.
"In 2024, one of the sites will be selected to host the repository, which will only proceed with interested communities, First Nation and Metis communities, and local municipalities working together," says Baker.
"Following a multi-step process that includes field investigations, a comprehensive regulatory decision-making process and ongoing community and public engagement, the DGR will begin construction."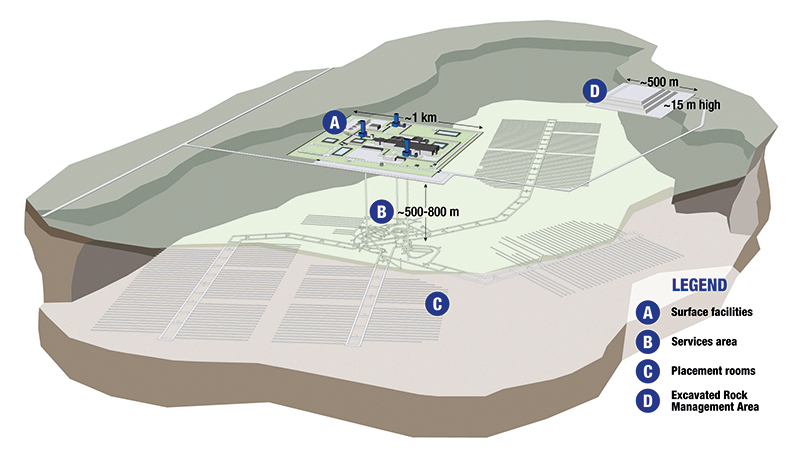 Construction is tentatively slated to begin by 2033 and will take approximately 10 years at an estimated cost of $4.5 billion. Once completed, transportation of used nuclear fuel to the repository will begin. Baker estimates it could take up to 50 years to complete the transportation, handling, and placement of the used fuel inventory in the repository. After that, the site will be monitored before being decommissioned and closed.
"Over the next 20 years, both the transportation planning framework and transportation plan will continue to evolve through regular review, ongoing public input and site specific refinement, as the project advances through the site selection process to regulatory approvals, construction and operation," says Baker.
The deep geological repository will use a multiple-barrier system designed to safely contain and isolate used nuclear fuel over the very long term. The repository will consist of a network of placement rooms that will store the used nuclear fuel.
According to Baker, this approach aligns with international best practices being used in countries such as Finland, Sweden, France, and Switzerland where deep geological repositories are also planned.
At Finland's Onkalo repository on Olkiluoto Island, construction is well under way by nuclear waste management firm Posiva Oy. Final disposal is scheduled to start in 2025.
At the surface, there will be facilities where the used fuel is received, inspected, and repackaged into purpose-built containers—weighing 8,000 kilograms and made of thick carbon steel for strength and coated with corrosion-resistant copper—encased in a buffer box of bentonite clay before being transferred to the main shaft for underground placement. The clay provides an effective barrier to both water flow and microbial growth giving an added layer of protection against corrosion or degradation.
The repository underground will be accessed through three shafts, which will be located within a single centralized and secure services area. This services area will also include an underground demonstration facility for initial testing of the future engineered barrier emplacement equipment. The layout also includes multiple access tunnels that enable the placement rooms to be situated in areas with the most suitable host rock. The buffer boxes, with the used fuel containers inside, will be arranged in the horizontal placement rooms, and any spaces left over will be backfilled with granular bentonite pellets or chips.
In 2022, the NWMO's engineering team successfully completed a full-scale technical demonstration, where technical teams built a life-size model of one of the repository's underground storage rooms at the NWMO proof test facility, with the exact dimensions and interior walls lined with simulated rock tiling. Over several days, highly customized heavy machinery moved containers designed for used nuclear fuel into the room and filled the remaining space with protective material that will ensure the containers retain their strength and durability for many thousands of years.
"Our successful demonstration was the result of made-in-Canada innovation and collaboration," stated Chris Boyle, vice president and chief engineer at the NWMO after the demonstration. "Every step of the process was undertaken using sophisticated prototype equipment that was designed and fabricated in partnership with Canadian engineering companies."
Currently, there are approximately 3.1 million bundles of used nuclear fuel in Canada that are managed at nuclear sites in Ontario, Quebec, and New Brunswick, as well as at Atomic Energy of Canada Limited's sites in Manitoba and Chalk River Laboratories in Ontario.
Although the used fuel's radioactivity decreases with time, chemical toxicity persists and will remain a potential health risk for many hundreds of thousands of years, says Baker.
"Once a used nuclear fuel bundle is removed from a reactor they are placed in a water-filled pool where their heat and radioactivity decrease. After 10 years, the bundles are placed in dry storage containers."
Used since the 1980s, dry storage containers are made of reinforced high-density concrete about 510 millimetres (20 inches) thick and are lined inside and outside with 12.7-millimetre-thick (half-inch) steel plate. The thickness of concrete provides an effective barrier against radiation.
The dry storage containers have a minimum design life of 50 years. They are actively monitored, and studies indicate that with ongoing maintenance and inspections these containers can be safely used for much longer periods of time. After 50 years the life of the container could be extended, or the used fuel could be repackaged.
Canada's plan for safely managing used nuclear fuel has come a long way over the past two decades, but pales in comparison to the legacy a deep geological repository could leave for generations to come.
"The hundreds of metres of rock that will surround the repository will work with the engineered barrier system and will help protect the repository from inadvertent future human intrusion and disruptive events like future ice ages and glaciations," says Baker.  
Building North America's First Small Modular Reactor
Ontario Power Generation (OPG) announced that it has partnered with GE Hitachi Nuclear Energy, SNC-Lavalin, and Aecon to construct North America's first Small Modular Reactor (SMR) at the Darlington New Nuclear Project site.
The agreement represents an innovative contracting approach for a nuclear project in North America. Under terms of the agreement, GE Hitachi, SNC-Lavalin, Aecon, and OPG will provide a diverse range of expertise and services as part of an integrated project delivery model to develop, engineer and construct a BWRX-300 SMR, with construction to be complete by late 2028.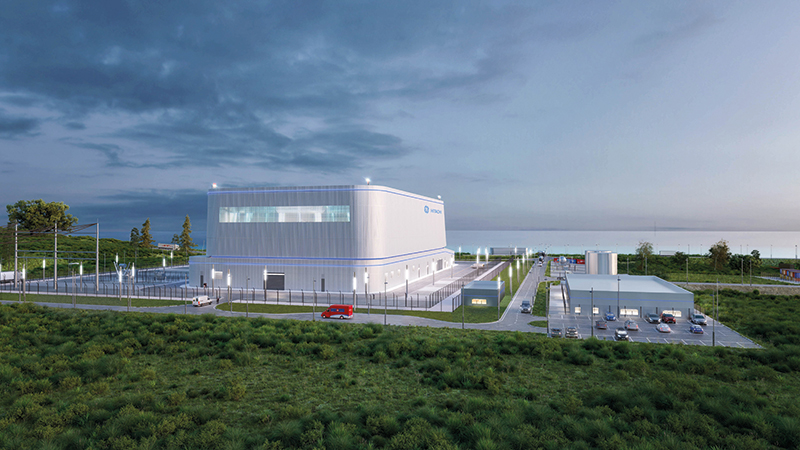 "Working with these three companies, OPG is leveraging decades of nuclear energy and large project experience to deliver much-needed new, reliable electricity generation to Ontarians," said Ken Hartwick, OPG president and CEO.
"Ontario is one step closer to securing our legacy as a world leader in cutting-edge nuclear technology," said Todd Smith, Ontario's Minister of Energy. "Canada's first grid-scale SMR at the Darlington site will help ensure a reliable, affordable and clean electricity system, increase export opportunities and support our success in driving electrification."
All parties will manage the project as an integrated team and each company will play a specific role in successfully completing the Darlington New Nuclear Project:
OPG The license holder; OPG will maintain overall responsibility for the project, including operator training, commissioning, Indigenous engagement, stakeholder outreach and oversight.
GE Hitachi The technology developer; responsible for design, procurement of major components, and engineering and support.
SNC-Lavalin The architect engineer; provides design, engineering, and procurement support.
Aecon The constructor; will provide construction planning and execution.
A $32 million contract was awarded last year to Niagara-based E.S. Fox, fabricator, and constructor, to deliver early site preparation work, including water supply, electrical power, information technology and road services.
"Following our on-time, on-budget success working with OPG on the refurbishment of Darlington's existing CANDU reactors, we are very pleased to contribute our expertise with our alliance partners on this exciting new build," said Joe St. Julian, president, Nuclear, SNC-Lavalin.
"Aecon is proud to bring our proven, full spectrum of expertise to deliver this exciting new nuclear build—leading the way in deploying the next generation of plants and guaranteeing the production of clean, reliable and affordable electricity in Ontario," said Jean-Louis Servranckx, president and CEO,  Aecon Group Inc.
[This article originally appeared in the May/June 2023 edition of ReNew Canada]
John Tenpenny is the editor of ReNew Canada.
Featured image: The Onkalo nuclear waste disposal facility under-construction in Olkiluoto, Finland—scheduled to commence operations in 2025—will be the world's first permanent geological repository for spent nuclear fuel and high-level radioactive waste.