By David Horton
Since the 1970s, the Canadian government has promised to provide communities living on First Nation Reserves with the same quality water and wastewater systems used by most Canadians, but progress has been slow. Many First Nation communities continue to live under drinking water advisories while the government works out plans to build water and sewage facilities that will raise their standard of living.
While many indigenous communities wait for water service improvements, residents of the Fort McMurray #468 First Nation recently witnessed the construction of a water reservoir and pump station on their reserve that will deliver clean, reliable, potable water to their nearly 600 residents. The pump station, completed in early 2022, is part of an infrastructure project that will bring life-changing water and sewage service to the area, improving the quality of life for residents and creating community and economic development opportunities.
Meeting community goals
In 2016, the Nation engaged McElhanney, an engineering and land surveying firm based in Western Canada, to establish a water and sewage service plan to help meet the community's goal of achieving social, environmental, and economic sustainability for seven generations.
At that time, residents received water and sewage servicing via a truck haul system. Although well-intentioned, this system could be unreliable. It limited development opportunities, and due to significant handling requirements, increased health, and environmental risks. The Nation had a vision for a new future that included secure, reliable, and safe drinking water and sewage servicing for all its members—and in 2016 they acted.
Around this time, the neighboring Regional Municipality of Wood Buffalo (RMWB) was interested in constructing a regional water and sewage system in the area, which could also be adapted and extended to provide the Nation service access. After evaluating options, the Nation selected a servicing plan that involved connecting to the RMWB system and constructing an on-reserve water reservoir and pump station to meet the local community's needs. The pre-existing relationship between the Nation and the surrounding RMWB was strengthened during this process, advancing the spirit of collaboration and mutual support between them.
According to McElhanney project engineer Andy Tenham, overall project manager, project engineer, and project coordinator, "This was a traditional project with extraordinary impact."
With this facility, "This community gets drinking water that is safe and reliable, as well as fire protection, for years to come," he said. "For the Nation, this could drastically improve their quality of life and opportunities"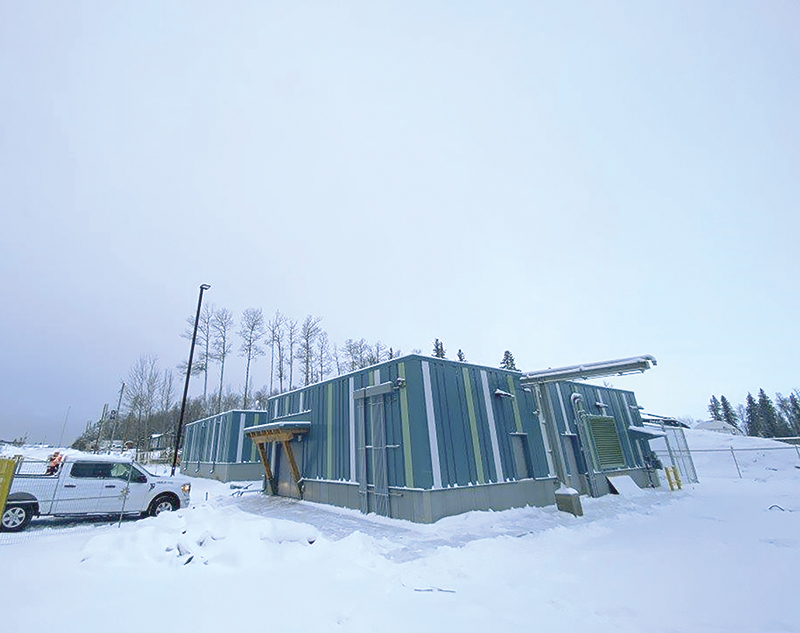 Local engagement
Construction on the pump station began in the summer of 2020 as part of a broader infrastructure plan to be carried out on both federal and provincial land. The project comprises a new potable water reservoir and pumping station, water distribution piping, sewage collection piping, a retrofitted sewage lift station, and a new sewage force main to the RMWB regional infrastructure.
As with many projects with complex funding mechanisms and multiple stakeholders, working out the pre-construction project details took more time than expected, which meant the general contractor, Chandos Construction (mechanical sub-contractor Goldbar Contractors Inc.), started work on the project slightly behind schedule.
According to Goldbar project manager Chris McInroy, working with Victaulic helped make up for lost time. The Victaulic Virtual Design and Construction (VDC) team expanded on the 3D design files produced by McElhanney and generated detailed models that were shared with Goldbar via video conferencing to virtually work through the project design. Together, the team was able to identify assembly issues and resolve them before construction began.
"Victaulic was really focused on minimizing waste," McInroy said. "When we were in the design phase, there was overhead piping running above some large 12-inch suction lines for the pumps. There was no way to see how operators would be able to access the valves above the suction lines within the model." The VDC team pointed out the issue and suggested a design change that rerouted the piping, simplifying maintenance and eliminating a safety risk.
VDC's drawing changes made it easy for Goldbar to make a case for changing the original design. "Once they modified the piping, I could take screenshots and send them to the engineer to explain why we wanted to relocate some of this piping," McInroy said.
With the final design changes approved, prefabrication began. VDC coordinated with the Victaulic manufacturing facility in Edmonton, Alberta to ensure all the components were fabricated and prepared for shipment.
Victaulic provided a full stainless steel piping package for aboveground piping from three-quarter inch through 12 inch that connected to four pumps installed onsite. In addition, multiple flow control solutions were provided, including hydraulic control valves, stainless steel butterfly valves, and three-way actuated stainless steel butterfly valves. In all, more than 250 couplings were assembled on more than 50 prefabricated spools.
"It was a big weight off my shoulders," McInroy said. "Having these items broken down into manageable spools that were palletized and itemized made it easy to stack them in the building and have everything available as we needed it."
Receiving the prefabricated material this way also simplified the process of moving some of the larger components down a stairwell and into a basement where they were to be installed.
"Our typical method of installation would have been to weld fittings," McInroy said, which would have seriously compromised the ability to meet the project schedule. Breaking down the assemblies into more manageable lengths would have required more flanges, more welding, and more time. It also would have required skilled welders. "Being able to break the spools down into manageable pieces definitely made it easier for our guys to handle the material," he said.
Even though McInroy knew the grooved couplings would deliver efficiencies, the time required for the crew to install the piping exceeded his expectations. "The installers found it very easy to make adjustments," he said, and that made it possible to complete the entire installation with only two journeyman plumbers. "Being able to reference the VDC and McElhanney drawings and simple instructions made for a very positive experience," McInroy said.
In fact, the piping was installed in only a few days, enabling Goldbar to make up for much of the delay incurred at the front end of the project and finish the process piping construction in a significantly compressed schedule compared to the schedule assumptions at the time of bid.
The most significant outcome of this project is the win for the community, but from an engineering perspective, it is always a challenge to retroactively install major civil works into an existing residential/urban setting. Water and sewer servicing is an "earthworks heavy" type of project, and although having water and sewage services are enormously advantageous in the long run, project execution is invasive. Anything that can be done to speed up the construction phase translates into real quality of life improvements and reduced impact on the community.
It is equally important to design such that maintenance is minimized. "For municipal engineering, long-term maintenance is the second most important thing we design for," Tenham explained, and on this project, "Victaulic components certainly contributed to achieving our goals of quick installation and minimizing the Nations long-term maintenance"
The stainless-steel system designed for this installation was not only constructed quickly, it also is aesthetically appealing and neat, something that was important to residents in the community, according to Tenham, who noted that making sure the local community was pleased with the result was important to McElhanney and to him as the project engineer.
Throughout the duration of the project, Chandos made it a priority to offer employment and related support to local Nation youth, both through direct employment and by engaging local contractors.
According to Chandos project manager Ben Blakney, the company was happy to be part of this project. "Chandos is proud and honoured to have partnered with the Nation in delivering such an important project" he said. "For us to have been able to deliver such critical infrastructure, while also exposing [through direct employment] several local Nation members to a variety of jobs that went into this project is very satisfying. It was a really good experience for them, and now they can always know they were part of this story."
Because the Nation will own and operate the water and wastewater systems, community members will have to be certified for specialized work. Underscoring its commitment to the Fort McMurray #468 First Nation community and its future, McElhanney jump-started this process by establishing an annual $5,000 scholarship for operator training.
This opportunity was a welcome one for the community. According to Corey Wiltzen, Nation member and water plant operator trainee, "It is a major accomplishment for the Nation to complete a project of this scope and magnitude. Not only are we securing safe drinking water for our present and future generations, but we are also providing Nation members like myself with the opportunity to start a career in a vitally important field."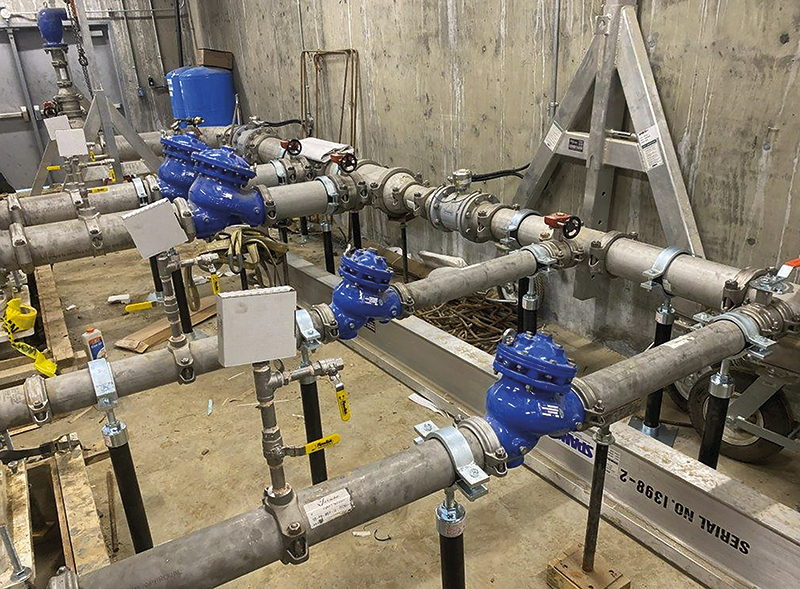 Realizing a dream
"After many years of hard work, the Nation will finally be able to see this long-awaited goal come to fruition. Watching the Nation take pride in a functional and good looking pumphouse—which I know is also high quality—after all these years, is very satisfying," Tenham said. "There was a lot of hard work the Nation did from the very beginning, and this has been one of their goals for a very long time" he said. "With the completion of this project, they've been set up well for their next success story."
Steve Jani, the Nations' acting chief sustainability officer and project owner agreed that the safe drinking water and career opportunities for Nation members delivers value to the community. He also pointed out the significance of the project being completed on time and on budget and noted that "the dedication of our contractors and vendors," was a critical element of the project's success.
"Working together in unison to create a better environment in regard to public works, water, and sewer has been a great accomplishment between the Nation and its vendors/contractors," Jani said. "Kudos to all the teams involved in progressing this upgrade to the community."
[This article originally appeared in the September/October 2022 edition of ReNew Canada.]
David Horton is Alberta territory manager for water/wastewater/infrastructure with Victaulic.
Featured image: First Nations' leadership, including chief, councilors, and administration, join representatives of Chandos, the general contractor, at the golden shovel project groundbreaking ceremony. (Victaulic)