In the face of climate change, communities across Canada are contending with the vulnerability of infrastructure to severe weather events and the ongoing challenge of keeping pace with infrastructure maintenance and replacement cycles. The Insurance Bureau of Canada estimates claims related to catastrophic events were $3.2 billion nationwide in 2013—triple the annual average for the previous five years. Moreover, the Federation of Canadian Municipalities' 2016 Canadian Infrastructure Report Card found that one third of Canada's municipal infrastructure is at risk of rapid deterioration. Current thinking on neighbourhood planning focuses on  integrating grey and green solutions to infrastructure renewal and viewing not only hard engineering, but also natural assets as valuable infrastructure inventory. And adaptation strategies acknowledge the value of strengthening community networks as a means of increasing resilience.
While many excellent strategic environmental and sustainability plans have been written in the past decade in the Greater Toronto Area, innovative approaches are needed to support and expedite their implementation. This is particularly true in older communities. In an environment, in which municipalities do not have enough resources to address the growing number of needs, it seems an obvious choice to consider collaborative approaches that take advantage of multi-functional synergies.
Toronto and Region Conservation Authority (TRCA) in close partnership with its municipal partners has been developing such approaches for the last six years through the Sustainable Neighbourhood Retrofit Action Plan (SNAP) program. SNAP projects take a holistic approach to revitalizing older urban areas through neighbourhood-based, effective, and practical collaboration. The SNAP model: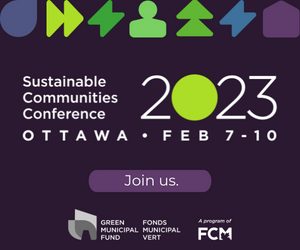 Delivers on multiple objectives;
Coordinates private and public sector actions;
Leverages planned capital projects for greater value;
Engages communities through local networks using guidance from market research;
Demonstrates and tests innovative approaches; and,
Fosters delivery partnerships and innovation.
The following are examples of infrastructure renewal projects pertaining to road rights-of-way, park renewal, and privately-owned public space in three different SNAPs respectively.
Road right-of-way 
County Court Boulevard Bioswale, Brampton
Located in the City of Brampton, the County Court SNAP neighbourhood is home to approximately 5,800 residents of diverse backgrounds and cultures. Driven by the need for stormwater infrastructure retrofits, the County Court SNAP undertook an integrated and collaborative approach to exploring water, energy, and natural heritage retrofit needs based on social and economic interests. As a result, a series of projects that achieve multiple municipal, community, and partner goals was identified. One such showcase project is a bioretention feature within boulevards to support improved stormwater management, neighbourhood beautification, and an enhanced urban forest. It also serves as a model for strategic financing and interdepartmental coordination.
When County Court Boulevard was identified in the City of Brampton's 2014 Road Resurfacing Capital Program for repaving and curb and catch basin repairs, members of the County Court SNAP Implementation Team coordinated with operations staff to integrate two biofilter swales into the project. The integrated project was able to access federal gas tax funding for integrated road projects and drew on existing road resurfacing contingency budget. The project successfully brought together many partners, including designers, engineers, operations and parks staff, planners, TRCA staff, as well as neighbourhood residents and students from a local elementary school, who were involved in the planting of the bioswales.
Incorporating the biofilter swales into the road resurfacing project added value to infrastructure renewal while meeting a number of sustainability objectives, including improved water quality in Etobicoke Creek, increased habitat, and place-making along the neighbourhood's main thoroughfare. Furthermore, these facilities have the potential to reduce future city-wide maintenance costs associated with stormwater management ponds. Brampton is leading by example and working with TRCA's Sustainable Technologies Evaluation Program (STEP) to measure the project's environmental and socio-economic outcomes.
Park renewal 
Glencrest Park, Markham
The Bayview Glen SNAP is home to approximately 2,100 residents. Working closely with the City of Markham, the Bayview Glen neighbourhood was selected for a SNAP because of flood remediation works that Markham is undertaking in response to the West Thornhill Stormwater Flood Remediation Class Environmental Assessment Study. An example of SNAP's integrated planning, the Bayview Glen SNAP is leveraging a traditional infrastructure replacement project to generate an entire park revitalization opportunity with many benefits, including community engagement.
The Glencrest Park renewal project fosters synergies between multiple city-led objectives. Instead of simply replacing an undersized storm sewer pipe with a larger pipe, the SNAP team has helped the city and the community to reimagine a water infrastructure project that brings compounded value through ecological function, recreational elements, long-term beautification, and social and educational opportunities. By securing external grant funding to match a portion of the already planned capital budgets for site remediation and playground replacement, the SNAP team was able to maximize the project, which now proposes to include a passive pathway on the site of the former construction road; a meditation garden; naturalization plantings and pollinator gardens; and a rain garden that will commemorate a historically piped creek by managing rainwater sustainably before it enters the Don River. Rain gardens will transform the landscape of Glencrest Park from maintained turf into a rich mosaic of eco-tones, creating a naturalized landscape and supporting the attenuation of stormwater runoff.
Bringing local schools and residents actively into the process, the public realm project serves as a mechanism for community engagement and the promotion of resident participation in home retrofit actions addressing—among other sustainability issues—lot level stormwater management to complement the city's flood remediation works.
Multi-unit residential property
San Romanoway Tower Revival, Toronto
Climate change adaptation and mitigation efforts are not limited to public infrastructure; achieving targets also requires commitment from, and action by, private landowners. This is particularly important in neighbourhoods where availability of public land is low. Collaborative approaches are needed to accelerate implementation. Through neighbourhood-scale planning, the Black Creek SNAP identified strategic retrofits necessary to address a range of sustainability targets across public and private property. Market research provided insights into key drivers that enabled the SNAP to design projects that would provide a business case for private landowners and garner strong support within the community. One project involves the revitalization of privately owned public spaces at a multi-unit residential property and shows how innovative partnerships can achieve multiple outcomes and benefits for landowners, tenants and the broader community.
Sited at a 1960s private, affordable high-rise complex housing 4,500 residents, this green infrastructure project is transforming three underutilized hectares of low permeability land into a vibrant community space with hundreds of trees, beautiful allotment gardens, Toronto's largest orchard, pollinator gardens, art installations, and shaded seating areas with rainwater harvesting. Through implementation partnerships with NGOs, landowners, and the City of Toronto, the space is furthermore being used as a springboard for green jobs and a social enterprise training ground. The tenants' interest in better access to fresh produce, as well as social enterprise and training opportunities, provided the inspiration for this project. A variety of environmental, local food and social programming grants were secured to support implementation. Owners' initial fears with regard to liability, maintenance, and tenant support were successfully addressed in this pilot project, which highlights the business case for property owners to work with the public sector to achieve public policy objectives on private land, while also improving tenant retention, investing in their properties, and increasing property value. Collaborating to introduce green infrastructure into renewal projects has proven to be an all around win for the residents, the property owners, the city, and TRCA.
The integrated neighbourhood-based approach to infrastructure renewal creates the space for innovative partnerships and solutions. Reflecting on the pilot SNAP projects showcased here, these renewal projects have proven to:
Reimagine traditional single purpose infrastructure projects to achieve multiple sustainability objectives and provide a basis for implementation partnerships;
Develop effective strategies to fund green infrastructure projects with composite benefits;
Demonstrate models for privately-owned public space renewal to achieve broad neighbourhood objectives;
Generate socio-economic benefits, alongside environmental outcomes; and
Engage communities to produce locally tailored solutions with greater likelihood for support.
Piloting novel sustainability projects does not come without challenges. During our five-year program review, a number of observations were identified. First, integrated approaches, collaborative arrangements and behaviour change, especially in pilots, require time; therefore, longer time frames are often needed. Secondly, the perceived cost and effort of multi-objective designs relative to single-purpose quick fixes suggest that new methods are needed for evaluating project benefits to a range of partner programs. Finally, and significantly, it is necessary to identify integrated project opportunities early in the planning process, in order to realize their full potential.
As municipalities become increasingly concerned about climate change, as well as adaptive capacity, asset management, and resiliency, the lessons learned from these SNAP projects show the importance of implementing an innovative methodology for cost-effective, integrated infrastructure planning.
Cathrin Winkelmann is a project manager for the TRCA's Black Creek SNAP. TRCA acknowledges its partners: the City of Brampton, City of Markham, City of Toronto, and RPMS.