In 2019, the Government of Ontario announced one of the biggest capital project pipelines, with 30 projects valued at $65 billion and a significant portion of that in the healthcare space.
Not long after, as the COVID-19 pandemic gripped the world, Michael Lindsay was appointed president and CEO of Infrastructure Ontario (IO), the organization charged with seeing these projects through to completion. Having rejoined IO, a year earlier as president, project delivery, Lindsay and the organization he leads has, in his words, "been relentless in trying to bring these projects to market." In particular, "building out the capacity and the resilience of Ontario's healthcare system."
And that has been accomplished in partnership with industry.
"Working with talented design firms and good construction firms we've accomplished much while evolving our approach to the way in which we think about the delivery of these projects and dealing with the constraints of the COVID-19 pandemic," says Lindsay.
"I'm particularly proud of the fact that our organization has managed to bring several hospitals online, during the pandemic, such as the Cortellucci Vaughan Hospital, the first net new hospital in the province in decades."
Lindsay also points to other hospital projects either in procurement or under construction, such as Michael Garron Hospital and West Park Healthcare Centre in Toronto—set for completion in 2023—South Niagara Hospital, West Lincoln Memorial Hospital, and the Weeneebayko Area Health Authority redevelopment.
"We're gratified and grateful that, notwithstanding everything that we had to navigate with our partners and with government, that we've managed to bring those projects either to realization, or to push them forward."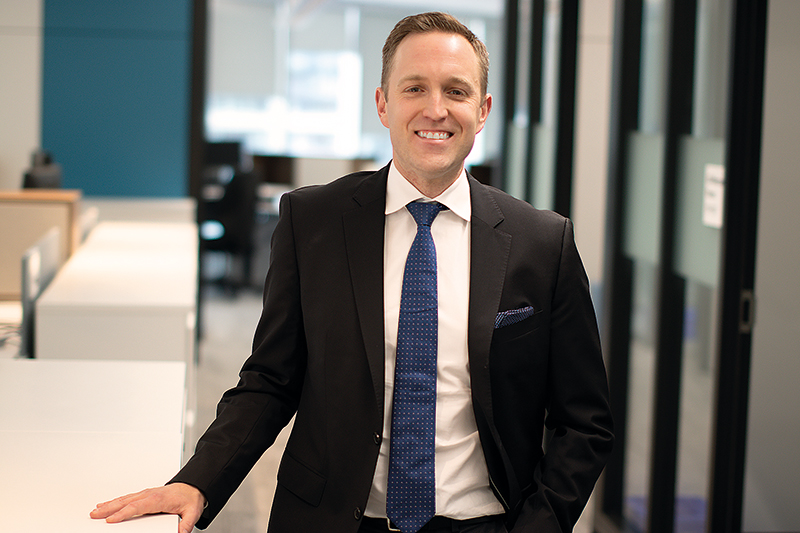 Good alignment
Infrastructure Ontario, says Lindsay, are big believers in public-private partnership (P3) structures.
"They are one of the best ways to align the incentives and designers, constructors, financiers, and those who ultimately maintain hospitals over the long-term.
"As owners we continue to believe that in the right places and spaces, securing outcomes against budget and cost through the use of private financing makes a lot of sense."
The evolution of the P3 model has been necessary for a variety of reasons, including the size of some of the hospital projects, that weren't anticipated, says Lindsay.
Projects like the New Ottawa Civic Hospital and the Trillium Health Partners Broader Redevelopment – The Peter Gilgan Mississauga Hospital are "massive in their total size, which is great," he says.
"That is beds for regions that desperately need them, but it means that these projects have their own risk profile and that is somewhat different than when we used to, or still do, put a greenfield hospital down somewhere in a region outside of a major urban center."
So, when he became Infrastructure Ontario CEO, Lindsay wanted to make sure that they were using the right model to ultimately deliver these larger urban hospital projects. And the adaptation, or evolution that they came up with is what he describes as a progressive form of Infrastructure Ontario's DBF or DBFM models.
"So, what we do is get into a 12-to-18-month development agreement phase, with contractor involvement, where we work together, effectively, to progress the design of these hospitals and we use that as an opportunity to talk about key risks and risk transfer inherent in the contract. And, at the end of 12 to 18 months we fix the price for those works and we enter into a pretty well understood contract," explains Lindsay.
Limited resources
Over the next five to 10 years, Lindsay sees some trends and forces that will affect project procurement, such as inflation and the availability of skilled labour and trades.
"We're going to continue to face, alongside the rising cost of things, sustained market capacity challenges in respect to the availability of labour and trades. And, I know the Government of Ontario is consumed with this question, as most jurisdictions are, but there's a limited amount of people, ultimately, to build."
Lindsay points to Eastern Ontario as an for example where among other projects, Infrastructure Ontario currently has numerous healthcare facilities in the pipeline, including the Children's Hospital of Eastern Ontario Integrated Treatment Centre, the New Ottawa Civic Hospital, Quinte Health Centre, the Stevenson Memorial Hospital redevelopment, and the Kingston General Hospital redevelopment, "and I haven't even put on that list the Kemptville Correctional Facility and a couple of others, plus all the federal government is doing with every building in downtown Ottawa," he says.
As healthcare projects continue to get bigger in scope, Lindsay thinks they are beginning to experience some of the same risk characteristics seen in large linear projects, such as highways and transit.
"It's no longer just a greenfield parcel of land," he says. "Although we have a few of those in the pipeline, it's far more brownfield rehabilitation, refurbishment, reconstruction as operations are going on. Not only are they massive hospital projects, but they sit face-to-face with massive transit investments that are planned, so the interactive effect of those works happening in the same corridor is new and novel. So, there's a whole bunch of those things that continue to condition the way in which we think about what it is we must do within the industry to deliver."
Finally, another pandemic-related trend Lindsay sees when it comes to building healthcare facilities is the sector's thinking around long-term care (LTC) homes and how they can be part of "a continuum of care or campus of care."
"We've built those four rapid-build LTC facilities in partnership with hospitals. And, they are long-term care beds, but they're also acute-care beds. And we were certain to ensure the behavioural units and dialysis units were a part of these LTC facilities, because the ability to take patients that are otherwise occupying hospital beds and to put them into proximate LTC facilities that allow for some synergies and respective operations cost, especially around clinical staff, is really powerful."
[This article originally appeared in the January/February2023 edition of ReNew Canada.]
John Tenpenny is the editor of ReNew Canada.
Featured image: The Trillium Health Partners long-term redevelopment project includes the new Peter Gilgan Mississauga Hospital. (Infrastructure Ontario)