Mass timber projects are becoming a part of the everyday development landscape.
By John Tenpenny
With changes to the building code now allowing for taller wood structures there is an opportunity for mass timber projects to become a part of the everyday development landscape.
Like any other emerging trend, there are barriers to success. Being able to scale up production, making appropriate changes to current policy, and the need to train an industry on building with a new material are challenges that must be overcome if mass timber is going to become a part of the everyday conversation for building procurement across Canada.
During a recent INFRAIntelligence webinar, with support from PCL Construction, ReNew Canada sat down with mass timber industry leaders from across the country to discuss opportunities and challenges for future asset development. Panelists discussed how Canada's forestry sector is responding to this opportunity with innovation, products, and design.
State of timber
Natural Resources Canada recently released the State of Mass Timber in Canada (SMTC) report, which noted: "Demand for more sustainable construction materials and methods as well as more sophisticated design and production systems is stimulating the construction market in Canada. Mass timber will shape the future of low-carbon construction and development of the bioeconomy."
The growth in mass timber construction across Canada can be linked to progressive building codes, new mass timber products, innovative building systems, a growing number of designers and builders with expertise, increasingly affordable products and systems, interest in green building materials, and sustainable designs.
"We really are going mainstream," says Andrew Bowerbank, vice president of market development at the Canadian Wood Council. "[Mass timber is] following the trends that green buildings did 10 to 15 years ago."
It's also about acceptance, says Vivian Mansac, principal architect at Edmonton-based  Reimagine. "There used to be a lot of resistance, partly within the engineering community, partly within the construction community, and partly within the owner community.
"What happens in the world of design and construction is that people look to precedents. Once there are 10 buildings they can look at, it's easy to do the next 100."
Patrick Chouinard, founder and director of business development with Toronto-based Element5, which specializes in the design, fabrication, and assembly of modern timber buildings, has seen a lot of uptake over the past two years. Element5 has two manufacturing plants producing CLT and glulam, in St. Thomas, Ontario and Ripon, Quebec.
"We're inundated with new project opportunities on a weekly basis," he says. "We're seeing a lot more architects and engineers who have experience in mass timber design and engineering."
According to Chouinard, it's changing the way projects come to market. Traditionally, manufacturers and suppliers like Element5 targeted architects and engineers because they owned the customer relationship.
Now their primary target is owners and developers. "We've seen a huge uptake in interest from owners and developers because what offsite manufacturing and wood offers them is the prospect of generating a higher return on investment."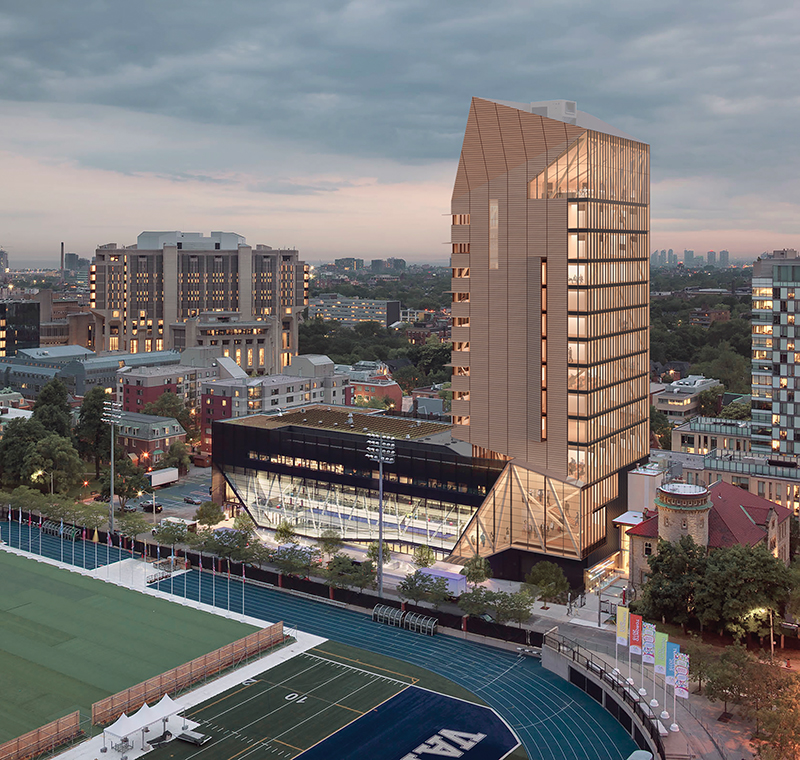 The use of prefabricated mass timber components for both the structure and building envelope significantly reduce the construction schedule. This modular delivery method, where building components are factory-built and then rapidly assembled on site, offers cost savings over a strictly site-built project.
"For the owner/developer it's a lower overall cost, but a higher selling price or rental income, because buyers and renters are willing to pay a premium to be in these wonderful spaces."
Why? Biophilic design, says Bowerbank, which is increasingly used to boost occupant well-being through connection to nature and the use of natural elements like daylight, plants, water, and exposed wood.
"People love to be near nature and natural products."
Demonstrating versatility
With more architects and developers around the country looking at mass timber as an alternative to concrete and steel, governments like British Columbia's are making it a priority, seeing it as an economic driver.
The province recently announced a new Mass Timber Demonstration Program, which is investing in eight mass timber buildings and four research projects. It also declared that every new civic building will be made mostly of mass timber, starting with Vancouver's new St. Paul's Hospital and the new Royal BC Museum in Victoria.
The $4.2-million investment in mass timber demonstration projects and research will help urban planners and developers adopt mass timber building systems by supporting the incremental or first-time costs of design development, research, permitting, and construction activities.
The demonstration projects reflect a range of different building types and approaches to using mass timber that will highlight the versatility and performance of this building material. These include a firehall with strict post-disaster requirements, an Indigenous health and culture centre, and low-cost housing on Vancouver's Downtown East side.
The research projects will study mass timber's fire performance, the costs relative to steel and concrete, and carbon benefits. All project innovations and best practices will be broadly shared to promote learning and further advance mass timber use provincewide.
"B.C. is well positioned to be the world leader in sustainable design and construction innovations that can transform our economy and positively support our environment and climate footprint," said Michael Green, architect and a member of B.C.'s mass timber advisory council, at the announcement of the program.
The world is desperate for solutions to climate change and the concrete and steel industries are responsible for somewhere between 12 and 14 per cent of the carbon dioxide in the atmosphere today. We know we can't continue to build the way we've been building the last 100 years, particularly as the population is expected to increase.
Carbon copy
Embodied carbon—the carbon dioxide (CO2) emissions associated with materials and the construction process throughout the lifecycle of a building—will be one driver for mass timber adoption as we strive to achieve net zero.
"The perceptions of green and sustainable and low-carbon tend to move around based on what elements we have to tackle," says Bowerbank.
Ten years ago, he says, it was around operational carbon, which is emitted from the annual running of a building: typically, from the electricity and natural gas required to heat, cool, ventilate, and power the building.
"Now it's really about the material itself and the embodied carbon sequestered inside."
Though mass timber offers many benefits over traditional building materials, its renewable nature and negative carbon impact are perhaps the most exciting. Turning trees into timber emits fewer greenhouse gases than the manufacture of traditional building materials like steel and concrete. That alone is a carbon benefit. However, it's the CO2 that is removed from the atmosphere and stored in the wood—the sequestered carbon—that is the real game-changer.
"When we're building with wood, we're leveraging our forests' natural ability to absorb carbon dioxide, produce the oxygen we breathe, and store the remaining carbon dioxide," says Chouinard. "So, if we're using wood to construct buildings what we're doing is systematically and effectively removing carbon dioxide and storing it in these beautiful buildings."
In addition to storing carbon, wood products are associated with low levels of carbon emissions during manufacturing, thus reducing the overall carbon footprint of a building's construction. Combined with sustainable forest practices, mass timber could help to reduce the GHG impact of the construction sector, which represents approximately 39 per cent of all emissions globally, according to the 2019 International Energy Agency Global Status report.
The carbon captured by mass timber can be significant, especially in a tall wood building. The SMTC report, for example, notes the 18-storey Brock Commons Tallwood House hybrid mass timber structure, at the University of British Columbia stores 1,753 tonnes of CO2, while the total carbon benefit created by the tower's construction process is approximately 2,432 tonnes of CO2—equivalent to taking 511 cars off the road for a year.
"Concrete and steel production, upon which we have relied for the last 150 years to build cities, is the leading cause of the world's current CO2 crisis," says Chouinard. "As the world rapidly approaches nine billion people—three times what it was in a less than a single lifetime—our fragile planet is desperate for sustainable alternatives and mass timber will be an essential building material of the 21st century."
Early adoption
Where can the efficiencies and carbon reduction be made during the stages of design and construction?
"We have to be looking at the climate impacts right at the very beginning as part of our normal design process," says Mansac. "Those are the moments at which those critical differences happen and once those decisions are made, often in the first month of a project, they have ongoing impacts for the next 100 years."
It's critical, she says, for the design team, architects, engineers, and contractors to be part of the solution and to calculate the benefits of mass timber at the same time they're thinking about building and wind loads.
"And when we do, wood comes out ahead almost every time."
Building with concrete and steel is very labour intensive and time-consuming processes.
But if you can take a product like mass timber, says Bowerbank, assemble it and build it in a factory and then ship it to site for a prefabricated, modular system that goes up quickly, you are automatically reducing carbon emissions during construction.
"We have so much still to learn and understand about the entire process, but it's going to be a fun ride figuring it out."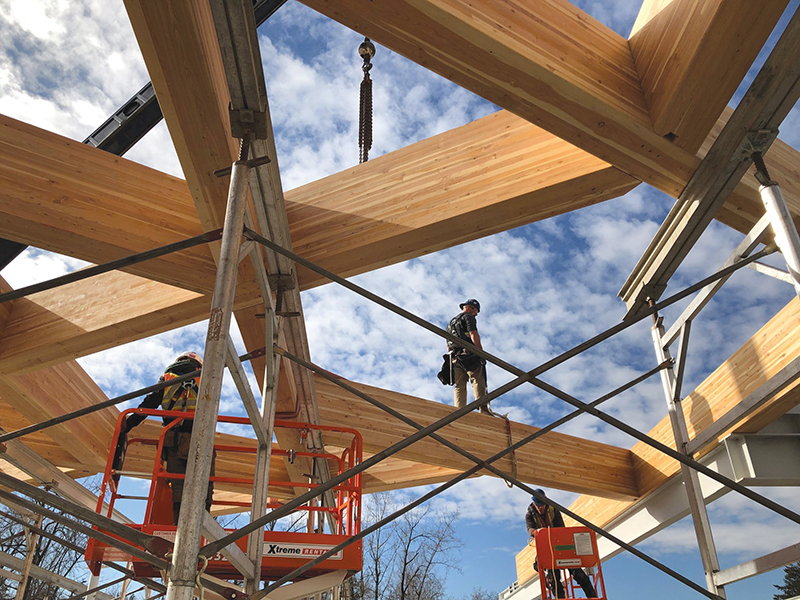 Building the code 
The federal 2020 National Building Code, delayed until later this year, is expected to allow mass timber construction up to 
12 storeys.
Unfortunately, says Mansac, most tall wood buildings still have to be encapsulated.
"We'd like to see the next iteration of the code where you no longer have to encapsulate the wood and you can actually show it."
If encapsulation wasn't required it would reduce costs because fewer trades would be required to finish the building without the need for drywall and other materials, says Mansac.
"The current code is a good stepping-stone, but I don't think it's going to make a big difference because not many more people are going to be excited about wood if they have to encapsulate it. I'm waiting for the next code."
It's also going to foster investment in innovation, research, development, and testing. And that will lead to the introduction of new and complimentary engineered wood products, which will force designers and builders to be more creative about how they use wood to address the needs of increasingly larger buildings.
John Tenpenny is the editor of ReNew Canada.
[This article originally appeared in the September/October edition of  ReNew Canada.]
Featured image: The carbon captured by mass timber can be significant, especially in a tall wood building. (Sierra Construction, courtesy of Element5)