Quebec quarry introduces new soil management model for construction industry
By Mark Cardwell
Urban environment expert David Garant isn't surprised by the operational success of a soil treatment centre that opened a year ago in a spent sector of a large limestone quarry in the heart of Laval, just north of Montreal.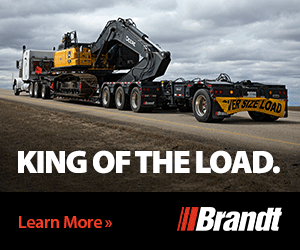 What amazes him is that the novel notion and unique partnership behind the project—innovative approaches that could change the way the Canadian construction industry manages contaminated soils and rehabilitates old pits and quarries—hadn't been thought of sooner.
"It just makes so much sense—it's a no-brainer," says Garant, director of land and environment management at CRH Canada, one of the country's largest vertically integrated materials and construction companies. "It's a win-win-win for the companies involved, the environment and for society as a whole. We're already looking at expanding the model to other quarries."
Opened in mid-September 2021, the soil treatment centre is a joint initiative between quarry-owner Demix, a subsidiary of CRH Canada that makes and supplies the Quebec construction industry with a variety of aggregates from a half-dozen quarries in the Greater Montreal region, and Englobe, a Canadian leader in applied sciences, notably in environmental consulting and remediation using biological processes to degrade, transform and essentially eliminate contaminants from soil and water.
Located in the southern half of the 1.7-million square metre Laval quarry, which is divided by the busy boulevard St. Martin commercial artery in the heart of Quebec's third-largest city, the soil treatment facility features a large impermeable base or treatment pad that is equipped with blowers to optimize and control the rate of biodegradation of contaminated soils and sediments.
Soil from Demix customers who are working to redevelop everything from old gas stations to construction and industrial sites in a roughly 100-kilometre radius of the quarry are dumped in piles on the treatment pad.
Each pile is then covered with industrial-grade waterproof tarps and subjected to a low-energy; micro-organism-based bioremediation technique that Englobe has developed. 
This so-called biopile method leverages naturally occurring biological processes to isolate, eliminate and/or convert hydrocarbons and other organic and manmade compounds like metals and pesticides into low toxicity biproducts.
"It's an outdoor process that takes four to ten weeks, depending on the contaminants involved," says Louis Côté, Englobe's general manager and vice president of operations for remediation and organics and soil treatment. 
In addition to its 64 offices, the company operates 10 regional contaminated soil treatment centres across Canada (plus some in Europe) and handles more than 1 million tonnes of soil and other materials annually. 
Once the biopile treatment is complete, soils are considered reclaimed and ready for reuse as landfill or road-fill by everyone from real estate developers and excavation contractors to municipal bodies and industrial companies.
However, unlike at traditional treatment centres, decontaminated soils at the Laval quarry—the first facility of its kind north of the Island of Montreal—are being used in situ as fill as part of a long-term remediation process and plan to restore the property and return it to the community for use in residential, commercial and other public- and private-sector projects.
The result, according to the two companies behind the innovative project, is a significant reduction in both truck traffic and greenhouse gas emissions in Laval and the Greater Montreal region.
In addition to 5,000 fewer truck trips on the roads, they estimate that the five-minute drive to carry decontaminated soils from the treatment centre to the rehabilitation site—a route contained within the relatively safe confines of the quarry rather than on public roads to sites far afield—saves the burning (and cost) of 35,000 litres of diesel fuel a year.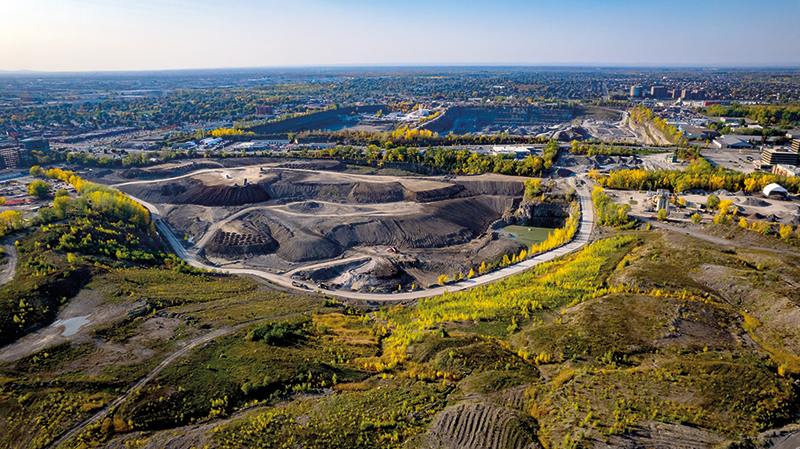 "The opening of Englobe's treatment centre in our Laval facilities is a concrete example of what we can do to help the construction industry manage soil responsibly while contributing to the rehabilitation of our quarry for our communities," Demix Agrégats general manager Dominic Martel said when the centre opened. "It will allow Demix to offer its clients the possibility of working with Englobe in the management of their soils, while continuing to get aggregates from the quarry."
For his part, Côté says the new treatment centre has increased Englobe's processing capacity by some 50,000 metric tonnes. It also allows Englobe to offer its customers additional options and more convenient access to its services in the Greater Montreal region, where it has existing facilities in both the city's east end and at the new Vitaliterre landfill site in the town of L'Épiphanie, a half-hour drive northeast of Montreal.
"This project is beneficial not only for Demix and Englobe but for the construction industry as a whole," says Côté. "It broadens our options and represents a major big step forward in our efforts to find sustainable, innovative and responsible solutions for the treatment of contaminated soils." 
Credit for the novel project goes to employees of both Demix and Englobe who were college classmates before entering the workforce. "Whenever we meet up, we always end up talking shop: what work is like on our sector, what the constraints are," Nicolas Gagné, a continuous improvement supervisor with Demix, says in a short video presentation about the project on CHR Canada's website. "That got us thinking that we could pool our companies' expertise to innovate and develop a decontamination site in situ."
The Laval quarry seemed like the perfect place for a collaboration project. Located geologically in the St. Lawrence Lowlands, in a sector of the Chazy Group, Laval formation that consists of limestone alternating with shale interbeds, the quarry began supplying aggregates with physico-mechanical characteristics of Type 2A —which correspond to construction materials standards—for the Greater Montreal region when it first opened in 1925.
The south part of the property, which was one of four quarries in operation in Laval, was acquired in 1973 by Demix, which was then a division of St. Lawrence Cement. The company bought part of the northern quarry sector in 1974, and the rest in 1996.
But then, the limits of the perimeter had been reached and operation of the deep rock was focussed increasing in the north sector, with the crushing and screening process located in the south end of the quarry.
"The north sector has enough reserves for another 50 years, so we're still blasting and operating there," says Garant. "But there was no more good geology, no more benches of limestone rock in the southern sector. So, it made sense for us to transfer the aggregate making plant there."
At the same time, he added, rehabilitation efforts began in the southern sector. "It's very valuable land, being right in the heart of Laval," says Garant. He added that once rehabilitated in a decade's time, the property will be used ostensibly for a city park and other residential and commercial uses.
That project will likely resemble another urban development project currently being elaborated for another old limestone quarry just a kilometre away to the west.
Dubbed Carré Laval, that project aims to decontaminate a 37-hectare site—which is only five per cent the size of the Demix quarry where the new soil treatment plant is located—and turn it into a car-free zone with a park, a lake, research centres, stores and other features, including tourist attractions. 
Promoted by Laval and backed by the Quebec government to the tune of $10 million, the carbon-neutral project would also include residential housing and schools and become a downtown core for the city, which is Montreal's largest suburb.
On its website, the city says it intends to make Carré Laval, which could ostensibly open before the end of the decade, a "diversified environment on a human scale where people can live, work and have fun seven days a week, winter and summer alike."
Meanwhile, output from the new soil treatment plant continues apace to help Demix meet its obligations to remediate its quarry in Laval.   
Under the terms of its ground-breaking agreement with Englobe, the latter leases the location where its treatment pad is located and operates the site with its own equipment, materials and manpower.
According to Côté, soil characterizations are carried out both before and after materials are loaded onto trucks and carried to the treatment facility. "We determine the type and level of contaminants and pile it accordingly," he says. "Those characterizations are the benchmarks we use to calculate the end of the decontamination process."
The soil cleaning process, he added, is 100 per cent natural. "We blow in air to wake up the bacteria that's already in the soil and that will degrade the contaminants that are present there, and we mix and add soils to allow that process to begin and continue," says Côté. "We also capture the air and water in order to catch any contaminants that are emitted. We control the entire process from A to Z."
The decontamination process, he adds, creates some heat and results in rising temperatures. "That tells us the bacteria is doing its job," says Côté. The process works best he says during the warmer months from spring to fall. "It's very slow during the cold winter months, so we don't start piles then," he says. "So far things are working perfectly, according to plan."
For his part, Garant says his company is now looking at other possible sites in and around Montreal where it could deploy the new soil treatment facility model with Englobe. 
The new facility is turning heads and garnering attention from many quarters, including divisions within CHR Canada. "Soil management is highly regulated, and the rules are different in every province," says Côté. "But there are people in our company in Ontario in particular who are very interested in our new model."  
[This article originally appeared in the March/April 2023 edition of ReNew Canada.]
Mark Cardwell is a freelance writer based in the Quebec City region.
Featured image: Soil from Demix customers who are working to redevelop everything from old gas stations to construction and industrial sites in a roughly 100-kilometre radius of the quarry are dumped in piles on the treatment pad. (ENGLOBE)