Despite numerous obstacles, Royal Inland Hospital's new patient care tower was delivered on time
When it comes to dealing with a pandemic, hospitals play a vital role. When the construction of a healthcare facility occurs during that same pandemic, the policies and collaboration between parties become paramount in making sure that the project is completed on time, on budget, and safely.
Completed in July 2022, the Phil & Jennie Gaglardi Tower at Royal Inland Hospital (RIH) serves residents in Kamloops, but just as importantly, the surrounding region as well.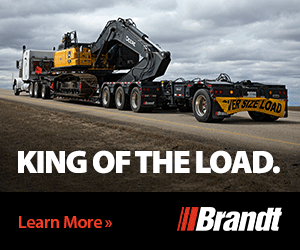 "Royal Inland is an acute care site that services Kamloops, but also all of the Thompson Cariboo Shuswap area—all of the smaller towns that feed into it," says Michael Morton, project owner Interior Health's (IH) director of major capital projects. "The main need for this [project] was an update to meet the clinical standard of care, giving residents improved access to healthcare services in a modern, state-of-the-art facility."
Designed with direct input from local health-care workers, the nine-storey tower helps streamline the way people access services in the hospital. There is one main entrance and a spacious facility that will allow staff to provide care in a space designed to modern standards. The tower includes single-patient rooms with their own washrooms, large spaces for families to gather and the ability for Indigenous smudging practices to occur in patient rooms.
There are also new operating rooms and surgical services suites, more beds, medical surgical inpatient units, respiratory therapy services and a new rooftop helipad provides a more direct access to trauma care for patients that arrive at the hospital via helicopter..
As well, the tower includes a mental-health and substance-use inpatient unit, child and adolescent mental-health services, obstetrical services, labour, delivery and a neo-natal intensive-care unit, a first-floor atrium and patient registration area.
EllisDon was selected by IH in 2018 to design, build, partially finance and maintain the tower in a public-private partnership (P3). Facilities maintenance at RIH has transitioned to EllisDon Facilities Services Inc., which will provide maintenance services at RIH for 30 years.
Patience required
You can forgive Jordan Highton for thinking he was living in different times.
EllisDon's senior superintendent on the project, who oversaw up to 500 workers on site at any time, says it wasn't just the pandemic that affected the project, but also natural disasters.
"This project was largely built during the pandemic, which wasn't unique, but what made it unique was not only did we have the pandemic, but we also had two seasons of wildfires in Kamloops and then flooding as well. It was almost Biblical, in that we had fires, floods and the pandemic."
The creation of an employee mapping system was key to knowing how workers were housed and with whom, along with commuting partners, since so many workers traveled from outside the Kamloops area, mostly from B.C.'s lower mainland and Alberta.
"If one worker tested positive, we knew not only the people he worked with, but who he lived with, which really allowed us to navigate the pandemic because we had people commuting together. So, we had to really understand exactly our employees lives during the construction process to limit major outbreaks on the project," says Highton.
"When the fires happened there was a desperate need for housing for evacuees, so we asked our workers to free up the accommodations that they were in to house people displaced by the fires, which again led to manpower challenges, but all of which we were able to work through."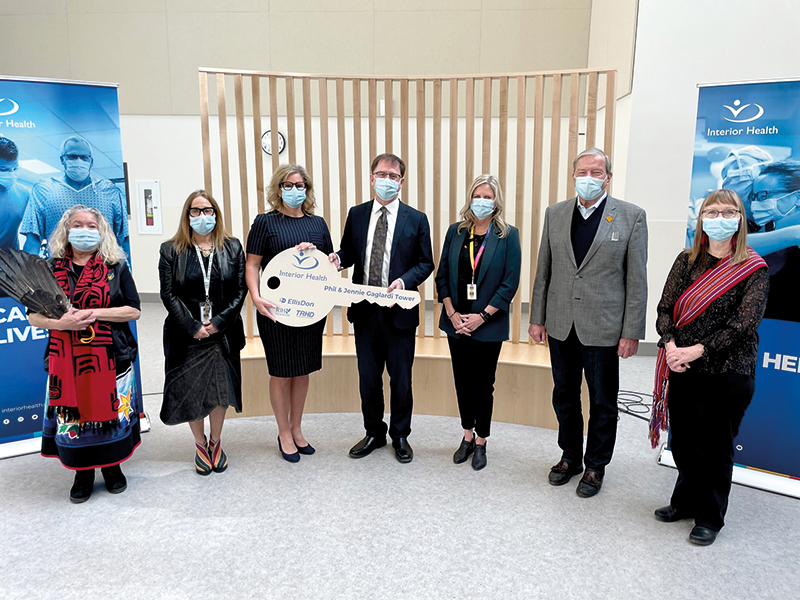 Pandemic planning
The triple threat of the pandemic, wildfires and flooding impacted not only workers getting to the site, but also construction materials.
At the onset of COVID-19, teams from EllisDon and Interior Health sat down to come up with a plan. The options were to deal with things as they came up and adapt deadlines accordingly or keep to the original completion deadline by any means necessary.
Both partners went with the latter, "which allowed us to do a lot of things outside the box to keep the project moving," says Highton.
"And we just really made a commitment between us and them that we needed to do basically whatever we reasonably could to make sure we brought this project in on schedule and within budget," adds Morton.
"We worked with [EllisDon] on an ongoing basis to support them in making sure they could get the materials and the labour and everything that they needed to keep to the schedule."
That included early procurement, says Highton. "We procured major mechanical equipment and electrical devices very early on in the project, and we brokered offsite storage agreements." 
These arrangements were atypical, according to Highton.
"We had all these things in place where we could accept this material well ahead of installation and have it at the ready, which isn't typical. Very few owners or very few partners will agree to offsite storage, but IH really stepped up to the plate and were a partner in every sense of the word to help us make this project a success."
Offsite mock-ups
Another unique component of the project was the use of full-scale mock-ups of a number of the rooms in the tower's design—including a single-patient room, an operating room and a birthing room—constructed in a rented warehouse in Kamloops.
The mock-ups were fully finished and included functioning lights and security systems, according to Highton.
The main benefit of this process was to allow user groups such as the clinical and care teams to interact in the rooms with the design, construction and IH teams present.
"The main thing is to be able to physically bring these teams in and physically stand in the space, wheel equipment around, run through scenarios and make sure that physically, those rooms, the way they're configured is going to meet their needs," says Morton. "And to try and catch things that potentially are going to be an issue in the real build before the design is complete."
And it was not just the nurses and physicians, says Morton. "We brought all of the support groups through there, including housekeeping, food services, logistics, all of those groups to make sure that the room was going to work for everyone. And we solicit all that input and then that goes into the finalized design."
Being able to take proof of concept to actual construction and execution prior to beginning construction saved time, explains Highton.
"It really allowed us to create a benchmark for quality assurance and quality control as well as this is everything that we expect. We expect all these joints calked, we expect this level of paint finished, we expect this level of floor finished. And all those benchmarks were set prior to construction, which really streamlined the turnover process."
Now that the patient care tower is open, Phase 2 has begun, which will include renovation and expansion to the emergency department at the hospital as well as enhancements to pediatrics, the morgue, public concourse, daycare surgery, and the post-anesthetic recovery department.
According to Morton, those renovations are underway now. "We started them shortly after the tower opened and they run until 2026 because it's a multi-phased renovation to keep the emergency department open. It's called Phase 2 of the project, but ultimately it is part of the main project that is the Patient Care Tower." 
Royal Inland Hospital Patient Care Tower project
EllisDon Infrastructure Team

Respondent team lead: EllisDon Capital Inc.

Equity providers: EllisDon Capital Inc.

Design-Builder: EllisDon Infrastructure

Architect: Parkin Architects Ltd./Kasian Architects

Service Provider: EllisDon Facility Services Inc.
Total Cost: $417.2 million 
Ministry of Health and Interior Health: $225.2 million

Thompson Regional Hospital District: $172 million

Royal Inland Hospital Foundation: $20 million
Featured image: Completed in July 2022, the Phil & Jennie Gaglardi Tower at Royal Inland Hospital serves residents in Kamloops, but just as importantly, the surrounding region as well. (Jerald Walliser)