Nothing in construction happens overnight. It is almost always the result of long days, late nights, trial and error, more trials, and more errors, until the cycle repeats. The invention of the Hydradig was no different. JCB repeated the cycle for three years before they were satisfied with the product, and even more importantly, they knew their customers would be too.
On the surface, the JCB Hydradig looks like a wheeled excavator. However, this fully loaded machine is capable of much more. Not only is the Hydradig ideal for traditional wheeled excavator applications, but it can also be utilized as a wheeled tool carrier, which enables the operator to run a huge variety of attachments.
This innovative machine addresses five key challenges users of construction equipment are facing in North America.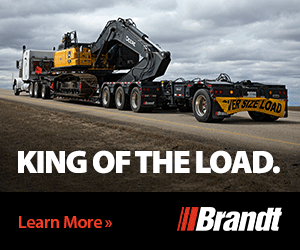 Limited Budgets
Shrinking Workforce
Site Safety
Aging Road Network
Machine Maintenance
These challenges served as the inspiration for the Hydradig. JCB leaned on innovation to overcome them and became the first to move the engine tanks and ancillaries to the chassis.
With a max operating weight of 11 metric tonnes and 109 horsepower (81kW), the Hydradig is designed to be an all-in-one solution. Multiple hydraulic circuits come standard, including a circuit to run hand tools. There seems to be no limit to the benefits this machine delivers.
Construction Challenges the Hydradig 110W Solves
Limited Budgets
Seeing a return on investment is vital when investing in heavy equipment, which is why JCB created a machine which gives customers the ability to consolidate multiple machines into one and make better use of tight budgets. The Hydradig can be used as a wheeled tool carrier. Switching between a variety of attachments is quick and easy, allowing one machine to replace the role of many. Whether it's cleaning out ditches that are overgrown, cutting back brush at the side of the road using a mower, storm cleanup or loading into a trailer with a grapple, the versatility of the Hydradig is unmatched.
The Hydradig also comes with a tow hitch as standard so trailers can be pulled by the machine itself. From traditional excavator work to simply flexing the full ability of the tool carrier, the Hydradig gives teams the capabilities to do it all with one machine.
Shrinking Workforce
It is no secret that the pool of qualified operators is shrinking. Jobsites across the country are working with an operator shortage, which decreases productivity while tasks are put on hold until operators on other jobsites are available.
The Hydradig tackles this issue head-on with its all-in-one approach. One fully trained operator can achieve multiple tasks on-site without the need to draft in ancillary manpower. With a tail swing of just 5″ (120mm), the Hydradig can easily operate within the confines of a highway shoulder and free up flagging teams to be utilized on other sites.
Site Safety
Safety on-site is of the upmost importance and is critical to business longevity. One of the biggest factors in site safety is visibility. Often, traditional wheeled excavators don't offer the best visibility which increases the risk of an accident on-site. The Hydradig allows unobstructed in-cab visibility to all four wheels, the dozer blade, the tow hitch and any fitted attachments. With a king post coming as standard, you can even offset the boom and dipper, giving the operator not only a clear line of site to their attachment but also their direction of travel.
With several other key safety features coming as standard, the Hydradig aims at reducing the risk of injury on-site without hindering productivity.
Aging Road Network
With over 4.8 million miles of roads across North America, maintenance and upkeep are a constant challenge for municipal governments. Metropolitan and rural areas alike experience this challenge, and JCB believes the Hydradig is the solution. It is able to run a suite of pothole repair attachments that provide a three-in-one solution for cutting, cropping and cleaning potholes. With these three carefully designed attachments, there is no need for additional specialist equipment or extra manpower, which saves time and money.
The Hydradig can cover 250 square meters per day and provides a permanent fix that only takes about eight minutes per pothole. These attachments, along with an array of ditch and brush-cleaning attachments, make the Hydradig a perfect fit within any municipal fleet.
Machine Maintenance
Machine maintenance and servicing is key to increasing the longevity of your machine and maximizing ROE. With that in mind, JCB aims to make it easier than ever to conduct maintenance on your machine.
The Hydradig has ground-level access to all daily checks and filters for fast and safe servicing, without the need to climb on the upper structure. The Hydradig also meets the latest emissions legislation without the need for a DPF, which means maximum uptime and no costly DPF replacements.
What the People Say
When it comes to an innovative product, the most important opinions are those of the individuals using it in their everyday lives. Below are some testimonials from our customers.
"The visibility compared to every other machine we've had is spot on."
"The best thing about the Hydradig is the versatility of it." 
"From the serviceability point of view, [I] don't think anybody else can offer what they offer." 
"This is an outstanding machine." 
"It's great to work with. Serviceability, maneuverability, mobility, visibility and stability—everything you need for a job."
"It's fantastic. We've got three different engine modes on this machine now, whereas before, on other machines I've driven, you haven't. So, you've now got more versatility for the type of job you're actually going to do on that particular task."
"We've got two JCB machines so far. When I test-drove the machine, it seemed straightforward and flexible. I could sit in the cab and see all four wheels. And that really appealed to me because it's often very crowded in town."
"It's quick, smooth, and easy. I must say that for such a small machine, it is tough and stable, and I'm very pleased with that."
"With the Hydradig, I do, on average, between 8 and 10 hours a day. She is 4 years old and already has done 6,200 hours. We do all kinds of work with the JCB Hydradig. We can dig a trench up to 3 meters at 1.5 meters deep, no problem…. The machine is so versatile, it is difficult to stay in one place for the day because it is so supportive on site…. I would say that we are 50–60% more productive on site than [we would be with] a traditional machine…. The JCB Hydradig is one of the most versatile machines because it is very compact, very stable, and thanks to its boom, which is very thin, you can, more or less, go anywhere. Once you have tucked the wheels in, you can work in cramped places, where really, there is very little space…. I chose the JCB brand because it was the only one on the market that stood out from the rest. It's a nice, multipurpose machine…. It is the only machine where they have centered the weight at the bottom of the machine, so we have a very low center of gravity. The visibility of the Hydradig is also why I chose it. Because when we are on the roads, on the networks, or on the construction sites, we often have colleagues who are behind us or beside us, sometimes on their knees in the trenches, and with the Hydradig, you can see them at 360 degrees without having cameras. You just have to turn your head and you can see everything that is happening around the machine…. I would recommend JCB to all companies that, like me, are involved in earthmoving, in landscaping, in civil engineering. It's versatile. It's rapid to move around. For visibility, it is top. For safety it is top. And [for] efficiency, fuel consumption is very low. So inevitably, I would recommend JCB to anyone."
In Conclusion
The significance of the Hydradig is rooted in the fact that it was designed to meet the real needs of real customers. Nothing in construction is easy, but JCB was determined, at the very least, to make it easier. The Hydradig accomplished that with its versatility, safety and capability. While innovation for the sake of innovation is a waste of effort and resources, the Hydradig offers practical solutions that exceed expectations and drive results.