Canada will see significant investment in port infrastructure over the coming decade, as efforts will continue to expand port capacity at several of the country's largest ports to be able to meet growing demand.
Recent years have seen considerable investment in the country's ports as trade has increased, driving up demand for expanded capacity. While the COVID-19 pandemic has weighed on port activity in the country since early 2020 and clouded projections of future trade demand, the expected acceleration of economic activity both within Canada and globally over the coming months will bolster the investment outlook for the sector, supporting port development over the coming years.
During a recent INFRAIntelligence webinar, ReNew Canada brought together a panel of experts to discuss current and future efforts by Canadian Port Authorities to invest in infrastructure to meet future capacity demands.
ReNew Canada: Demand for increased capacity at Canadian ports hasn't slowed despite the pandemic. What investments have been made and what future investments and projects will help ports keep up with capacity demands in the future?
Captain Allan Gray, president and CEO, Halifax Port Authority
For us, the long-term investment that needs to be done needs to be away from the port. It needs to be inland ports, intermodal facilities; things that will pull [cargo] away from the birth at a rapid rate so we can decrease dwell times. And we've seen that on the U.S. west coast, where they just don't have the capacity to pull the cargo away from the ports. That's essential for all our ports. Some ports will have a demand for more birth space, but some of us just need a method to get it further away from the port as quickly as possible.
Ian Hamilton, president and CEO, Hamilton-Oshawa Port Authority (HOPA)
We've invested about half a billion dollars into infrastructure over the last eight years at HOPA. And one of the areas that we particularly focused on is building the material handling resources and terminal operations for agriculture. Hamilton has always traditionally been a steel port.
A decade ago, approximately 80 per cent of our business was related to steel, but that number has dropped down to less than 60 per cent and 20 to 30 per cent of our business is now agriculture. Last year we did well over $2 billion worth of exports from Ontario farmers to international markets. This illustrates how using infrastructure can really impact Canada's competitiveness and supply chain resilience.
Chris Hall, prwesident and CEO, 
Shipping Federation of Canada
Often you think of just the marine component as being the biggest gap in capacity, but you must look at the entire system. It's road, it's rail, it's even air. You must look at the entire network because you've got to get that cargo out of the port facility as fast as you can. And we're seeing congestion in a few places in Canada and of course, many places in the U.S., and that's the problem. It may not be the port itself, but it's the other related infrastructure. So, the infrastructure discussion must be a much larger discussion involving many stakeholders, not just the ports.
Daniel-Robert Gooch, president and CEO, Association of Canadian Port Authorities (ACPA)
We've been advocating for greater financial flexibility for ports to be able to make investments themselves without the federal government being involved. So, we are seeing investments in physical infrastructure, yes, like the Roberts Bank 2 project in Vancouver. But different parts of the country have different challenges. And we're not the only ones calling on the government to work with us on a national strategy for supply chains and the movement of goods, so that these investments that we're seeing across the country can be better coordinated and aligned with our national goals.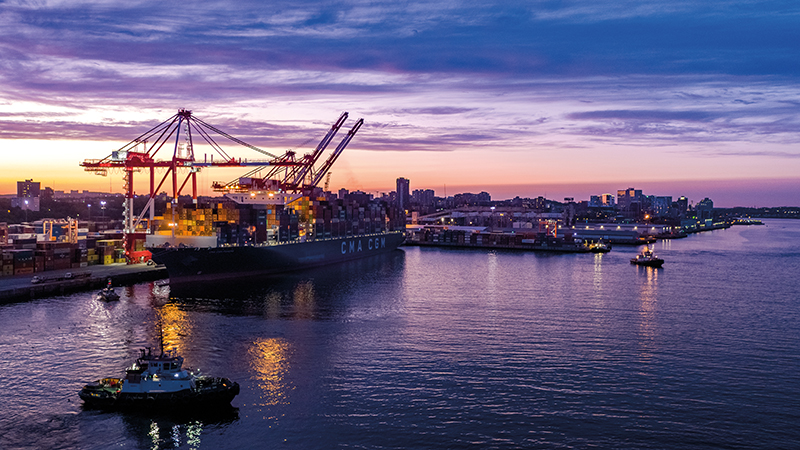 What are the key areas you would like to see addressed by Transport Canada's Port Modernization Review to help ports strengthen their global competitiveness? 
Daniel-Robert Gooch
One area of top concern for us is governance. It's essential that the local nature of Canadian Port Authorities working at arm's length from government be maintained. Another thing that ports are looking for is the ability to be nimbler, through greater financial flexibility and this means different things to different ports. For some, it means a streamlined approach to being able to borrow for infrastructure investments that need to be made, such as replacing the current limits on borrowing with minimum credit ratings or minimum debt service standards, or at the very least streamlining the borrowing process and the ability to get those limits raised. For other ports, it means continued access to funding options, like the National Trade Corridors Fund.
Chris Hall
There needs to be more alignment between departments. Transport Canada is the regulator, but there are so many other government agencies and departments that all form part of the transportation system. It's one thing if you create more capacity somewhere, but if other government agencies can't support that extra capacity, then it's not going to be effective.
Ian Hamilton
One thing we've discovered is that for every dollar we invest in infrastructure, industry is willing to invest four times that amount. Creating additional financial flexibility to allow port authorities to partner with industry, to create the funds, to pay for infrastructure is very important. The more financial tools in terms of equity partnerships and joint ventures that are available to us, the more ability we have to be creative in attracting those funds to drive more infrastructure investments.
Captain Alan Gray
We need to partner more with the private sector, but our ability to do that is hampered in some ways and we need to get that freed up. And that's not to bypass due diligence or good governance, but the government needs to be more agile and make approval processes quicker, so that we don't lose the opportunities with investors that come to us and say, 'Here's what we can do.' Now, whether there needs to be a shift in our financial ability, or whether it needs to be an assessment or approval, it just needs to be far more responsive, so that we don't lose the possibility of delivering some important infrastructure for Canada.
In the long term, what areas should the National Trade Corridors Fund focus on to help ports facilitate better movement of goods and reduce bottlenecks in Canada's supply chain?
Captain Alan Gray
I want to see funds for developing resiliency in the supply chain. The Chignecto Isthmus connects Nova Scotia to New Brunswick, and it carries major highways, railway as well as energy and communications systems. With climate change, all of if is at very high risk. We saw something similar last year on the west coast with the fires and the flooding. Why aren't we fixing this problem? Studies have indicated that the payback for investing in making sure the Chignecto Isthmus safe and resilient is 140 times.
With efficient ports as a reliable place to ship cargo through, the supply chain becomes resilient enough to withstand natural disasters that can affect our highway and railway systems, which are at risk.
Ian Hamilton
In Ontario, we struggle with having the capacity to manage demand. So, for us, it's about building that capacity and building resiliency and redundancy inside of our supply chains. What COVID highlighted was that if one thing goes wrong, the whole system shuts down. We need a national strategy around creating redundancy in our systems to deal with the peaks and the troughs of demand and how to keep cargo flowing when one part of the system goes down.
Daniel-Robert Gooch
And what we really need is a strategic long-term vision, a plan for what this country needs in terms of its multiple trade corridors, so that we can all work together a little bit more efficiently and more effectively to support our future trade growth, global competitiveness, all while reducing the impact of marine transport on the environment. There are significant challenges ahead in terms of decarbonization. Direct investments are required in terms of shore power electrification, but also for infrastructure to support the newer, cleaner fuels that ship owners are going to be using in the decades ahead. There's a lot of work that needs to be done. And I think as a country, we'd be well served to have that long-term vision, and strategy for supply chains and the movement goods across the country.
[This article originally appeared in the September/October 2022 edition of ReNew Canada.]
John Tenpenny is the editor of ReNew Canada.
Featured image: The Hamilton-Oshawa Port Authority (HOPA) is investing $30 million to extend the marine infrastructure in Oshawa to accommodate two docked vessels and improve loading and un-loading times. (HOPA Ports)