By Carroll McCormick
Opening up Northern Quebec and removing a TransCanada Highway bottleneck are the goals of two ongoing improvement projects.
About 440 kilometres east of Quebec City, on the North Shore of the St. Lawrence River, is the town of Baie-Comeau. Hanging a left onto Route 389, drivers embark on a 566-km journey north to Fermont and the beginning of Route 500 to Labrador City, Churchill Falls, Happy Valley-Goose Bay, and far beyond to where Labrador and the northern tip of Newfoundland are at their closest point.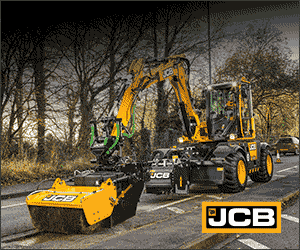 Route 389 is said by some to be the most dangerous highway in Canada. One joke goes that the road is so twisty that you can see your own taillights. Improving it is part of Quebec's Plan Nord, introduced in 2011 and publicized as a 25-year, $80 billion marathon to open up for economic improvement and development a 1.2 million square-kilometere territory stretching from the 49th parallel just north of Lac Saint-Jean to just beyond the 62nd parallel at the northern tip of Quebec on the Hudson Strait.
"The road is terrible. There are potholes and bumps and it gets slippery. Sometimes our trucks can only go five to ten kilometres an hour," said Jacques Sirois, the president of Lévio Transport in Saint-Appolinaire. The conditions have caused damage to his trucks that include engine and transmission failures, differential and brake damage.
"Safety investments have been called for on Route 389, which links Baie-Comeau to Labrador, for a long time, so any improvement is seen positively by the industry, given the absence of an alternative route. Given the strong presence of mining companies, a lot of freight transportation by truck goes through this place," commented the Quebec Trucking Association when asked about the importance of the upgrades to the trucking industry.
The latest Route 389 improvement budget, announced in 2019, is for $468-million, with the federal government, the Société du Plan Nord, and Quebec's Ministry of Transport contributing $183 million, $190 million, and $95 million, respectively.
The Ministry outlined the project's benefits: "Improve access to resources in Northern Quebec, increase user safety and comfort by significantly improving the geometry of the road, improve circulation, in particular by adding passing zones, and reduce travel time by the road users."
The current work plan is divided into five independent projects that include clearing forests, road straightening, major repairs, fixing tight curves, and resurfacing. For example, Chicoutimi-based Groupe Alfred Boivin began improvement work on a 22-km stretch between Baie-Comeau and Manac-2 this March that will last four years. A stretch of new road north of Manic-5, began in 2019, will be completed in 2021.
Planning for a new, 58-km section of road between Fire Lake and Fermont are underway. "The preparation of the final plans and specifications as well as the business case are underway. The Ministry may proceed with deforestation and then start construction," says Transports Quebec.
Route 185/A85
The Canadian economy eagerly awaits the twinning of the last 40 km (some say 41 km) of Route 185/A85 between Rivière du Loup and the New Brunswick border. Once finished, in 2025, the A85 ("A" being Quebec's designation for twinned highways) will complete an unbroken ribbon of divided highway from Halifax to Toronto.
Removing this single-lane bottleneck will reduce the cost of transportation and increase the country's Gross Domestic Product (GDP) by as much as two billion a year, according to modelling work performed in 2018 by Dr. Kent Fellows of The School of Public Policy at the University of Calgary, working with Dr. Herb Emery at the University of New Brunswick, Atlantic Institute for Policy Research.
"I pursued the evaluation of twinning highway 185 after Jean-Marc Picard, executive director of Atlantic Provinces Trucking Association, proposed that project as a high return infrastructure investment for our region at a 2016 Roundtable on Infrastructure for the Atlantic Growth Strategy," said Dr. Emery.
Dr. Fellows' economic modeling work includes valuing the Confederation Bridge for the PEI economy. For Route 185 his task was to estimate the GDP gain attributable to the percentage reduction in the cost of, and increase in demand for, tradeable goods. "As a bit of an oversimplification […] when you lower the cost of something (like truck transportation) there is more demand for it and by extension a higher volume," Dr. Fellows said.
Quebec began twinning Route 185, with its 90 km/h speed limit, in 2002. Yet 18 years later nearly half of it remains untwinned.
Not only is Route 185 slow, it is forbidden to take long combination vehicles (LCV) on single-lane highways. These rigs—one tractor pulling two 53-foot trailers—can cost as much as 35 per cent less to operate than a single tractor-trailer. Trucking companies have to decouple their LCVs before the single-lane section, haul each trailer separately over it, and re-couple on the other side. Other carriers find this exercise too unattractive and are thus denied, as are shippers, the benefits of LCVs.
Picard said of a twinned A85, "It would change the landscape of the industry [because of the LCV issue]. It would improve efficiency, help the environment and help with the driver shortage."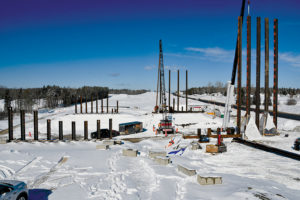 Displaced power lines as part of rerouting a section of Route 389.
While an increase in LCV traffic is implied in Dr. Fellows' model, it applies to all truck transportation; recent figures from Transports Quebec put truck traffic at between 22 and 29 per cent of the 6,600 to 8,000 vehicles that travel Route 185 daily.
At an estimate of a 1.5 per cent gain in GDP, the twinning would be worth a billion dollars a year to Canada. At an estimate of 2.5 per cent, the annual GDP increase would be $1.7 billion. New Brunswick has the most to gain in this range: an estimated $349 million to $596 million a year. Nova Scotia comes second, with estimated gains between $327 and $557 million a year.
The $553 million of federal and provincial dollars required to complete the twinning have been budgeted and the remaining twinning work is in various stages of construction.
Accelerating the tempo of construction has become rather of a cause célèbre in New Brunswick business circles and beyond; e.g., in 2018 the Canadian Chamber of Commerce approved a resolution to call on the federal government to speed up the work.
"The New Brunswick Business Council and the Atlantic Provinces Trucking Association are still pushing hard for this," Picard said. "It is a hot topic because we see it as a trade barrier."
Yet while Transports Quebec says that the Ministry is cognizant that users eagerly await its completion, it explains that the project's complexities mean the work can proceed only so fast.
And might that $553 million succumb to COVID-19 as Quebec and Ottawa spend massively to compensate for the economic calamity that is the SARS CoV-2 pandemic? "At present, it is too early to know the impact that COVID-19 will have on the budget and the work schedule for the Highway 85 project," Transports Quebec said.
Carroll McCormick is a freelance writer based in Montreal, Quebec.
This article originally appeared in the July/August 2020 edition of ReNew Canada.
Featured image: The look of progress this March on twinning a section of Route 185 in Saint-Antonin.