ReNew Canada publishes an annual report on the 100 largest public sector infrastructure projects currently in development in Canada. The report contains details on each of the projects, including location, cost, project overview, estimated date of completion, and a list of the key companies involved with the project.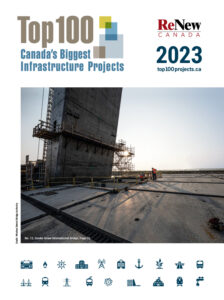 To read the full report and learn more about the Top100 projects for 2023 visit the website here.
Want to ensure your information is included in the next edition of the Top100 Projects report? Email Editor John Tenpenny at [email protected] to receive a copy of the submission form.