Natural Resources Canada and the Federation of Canadian Municipalities announced an investment of more than $1.8 million through the Green Municipal Fund to support six projects in communities across Quebec to improve water quality.
"Canadians deserve clean and healthy communities to call home. Today's investment supports six projects that improve wastewater treatment and help waterways remain clean and safe for communities across Quebec by deploying innovative technologies and practices. This is good news for Quebecers and for our environment," said Jonathan Wilkinson, Minister of Energy and Natural Resources.
Projects like the ones being announced are made possible thanks to the Green Municipal Fund (GMF), a $1.65 billion program administered by the Federation of Canadian Municipalities and supported by an endowment by the Government of Canada. GMF supports initiatives that advance innovative solutions to environmental challenges and improve the quality of life of Canadians.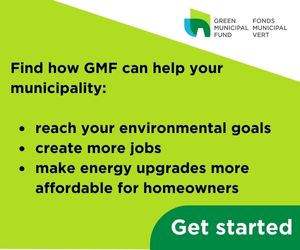 Field Test:
The Régie intermunicipale de gestion des déchets des Chutes de La Chaudière ($401,710) has developed a waste management system using the Evaplant technology by Ramo to reduce the amount of contaminated rainwater that is filtered through the Saint-Lambert-de-Lauzon landfill site and discharged into the environment. This project is expected to improve the water quality of the Chaudière River and across the region.
Pilot Projects:
The Town of Lac-Delage ($500,000), in partnership with the City of Quebec, will upgrade its aerated pond treatment plant to meet provincial standards and improve wastewater quality through an innovative and simple-to-use technology that uses existing infrastructure.
The City of Rivière-du-Loup ($400,000) will install a unique combination of technologies to increase the capacity of its wastewater treatment plant to avoid excess discharge and meet the needs of the community as well as environmental requirements.
The Municipality of Ascot Corner($350,000) will be testing a new bio-augmentation system that is expected to increase the treatment capacity of its aerated pond wastewater treatment facility to support the growth of the community.
The Town of Amqui ($29,900), located along the Matapedia River, wishes to improve its water quality by implementing sustainable rainwater management facilities to reduce the volume of runoff and suspended solids that reach the river following rainy weather and storms.
Feasibility Study:
The City of Trois-Rivières ($139,900) wishes to identify and test the feasibility of implementing various types of green infrastructure during the process of replacing its obsolete water and sewer pipes on Saint Maurice Street.
"Finding innovative solutions to address the ongoing climate crisis is critical for all Canadians. By supporting concrete actions, such as protecting and managing water resources, we are improving water quality for our communities and providing a better home for future generations. I applaud efforts by the town of Lac-Delage, the city of Rivière-du-Loup, the municipality of Ascot Corner, the town of Amqui, and the city of Trois-Rivières, as they help lead the way to a sustainable future in Quebec," said Steven Guilbeault, Minister of Environment and Climate Change.
"Access to clean and safe water is essential to ensure the health and well-being for Canadians and our environment. This is why it is so important to protect our waterways and why FCM and the Government of Canada are committed to supporting projects like the ones announced today to safeguard the quality and quantity of our water resources. Together, we can improve our wastewater treatment while accelerating our path to net-zero and meeting Canada's climate change goals," said Scott Pearce, FCM President.
Featured image: Chaudière Falls.  (Wikimedia Commons/Eric Fortin)