The Department of National Defence announced that construction has begun on the new $131 million Air Force Expeditionary Capability facility at Canadian Forces Base Bagotville.
Once completed, this facility will support 2 Air Expeditionary Wing, a more than 300 personnel unit created in 2007. This unit provides necessary operational and training equipment to support the Royal Canadian Air Force's overseas deployments.
"CFB Bagotville is one of two major fighter bases in Canada – and it is an essential facility for the Royal Canadian Air Force. By investing $131 million to build this new facility in Bagotville, we will sustain approximately 600 jobs during construction – and provide Canadian Armed Forces members with the modern infrastructure that they deserve. This new facility will improve operations for 2 Air Expeditionary Wing personnel and better meet their needs, contributing to the safety and security of all Canadians," said Bill Blair, Minister of National Defence.
This new multi-purpose facility will provide training facilities, classrooms, administrative spaces, and workshops to support 2 Air Expeditionary Wing personnel. The facility, alongside the development of the parking, storage, and deployment preparation area, will consolidate personnel into one building, providing more space across Canadian Forces Base Bagotville for equipment storage areas and vehicle maintenance for the Royal Canadian Air Force. These upgrades will better meet the needs of 2 Air Expeditionary Wing personnel with upgraded training and administrative areas, and ensure they have better support for future growth in the Air Force Expeditionary Capability program.
"This investment in green infrastructure will not only create economic opportunities for surrounding communities, but also support our commitment to fight climate change. By replacing aging infrastructure with updated green facilities, we're increasing our military's capabilities, lowering our carbon footprint, and getting closer to meeting our climate objectives," said Marie-France Lalonde, Parliamentary Secretary for the Minister of National Defence.
The main building in the new facility will measure approximately 15,000 m², which is roughly three football fields in size. Additional exterior space double the size will be reserved as part of the fenced compound for use as personnel parking, exterior storage, and staging space for deployments.
The new building will be net-zero carbon ready and will meet Leadership in Energy and Environmental Design (LEED®) Silver standards. It will also implement multiple green features, such as energy efficient HVAC and lighting systems, parking spaces for green vehicles, rainwater capture technology, LED lighting, and more, which will save energy use and reduce greenhouse gas emissions.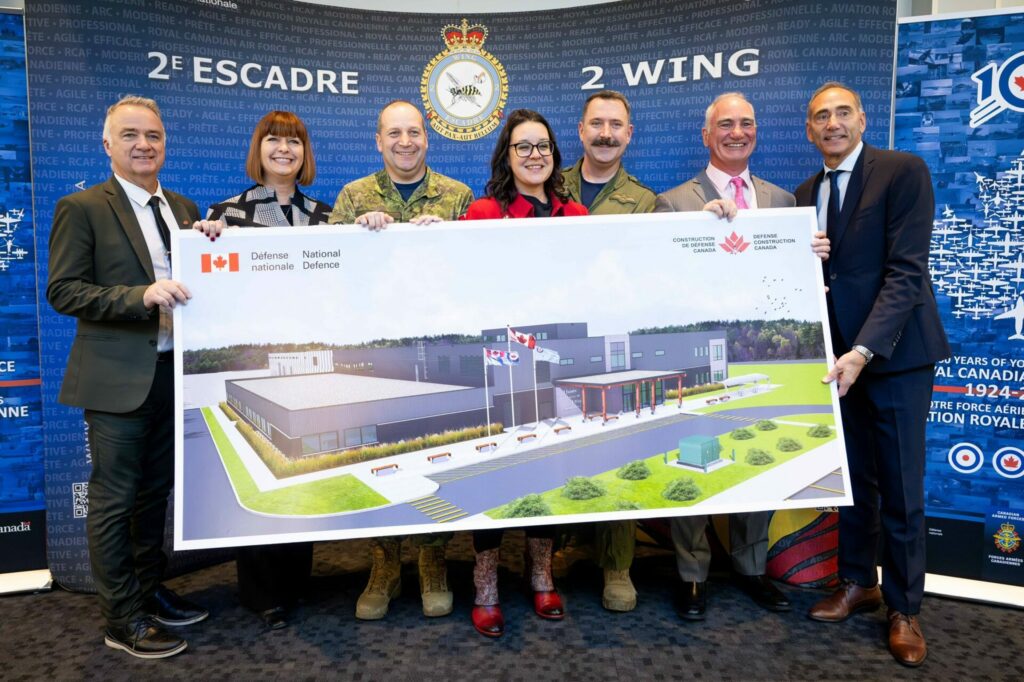 The construction will be completed by M. Sullivan & Son Limited of Arnprior, Ont.
Canadian Forces Base Bagotville opened in 1951 as a training base for the squadrons serving with the Canadian Division in Europe to support the air defence operations of the newly formed Canadian and American forces (which became NORAD in 1958).
The Air Force Expeditionary Capability program improves the Royal Canadian Air Force's ability to respond rapidly and effectively to support operations worldwide by providing needed operational and training support equipment
A modified design-build approach is being used for this project. This means that the project's design and construction have both been awarded to one successful bidder under one single contract, as opposed to the traditional method, which contracts separately for design and construction.
Featured image: (Department of National Defence)