The contract to design and build the Broadway Subway was awarded to the Broadway Subway Project Corporation, an Acciona-Ghella joint venture.
The new subway will provide fast and frequent SkyTrain service to British Columbia's second-largest jobs centre, health-care services, an emerging innovation and research hub, and growing residential communities.
"As we restore the economy through BC's Restart Plan, major infrastructure projects like the Broadway Subway line will be key to our recovery," said Premier John Horgan. "When completed, the Broadway Subway will transform how people get around in Vancouver. It will mean faster travel to work and school, better access to local business and fewer cars on the road."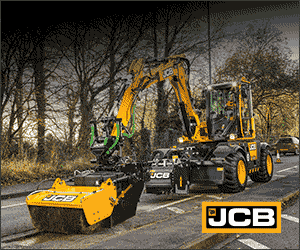 The contract with the Broadway Subway Project Corporation to design, construct and partially finance the Broadway Subway Project is valued at $1.728 billion. Construction will begin in fall 2020, with the line in service in 2025.
"Public transit allows Canadians to get where they need to go in affordable and environmentally friendly ways," said Joyce Murray, MP for Vancouver Quadra, on behalf of Catherine McKenna, federal Minister of Infrastructure and Communities. "It's great to see another important step reached in building the Broadway Subway, which will introduce a convenient new green transportation option along one of the city's busiest corridors. Canada's infrastructure plan invests in thousands of projects, creates jobs across the country and builds stronger communities."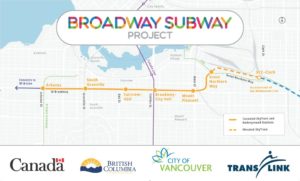 The Broadway Subway is a 5.7-kilometre extension of the Millennium Line from VCC-Clark Station to Broadway and Arbutus in Vancouver. Six new underground stations will connect communities and neighbourhoods.
"The Broadway Subway is being constructed along the busiest bus corridor in our region, which was also home to the most used bus route in Canada and the United States last year," said Kevin Desmond, CEO of TransLink. "This important project will transform the region's transportation network, reduce congestion and improve travel times for our customers."
Transportation Investment Corporation (TI Corp) is leading the delivery of the Broadway Subway Project on behalf of the Ministry of Transportation and Infrastructure. TI Corp will provide the controls, practices and other oversight that are essential for this complex project.
The project will be delivered under the province's Community Benefits Agreement (CBA). Through the CBA, the project will increase training and apprenticeship opportunities and prioritize hiring locals, Indigenous peoples, women, people with disabilities and other traditionally under-represented groups, including youth, who want to build a career in the skilled trades. BC Infrastructure Benefits is responsible for implementing the CBA for the project and will be the employer for the majority of the skilled workforce on the project.
The Broadway Subway project budget is $2.83 billion, funded and delivered by the Government of B.C., with contributions from the Government of Canada and the City of Vancouver.
For further information on this project, click here.
To learn about opportunities for this project, click here.
To view a video about this project, click here.