According to the World Health Organization, 54 per cent of the total global population lives in a city, and it is estimated that percentage will grow approximately 1.8 per cent per year between now and 2020. Canada, like most industrialized countries, is even more urbanized, with more than 80 per cent of its population living in a metropolitan area.
In addition to increasing urbanization, cities are on the front lines of efforts to curb global warming. More often than not, it is our urban centres that absorb the biggest impacts of extreme weather and must adapt to the existence of climate change. This reality, combined with an ever increasing urban population, puts an inordinate pressure on our cities—their infrastructures and their systems—to respond to citizen needs and outside pressures.
But a new era in information technology will have a positive impact on our cities. Indeed, it already is.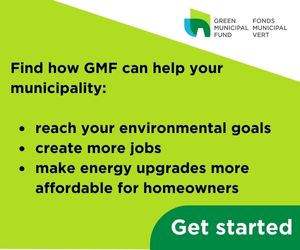 New age of cognitive computing
We are entering a new age of cognitive computing—an era based on the convergence of three massive shifts, which will have a profound impact on our cities and their ability to better listen, interact, and respond to citizens' needs.
First, we are living in a world awash in data, most of it unstructured, from things like sensors in roads, buildings, and smart meters. And while sensors and other devices create huge amounts of data, it is citizens that generate even more unstructured data: Facebook users like more than four million posts every minute, and Vine plays 17,000 videos per second. In fact, it is expected that by 2020, there will be 44 zettabytes of data in the world—the equivalent of 170 newspapers being delivered daily to every man, woman, and child on the planet.
Second, the world is being reinvented in software code with cloud as the platform on which digital builders are connecting this enormous amount of data, and integrating it into programming interfaces of which every business, organization, and level of government can take advantage. And third, we now have cognitive computing systems—systems that are fast becoming an indispensable tool to process massive amounts of data; make sense of that data; and generate hypotheses and recommendations. Most importantly, these new cognitive systems learn from every interaction and continuous data ingestion. They never stop learning.
Deeper human engagement is now possible because cognitive systems can create a more nuanced picture of each individual and be more anticipatory—and with deeper human engagement comes elevated expertise.
Example from Surrey, British Columbia
This is evident today in the City of Surrey, British Columbia, where a mobile app is using cognitive computing to help its citizens get the right answers to any question involving a range of municipal services, such as animal control, parking enforcement, waste collection, property taxes, emergency services, construction, recreation services, bylaws, utilities, and volunteer services. Powered by IBM's cognitive system Watson, the solution uses embedded Q&A and a natural language processing capability, which allows city residents to ask questions and receive evidence-based answers from any device. Not only does it help increase the responsiveness of the municipality, it enhances the citizen experience, while providing the city better insight as to where it needs to improve its services.
Cities can also use cognitive systems to predict problems before they occur—with things like catastrophic weather incidents or special event crowd control—and deliver tailored services that will make life better for everyone.
For example, in Beijing, China, cognitive technology is analyzing data from environmental monitoring stations, meteorological satellites, traffic cameras, and other sources not only to alert citizens of emerging air quality threats but to model the best ways to mitigate the risk.
Modern expectations
Citizens are also beginning to expect a level of service from public administrations that is on par with leading digital companies like Uber and Amazon. City leaders can address this expectation by using cognitive systems to assess social sentiment they need to take action on—helping them develop tailored plans for each individual community within the larger urban area, and address each citizen's needs in a more personalized way.
More specifically, it will allow the city to run buses or commuter trains based on its citizen's schedules—not on fixed timetables; alert sanitation workers as to which bins are full on a particular street or road workers as to which thoroughfare has a pothole; and adjust the environment of municipal buildings after hours so they are not sitting empty with the air conditioning blasting and the lights ablaze.
The Global Commission on the Economy and Climate estimates that more efficient municipal buildings, transportation, and waste management systems alone could generate up to $22 trillion in added economic growth to the world economy while lessening our environmental footprint. And it is cognitive technologies that can help enable all these municipal infrastructure transformations.
To help get started on a cognitive journey, there are five questions any municipal government can ask itself:
1) What aspects of your city would receive the greatest benefit from the ability to understand, reason, and learn?
2) Are you taking full advantage of the data you do collect—both unstructured and structured? Municipal governments can better succeed when they understand the data sources they have and think about applying cognitive technologies to that data so they can be more effective and enhance services.
3) Does your municipality have a cloud strategy ready for cognitive services?
4) Is your IT infrastructure tuned for cognitive workloads?
5) Is your security ready for the cognitive era? As cognition makes its way into buildings, roadways, municipal processes, fleets, and supply chains, it's important every transaction is secure.
This new cognitive era will translate into exciting progress for Canadian cities enabling them to respond in real time, predict problems before they occur, and deliver tailored services to make city life better for everyone.
Jean-François Barsoum is the senior managing consultant of Smarter Cities at IBM Canada.