Swiss-based architectural firm Herzog & de Meuron has unveiled the final designs for the 300,000-square-foot Vancouver Art Gallery.
Situated at Larwill Park, unifying the crossroads of Downtown, Yaletown, Gastown, east Vancouver and Chinatown, the new Gallery will fuel a hub of creative and cultural activity for local members, the public, and international visitors of all ages.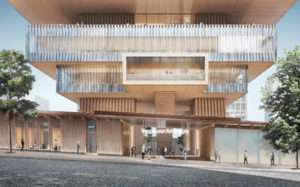 Herzog & de Meuron have designed the Vancouver Art Gallery's new museum as a sculptural, symmetrical, upright building combining opaque and transparent surfaces, with larger volumes concentrated at the top and minimal mass at the bottom. By lifting the bulk of the structure high above the street, the design allows light and air to filter down to an active, open-air courtyard below.
"The new Vancouver Art Gallery is a vertical building, distinctly spectacular at first sight, with an arrangement that resonates with the place where it is built. It offers ample outdoor spaces that are sunny in summer and protected from rain in winter, to suit the climate and life in British Columbia. Visitors to the building will be able to perceive Vancouver's urbanity and its amazing natural setting in many different ways," described Herzog & de Meuron.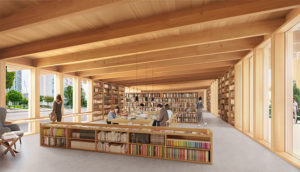 "Together with our team of B.C. experts and our client, we defined the building to a much higher degree: galleries, classrooms and reading rooms, the theatre, restaurants and shops, and all the public outdoor spaces are well-enhanced. The new Vancouver Art Gallery is close to reality."
Significant donation helps the project's progression
The Vancouver Art Gallery is celebrating a major milestone toward the realization of a transformational new building with the announcement of a $40 million lead gift from the Chan Family. This unprecedented act of generosity by the Chan Family brings the Gallery's capital campaign to $85 million in private sector funding toward the new purpose-built facility. In recognition of this extraordinary gift, the Vancouver Art Gallery's new building will be named Chan Centre for the Visual Arts.
"With this unprecedented gift to the Vancouver Art Gallery, the Chans are demonstrating a profound investment in the future of this city and country, and one that will impact many generations to come," said Kathleen S. Bartels, Director of the Vancouver Art Gallery. "We are also extremely grateful for the incredible generosity of the Board of Trustees and the many significant donors from across the community for helping us reach this milestone as we continue to work towards the new Vancouver Art Gallery Building," added Bartels.
The gift from the Chan Family —the largest-ever single private donation to an arts and culture organization in British Columbia—builds on the Family's long-standing history of supporting education as well as arts and culture institutions and programs with the aim of enriching communities in Canada and beyond.