Ontario Power Generation (OPG) announced that it has partnered with GE Hitachi Nuclear Energy, SNC-Lavalin, and Aecon to construct North America's first Small Modular Reactor (SMR) at the Darlington New Nuclear Project site.
The agreement represents an innovative contracting approach for a nuclear project in North America. Under terms of the agreement, GE Hitachi, SNC-Lavalin, Aecon, and OPG will provide a diverse range of expertise and services as part of an integrated project delivery model to develop, engineer and construct a BWRX-300 SMR, with construction to be complete by late 2028.
"Working with these three companies, OPG is leveraging decades of nuclear energy and large project experience to deliver much-needed new, reliable electricity generation to Ontarians," said Ken Hartwick, OPG president and CEO. "Construction of the Darlington SMR will create jobs and help ensure we meet Ontario's growing energy needs as electrification and a growing economy drive demand."
"With today's announcement, Ontario is one step closer to securing our legacy as a world leader in cutting-edge nuclear technology," said Todd Smith, Minister of Energy. "Canada's first grid-scale SMR at the Darlington site will help ensure a reliable, affordable and clean electricity system, increase export opportunities and support our success in driving electrification and attracting unprecedented investments in Ontario."
All parties will manage the project as an integrated team and each company will play a specific role in successfully completing the Darlington New Nuclear Project:
OPG: The license holder; OPG will maintain overall responsibility for the project, including operator training, commissioning, Indigenous engagement, stakeholder outreach and oversight.
GE Hitachi: The technology developer; responsible for design, procurement of major components, and engineering and support.
SNC-Lavalin: The architect engineer; provides design, engineering and procurement support.
Aecon: The constructor; will provide construction planning and execution.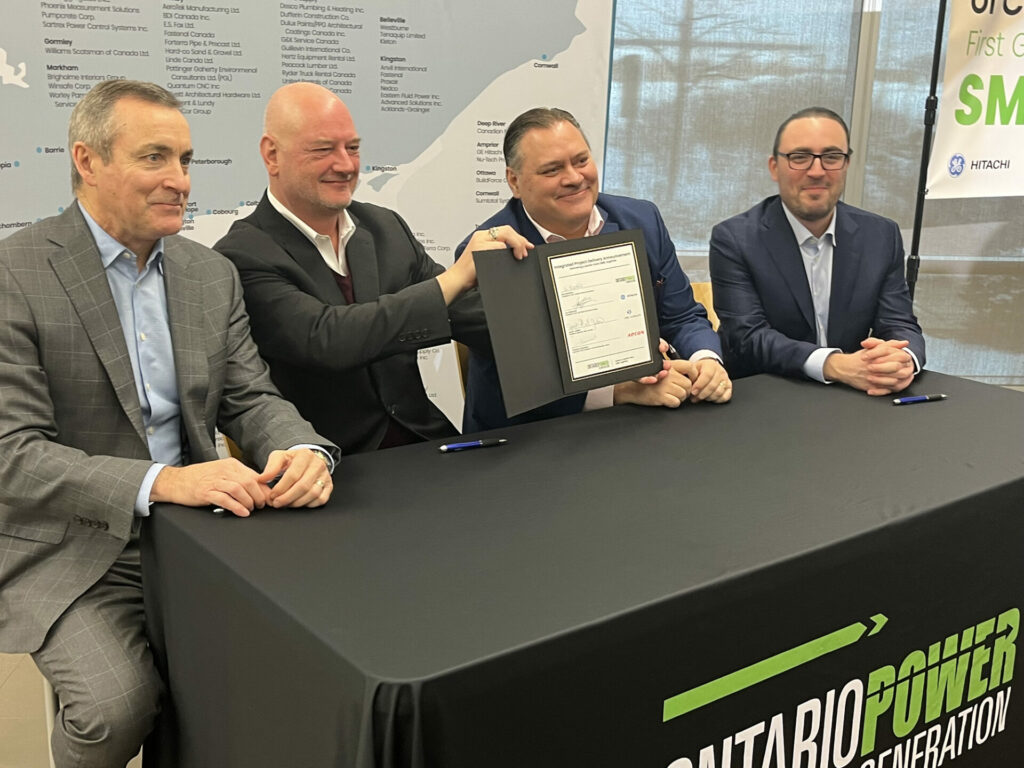 A $32 million contract was awarded last year to Niagara-based E.S. Fox, fabricator and constructor, to deliver early site preparation work, including water supply, electrical power, information technology and road services.
"Following our on-time, on-budget success working with OPG on the refurbishment of Darlington's existing CANDU reactors, we are very pleased to contribute our expertise with our alliance partners on this exciting new build," said Joe St. Julian, president, Nuclear, SNC-Lavalin. "Canada was the second country in the world to ever generate commercial nuclear power. Together with our alliance partners, we will ensure Canada again leads the way to advance an exciting new frontier in nuclear energy."
"As the preeminent nuclear constructor in Canada, Aecon is proud to bring our proven, full spectrum of expertise to deliver this exciting new nuclear build – leading the way in deploying the next generation of plants and guaranteeing the production of clean, reliable and affordable electricity in Ontario," said Jean-Louis Servranckx, president and Chief Executive Officer, Aecon Group Inc. "Nuclear power and SMRs are integral to Aecon's growth strategy in Canada, the US and internationally, and will play a significant role in advancing global progress towards achieving sustainability targets and a net-zero economy by 2050."