The Quebec government is working to reduce greenhouse gas (GHG) emissions and improve building energy efficiency through Project Alliance – an initiative focused on the use of geothermal standing column wells (SCW) to efficiently supply energy to commercial and institutional buildings.
For Project Alliance, the Ministère de l'Éducation du Québec (MEQ) has joined forces with the following organizations: Polytechnique Montréal, Hydro-Québec, the Centre de services scolaire de Montréal, the Centre de services scolaire de la Seigneurie-des-Mille-Îles, the Centre de services scolaire des Samares, Natural Resources Canada's CanmetENERGY Research Centre, the Université de Montréal, and companies Versaprofiles and Marmott Energy.
Polytechnique Montréal's Professor Philippe Pasquier, who is also geothermal energy research chair, will lead the 10-researcher strong team. The project will result in three successive demonstration projects in three Québec schools, as well as 24 complimentary research activities over five years. The team's work is already underway, with field trials having lead to the construction of the first SCW at Mirabel's École Clé-des-Champs primary school.
"SCWs have already been used for some 30 years in the North-Eastern United States. Their strength resides in the massive thermal power they create, which makes them a very cost-effective approach versus conventional geothermal energy production in use right now. The absence of demonstration projects and of experienced labour in Canada represents a major stumbling block to SCW deployment," said Pasquier. "We have great hope that this project will change that, while at the same time confirm SCW's safety in terms of groundwater."
Project Alliance will benefit from $2.7 million in funding from several sources: Hydro-Québec ($1 million), the Natural Sciences and Engineering Research Council of Canada – NSERC ($1.7 million), the MEQ will look after costs associated with the construction of geothermal energy systems, and other partners will provide contributions equaling $1.1 million in labour costs.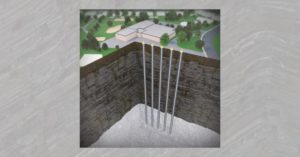 As part of Project Alliance, a geothermal energy system comprising five standing column wells (SCW) will be built in the area around Clé-des-Champs primary school, in Saint Augustin, Mirabel. (Credit: Massouh bioMEDia for Polytechnique Montréal)
Contrary to conventional geothermal systems, SCW plunge into the earth to some 500 metres depth, and use immediately available groundwater. As a result, SCWs do not take up extensive space, and represent a promising option to reduce the power grid drain that Hydro-Québec faces during peak periods.
For further information on this project, click here.