An interim injunction has been issued restraining Metrolinx from cutting down any trees at the Osgoode Hall site for a future subway station on the Ontario Line.
The interim injunction is in effect until midnight February 10, 2023 unless extended by further order of the Court.
In a statement Sunday, Metrolinx reiterated it's been engaging with communities, including the law society, on this project for over two years.
"We met with the Law Society of Ontario 17 times prior to the start of work to avoid unnecessary delays that will cause significant financial consequences to taxpayers and commuters.
"We look forward to resolving this matter quickly, getting this new subway built and serving nearly 400,000 passengers every day."
According to Metrolinx, building a new subway line through Canada's largest city means unavoidable impacts to things like trees, buildings, and roads.
Tree removals will take place on the Osgoode Hall grounds to allow for the construction of the new Ontario Line station.
This was not a decision Metrolinx made lightly, and it was only made after the agency explored multiple other options to ensure the site was the best option moving forward.
"The only reasonable option"
A "keyhole" – or a construction shaft – needs to be built to allow for the excavation and construction of what will ultimately be a large underground complex, and the southwest section of the Osgoode Hall grounds is the only space that is able to accommodate this. A recent independent analysis commissioned by the City of Toronto supports Metrolinx's plans for creating a new Ontario Line connection on the Osgoode Hall grounds.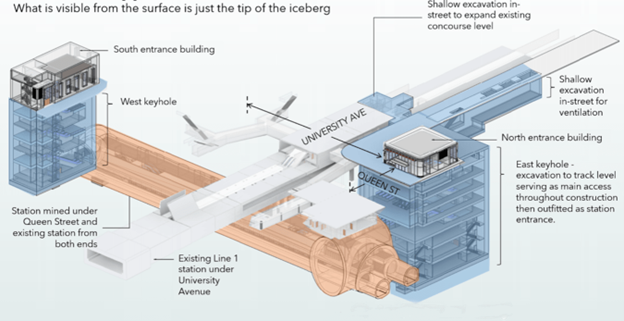 This area will also be where one of two new station entrance buildings will be located, directly lining up with the westbound streetcar stop.
Some transit advocates have suggested moving this construction from the northeast corner of the intersection to the middle of University Avenue, however this option was ruled out due to the potential impacts on existing Line 1 subway service.
Excavating immediately overtop of the existing subway tunnels under University Avenue would mean shutting down Line 1 subway service for several years and drastically impacting traffic on one of the city's major roadways, which connects to several major hospitals. There are also numerous power, gas, and telecommunications lines under the street that would need to be avoided, which ruled out this option.
"Despite best efforts, there will be temporary disruptions and some permanent changes to an important institution and community space," said Phil Verster, Metrolinx president and CEO.
"We want to help create a more connected, sustainable and accessible city – one that gives more people more opportunities to thrive and succeed," added Verster.
"There will be some hard decisions along the way, but we are doing everything we can to ease impacts as we work to bring long-term benefits to the people of Toronto."
Featured image: Rendering of future Ontario Line Osgoode Station entrance on Osgoode Hall grounds. (Metrolinx image)