As momentum builds for the seemingly limitless potential of mass timber products and applications across the landscape of Canada's construction projects, a unique collaborative spirit around its capabilities is also emerging.
Building Transformations will host mass timber experts together with technology innovators from across the globe to discuss the interface between design in the digital environment and the innovations happening within the design for manufacturing and assembly (DFMA) space, and the untold benefits for productivity, project reliability, and environmental sustainability.
Timber in the Digital Environment: Spotlight on DFMA will be a hybrid event being held in Vancouver, Oct. 12 and 13
This two-day event includes two project site tours (limited seating available), networking, special keynotes, unique presentations, expert panel discussions and technology exhibition. Attendees can engage in thoughtful discussions centred around how collaboration, innovative technologies and synergies in the design-build community are catapulting mass timber as a viable, sustainable and homegrown Canadian solution.
The event also offers a closing night networking dinner where event attendees can meet for cocktail hour and a three-course dinner. This is a great opportunity to build new relationships and reconnect with colleagues. See you in Vancouver!
As an added bonus for the next generation of timber experts, the Architectural Institute of British Columbia (AIBC) will offer credits for students who attend.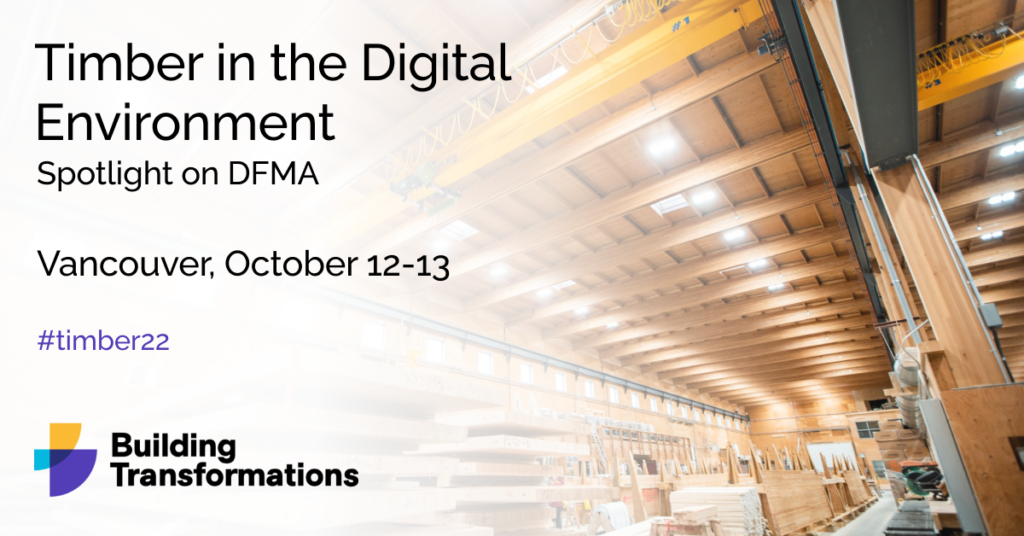 Featured image: (University of Toronto)