The leading-edge Gene Zwozdesky Centre at Norwood will provide rehabilitative programs to help seniors and those in continuing care maintain their best quality of life.
"Gene Zwozdesky honoured Albertans by living his life in service to others. His determination to make life better for everyone who calls Alberta home is a powerful legacy. And now, that legacy will live on through the new Gene Zwozdesky Centre at Norwood," said Tyler Shandro, Minister of Health.
Programs and services at the centre will support the wellbeing of seniors and those with complex continuing care needs. The centre will offer highly specialized rehabilitation programs, palliative care, hemodialysis, long-term care, day programs, dementia care and seniors' mental health services.
The new facility will play a vital role in increasing continuing care capacity, reducing demand for acute care and assisting post-acute care patients by streamlining access to specialized services at the Glenrose Rehabilitation Hospital and Royal Alexandra Hospital.
"The CapitalCare Foundation is pleased to see the bringing together of a great continuing care building project for Edmonton with such an amazing Albertan. Gene Zwozdesky's belief in a 'community that helps each other' is the basis of the work we are doing for the Stepping Up for Norwood campaign. We are excited to see the naming of this building to be the Gene Zwozdesky Centre at Norwood," said Sherry Schaefer, director, CapitalCare Foundation.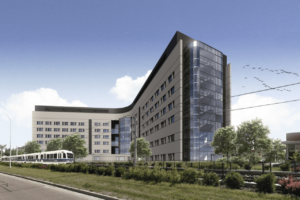 Construction is underway to expand and re-develop the centre. The project will increase continuing care beds by 145 new spaces in the Edmonton area and help address the growing need for continuing care capacity. The Alberta government is providing $379 million to develop the centre.