"Congratulations to all our clients, consultants and partners on this incredible achievement," said Marc Pascoli, PCL Toronto's senior vice president and district manager. "Achieving LEED Certification for these complex P3 projects demonstrate the strength in the collaborative relationships we have built with CAMH, Mackenzie Health and our partners and our commitment to a shared vision of a sustainable future."
"Achieving LEED in health care adds to the complexity of both the design and construction. On the design side, we often wrestle with architecture and energy models to find the right advanced energy systems and varied materials to hit the LEED targets," explained Stephen Montgomery, sustainability advisor, mechanical and electrical pursuits manager. "The resulting design contains more, and often times new, components, parts and building techniques that must have complete plans for procurement, quality, commissioning and turnover. The construction planning starts with design and does not end until the hospital is fully operational."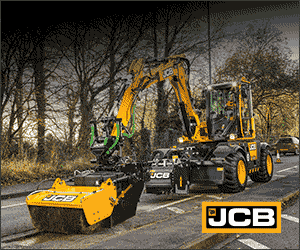 Completed on schedule and on budget despite a global pandemic, the McCain Complex Care and Recovery Centre and the Crisis and Critical Care Building, Phase 1C of the Centre for Addiction and Mental Health's (CAMH) redevelopment project, and Mackenzie Health's Cortellucci Vaughan Hospital were acknowledged by the Canada Green Building Council as high-performing, resilient buildings that prioritize sustainable practices.
"With the opening of the new McCain Complex Care and Recovery Centre and Crisis and Critical Care Building, we are revolutionizing mental health care by offering dignified spaces for CAMH patients to heal and recover," said David Cunic, vice president of Redevelopment at CAMH. "We are committed to not only providing quality care for patients, but also maximizing green spaces in urban settings and lessening our environmental impact demonstrating CAMH's environmental stewardship and sustainable redevelopment practices."
"We are proud to have opened our second hospital to support the western York Region community," said David Stolte, vice president of Strategy and Program Support Services at Mackenzie Health. "While Cortellucci Vaughan Hospital was designed through the eyes of the patient to support their healing process, many of the features we incorporated also demonstrate Mackenzie Health's commitment to environmental leadership. Green roofs, large windows along with courtyards and walkways that showcase natural, green spaces make a positive impact on our environment."
CAMH Phase 1C is Green on Queen
Both the McCain Complex Care and Recovery Centre and the Crisis and Critical Care Building are positioned prominently on CAMH's Queen Street frontage, bringing these LEED Gold-certified buildings into focus on Canada's largest mental health teaching hospital. The redevelopment project earned 66 points under the LEED v2009 New Construction Rating System. Preserving green spaces and environmental stewardship were crucial to CAMH's 'Green on Queen' vision for the new buildings. Highlights include:
17,000-square meter green roof and vegetated space accounts for 62% of the site area, which is unique to projects of this size.
Drought tolerant plants and high-efficiency irrigation system that reduce potable water consumption for irrigation by 100%.
Responsibly harvested wood throughout the building, with 98% of all wood materials certified by the Forest Stewardship Council.
Furniture meeting specified chemical content and environmental attributes; a feature that exceeded LEED Gold requirements and met LEED v4 requirement.
Highly efficient building envelope focusing on minimizing thermal bridging and optimizing solar heat gains.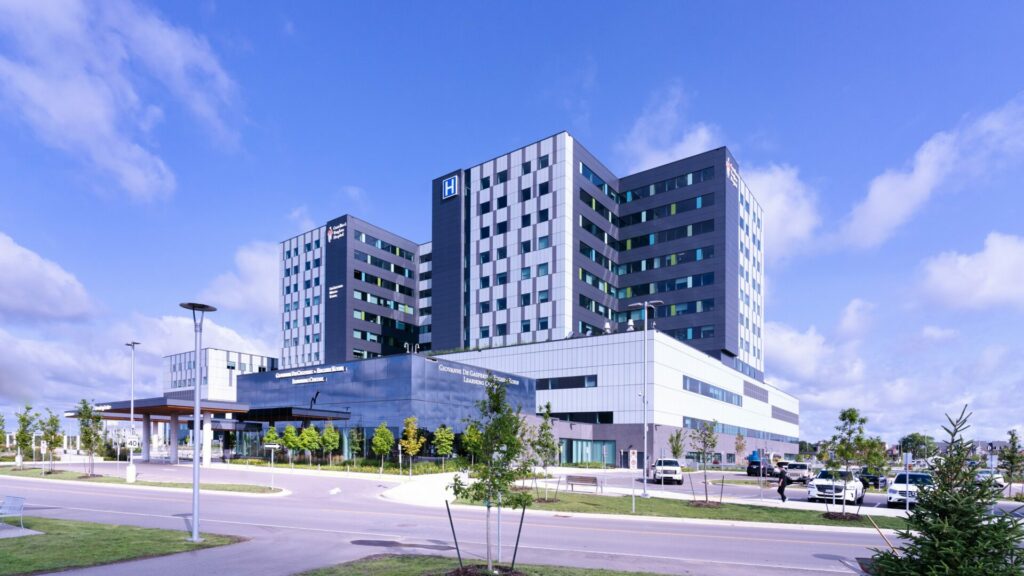 Cortellucci Vaughan Hospital Achieves Excellence in Green Design
While facing unanticipated challenges during the peak of the COVID-19 global pandemic in August 2020, PCL reached substantial completion on Mackenzie Health's Cortellucci Vaughan Hospital, the City of Vaughan's first hospital and Ontario's first net new hospital in the last 30 years. Embracing energy efficiency and sustainability in the hospital's planning, design and construction, Cortellucci Vaughan Hospital achieved LEED Silver certification earning 54 points. Highlights include:
Extensive visible green roofs enhance views from inside and outside the building and contribute to the project's sustainability goals.
Larger patient room windows optimize energy performance and allow plenty of natural light.
90.39% of total waste diverted on the site during construction.
Low-emitting materials including adhesives, sealants, paints and flooring systems.
Landscaping with planting and hardscape materials, including terraced gardens with stone retaining walls.
Featured image: The McCain Complex Care and Recovery Centre and the Crisis and Critical Care Building, Phase 1C of the Centre for Addiction and Mental Health's (CAMH) redevelopment project. (PCL)