The Partnerships BC organization will now operate as Infrastructure BC to better reflect the services provided by the Crown Corporation, and to expand the infrastructure mandate.
"As we build and recover from COVID-19, our government is committed to getting British Columbians back to work with good paying jobs in the construction industry," said Selina Robinson, British Columbia's Minister of Finance. "In Budget 2020, we committed $22.9 billion in infrastructure spending, the highest capital spending in B.C.'s history. Infrastructure is a big part of our plan to keep B.C. moving ahead – building schools, hospitals, roads and more affordable housing that our growing province needs – and into recovery."
Operating since 2002, working with owners, the crown agency has led 61 completed project procurements throughout Canada with a value of $21.4 billion.
"Infrastructure BC is the provincial centre of expertise supporting the planning, procurement and implementation of public infrastructure projects," explains Dana Hayden, board chair of Infrastructure BC.
Through Infrastructure BC, government will begin to provide information about approved projects, as well as those under consideration – including those in early stages of planning that may not receive government approval. This will come in the form of an information brochure updated each year in spring and fall, which will allow private sector firms to better plan and compete on projects.
"The construction environment of today requires a broad spectrum of procurement options. Infrastructure BC will assist government and project owners in selecting the best delivery model to build complex projects such as highways, bridges, schools, and hospitals," states Mark Liedemann, president and CEO of Infrastructure BC.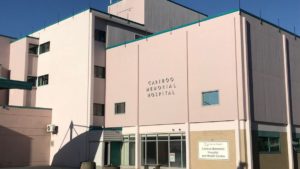 The Cariboo Memorial Hospital Redevelopment Project will result in the development of new clinical and support spaces that will be constructed in a new expansion and in renovated space on the existing Cariboo Memorial Hospital site. This includes the emergency department, medical/surgical inpatient units, maternal care and women's health, mental health and substance use inpatient unit, pharmacy services and University of British Columbia faculty of medicine academic space.
Infrastructure BC services include project planning, including procurement analysis (through concept plans and business cases), procurement management, design and construction oversight, contract administration, and project communications support. It is a self-sustaining organization operating on a fee for service basis, governed by a Board of Directors and reports to the Minister of Finance as its sole shareholder.
Featured image: B.C.'s Fraser Health Authority is seeking to enter into contracts for Phase 1 of the Burnaby Hospital Redevelopment Project.