A brand-new Ontario hospital pressed into service during the COVID-19 pandemic, an innovative Canadian bespoke airport project in Bermuda and a critical new Alberta transit project are among the five winners of the 2021 National Awards for Innovation and Excellence in Public-Private Partnerships.
Presented by CCPPP since 1998, the prestigious awards will be presented virtually at P3 2021 on Wednesday, November 17 at 2:15 p.m. ET. The winners of the 2021 Champion Awards will also be presented at this time.
The winning projects are located in Alberta, Ontario, Newfoundland and Labrador, and Bermuda – marking only the second time in its history the awards have recognized an international project. All showcase how partners are continuing to adapt and refine the 'made-in-Canada' P3 model to create, deliver, operate and maintain innovative and transformative infrastructure for their communities.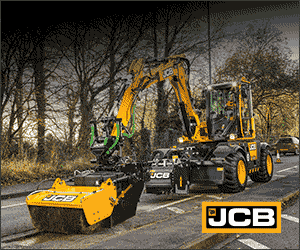 "Despite another tremendously challenging COVID-19 pandemic year, it is inspiring to recognize the calibre of projects and partners that rose above these difficulties to reach financial close, begin construction, and successfully complete and begin to maintain or operate these critical infrastructure projects," said Mark Bain, chair of CCPPP's board of directors and partner at Torys. "Congratulations to all five winners of this year's National Awards for Innovation and Excellence in Public-Private Partnerships."
The 2021 awards are supported by gold sponsor McCarthy Tétrault LLP and silver sponsor Colas Canada.
"It was a difficult task for the awards committee given the strength of the submissions but these five truly stood out for the ingenuity, flexibility and perseverance they've demonstrated in applying the P3 model and in developing strong partnerships. All five will have tremendous positive impacts — both socially and economically — on their communities," said Brad Nicpon, Partner, McCarthy Tétrault LLP, and chair of the national awards committee.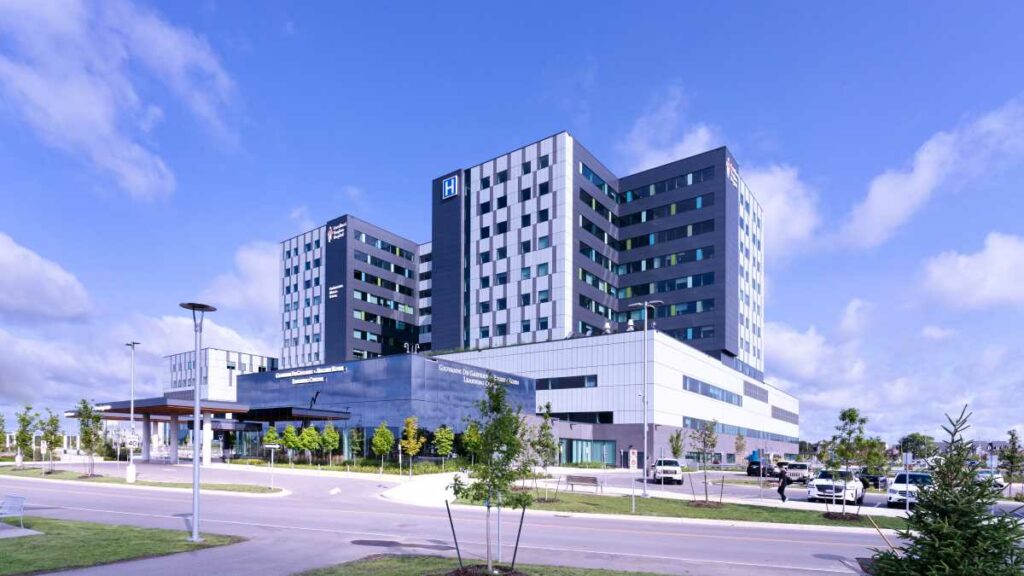 Cortellucci Vaughan Hospital (Ontario)
Gold Award, Infrastructure
This $1.7-billion project, the first hospital built in the City of Vaughan and the first net new hospital to be built in Ontario in the last 30 years, has a state-of-the-art emergency department, capacity for 350 beds with flexibility to expand, and is the first hospital in Canada to feature fully integrated smart technology, enabling systems and medical devices to communicate directly with one another. In February 2021, as it prepared to open, the hospital pivoted to temporarily become a systemwide resource supporting Ontario's COVID-19 response. From its initial opening until its full opening in June 2021, the facility cared for some of the highest volumes of COVID-19 patients in Ontario. The awards committee was impressed by how well the hospital pivoted ahead of its opening and the innovations deployed by the consortium to keep the complex project on time and on budget such as the use of prefabricated bathroom modules.
Partners: Mackenzie Health, Infrastructure Ontario and Plenary Health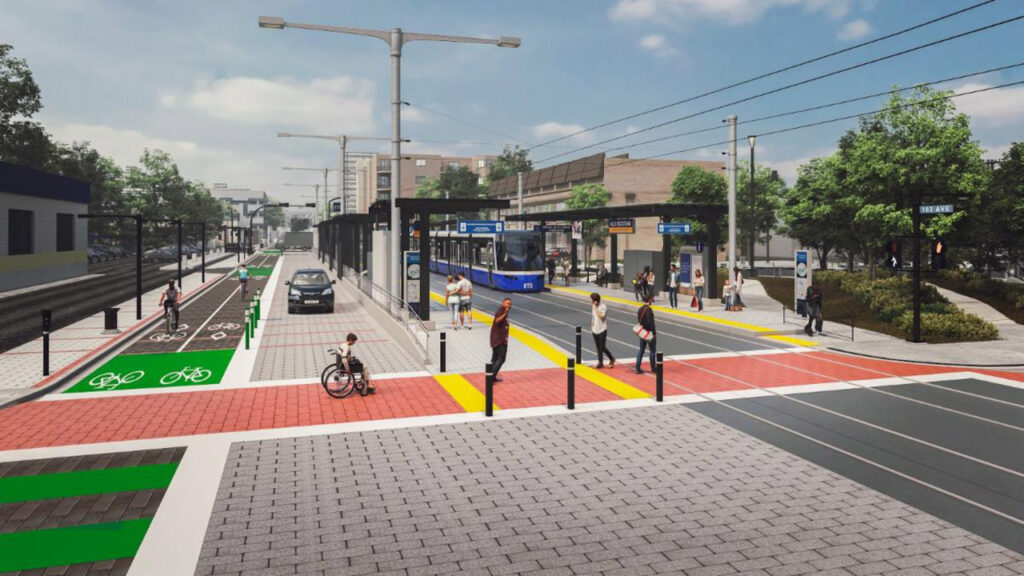 Valley Line West LRT (Edmonton)
Gold Award, Project Development
This $2.67-billion, 14-kilometre light-rail extension is the second stage of the City of Edmonton's Valley Line. The design-build-finance project, which entered its RFP phase and reached financial close during the pandemic in 2020, bundles together design, system integration and construction into one contract. It also is the first to embed a community benefits agreement for a major capital project in Edmonton. With its 14 street-level stops and two elevated stations, the extension will help connect city neighbourhoods and reduce congestion, with LRT stops downtown, at all major city hospitals and the city's largest tourist attraction, West Edmonton Mall. Once the west line is operational, both stages of the Valley Line will operate contiguously with no transfer points or perceived break in service for passengers despite the fact both are being delivered using different P3 consortiums, noted the awards committee.
Partners: City of Edmonton and Marigold Infrastructure Partners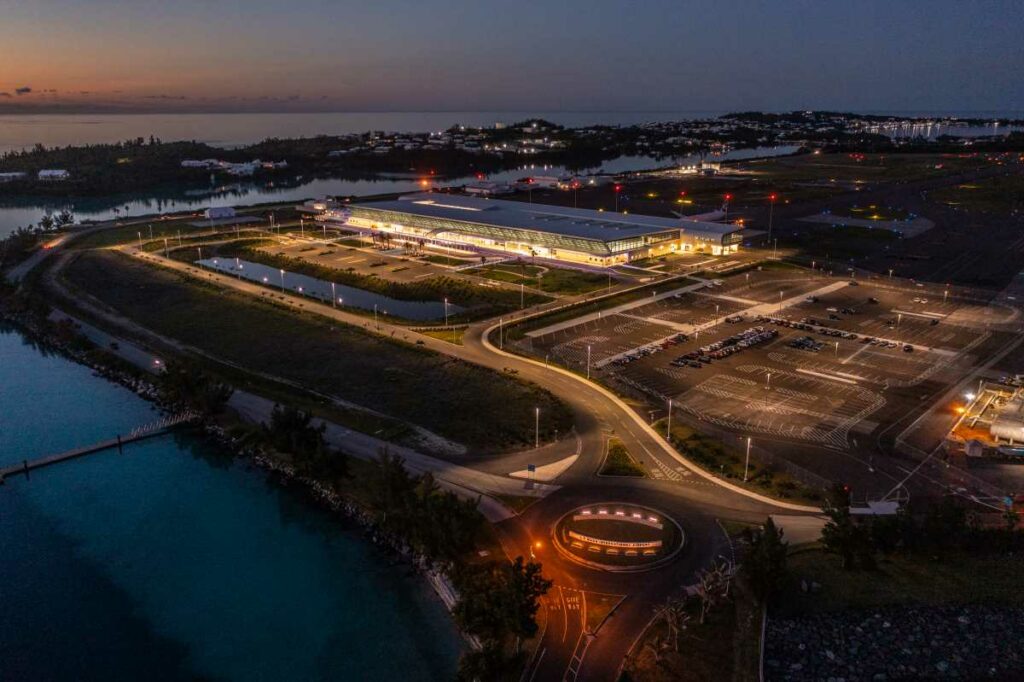 L.F. Wade International Airport Redevelopment Project
Gold Award, Infrastructure (International)
By using innovative thinking and Canadian P3 expertise, Bermuda was able to achieve what many small airports in the world have struggled to do — attract private sector investment to finance a major capital redevelopment. The US $300-million project is the largest P3 infrastructure deal in Bermuda's history. The bespoke government-to-government contract and guarantee mechanism, supported by an underlying P3 commercial and financing structure, enabled the new 288,000 square foot facility to meet the latest international standards while still dramatically lowering the project's initial capital budget. In addition, the new terminal is infused with the latest technology. Built sustainably and factoring in the impacts of climate change, the terminal can now withstand windspeeds of 277 kilometres an hour — equivalent to a Category 5 hurricane. Playing a part in the revitalization of Bermuda's economy, nearly US $400 million in private investment was mobilized, more than 400 Bermudian companies were engaged, and 885 Bermudians worked on the project. The awards committee recognized the success of the project, which not only sets new standards internationally for others to follow but showcases Canadian companies and Canadian innovation on the world stage.
Partners: Government of Bermuda, Canadian Commercial Corporation and Aecon Concessions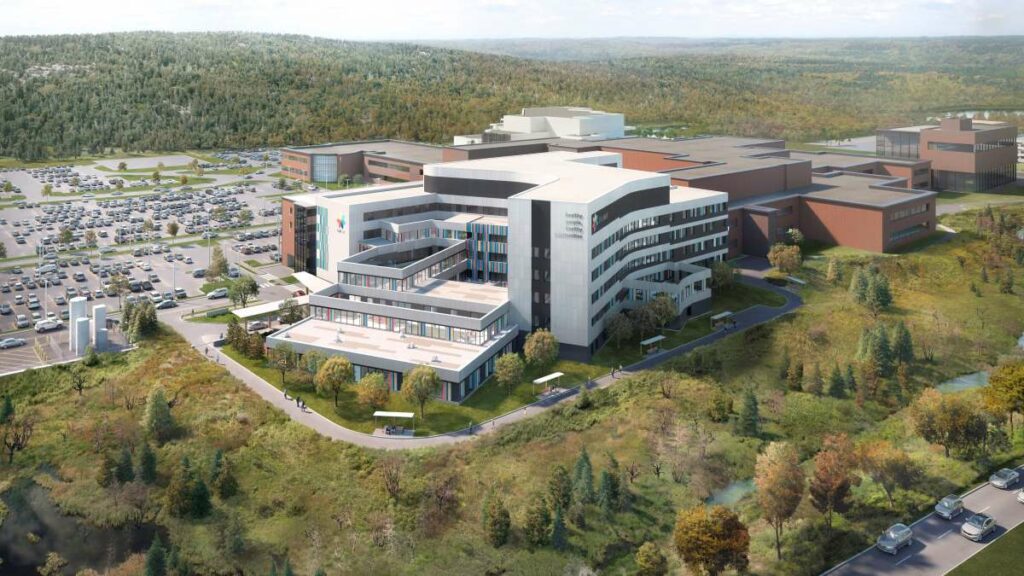 New Adult and Mental Health Addictions Facility (Newfoundland and Labrador)
Silver Award, Project Development
This $330-million project will help transform and destigmatize mental health and addictions treatment in Newfoundland and Labrador, reflecting the move away from an inpatient-centred model to one that balances care and healing close to home. The new 24,000 square foot facility, co-located at the Health Sciences Centre in St. John's, is replacing a facility constructed in the 1800s. It will house a 102-bed hospital and a new 60-bed hostel. Rooms will be oriented to capture daylight with windows designed to keep out the cold of the province's blustery winter weather. Terraces will also have built-in snow melting systems. This design-build-finance-maintain project was one of the few P3s globally to close during the height of the pandemic, the significance of which was not lost on the awards committee. Lockdowns posed challenges for teams to travel to the island and led the partners to explore ways to optimize risk transfer to avoid supply chain issues and delays.
Partners: Government of Newfoundland and Labrador, the Eastern Regional Health Authority and Avalon Healthcare Partnership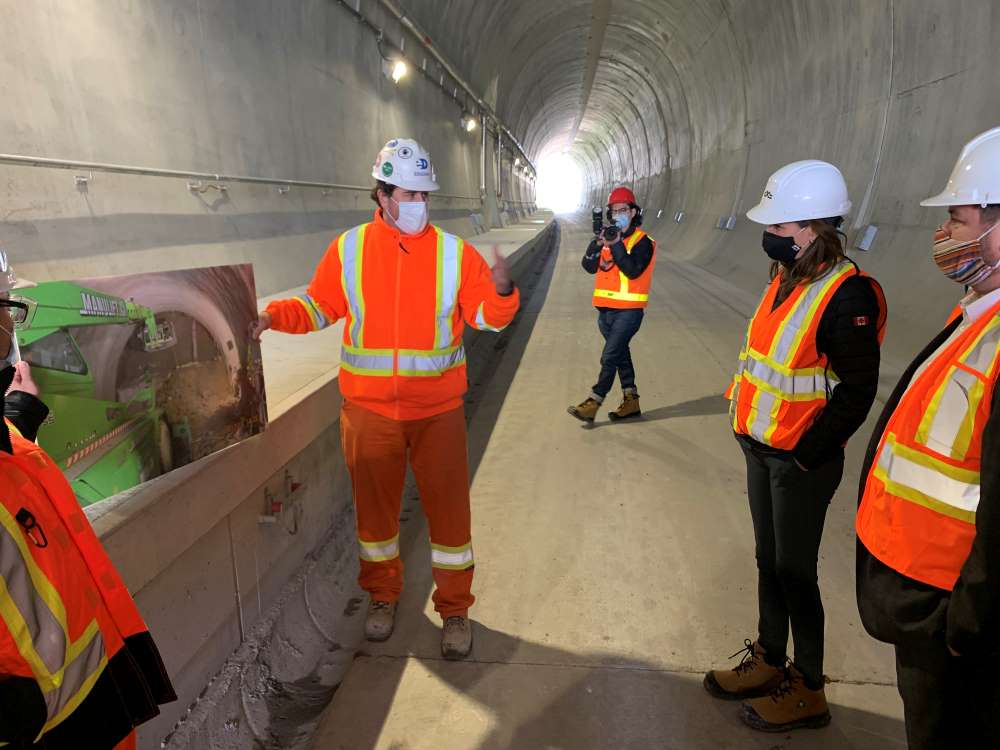 GO Rail Expansion – Highway 401 Rail Tunnels
Silver Award, Infrastructure
This $132-million design-build-finance project created twin tunnels under 21-lanes of traffic, without disrupting travel on the busiest highway in North America and the world's busiest truck route — a significant achievement that was recognized by the awards committee. Completed in July 2021, the tunnels will increase capacity on the GO Kitchener Rail Corridor as part of Metrolinx's GO Rail Expansion program. The new 176-metre twin tunnels beneath the access ramps of Highway 401 and Highway 409 will enable the simultaneous passage of two trains travelling in opposite directions without any speed restrictions. The project sets a new standard for tunnel construction and design in Canada, using a new-to-Canada auger borer, as well as a pipe roof system that helped drastically minimize risk, speed up the schedule and protect workers. A sequential excavation method rather than traditional cut-and-cover tunnelling also helped avoid traffic disruption and a complex network of monitors tracked any deviations in the highway and surrounding soil as a safety precaution.
Partners: Infrastructure Ontario, Metrolinx and Toronto Tunnel Partners
Featured image: Metrolinx's Highway 401 Rail Tunnels project received the Silver Award, Infrastructure, from CCPPP. (Metrolinx)