The Marilyn Bell I ferry, which connects passengers, vehicles and supplies to Billy Bishop Toronto City Airport, is now the first electric ferry service in Canada to be powered by a zero-emission, lithium-ion power and propulsion system containing no diesel components.
"PortsToronto has made continuous and significant investment to make Billy Bishop Toronto City Airport cleaner, greener and quieter in an effort to create balance between our commercial operations and the surrounding community," said Geoffrey Wilson, Chief Executive Officer, PortsToronto. "With the conversion of the Marilyn Bell to electric power we are ticking all of the boxes in our vision for this airport and its operations. In removing all fuel components of the Marilyn Bell and replacing with lithium-ion batteries we will eliminate all GHG emissions related to the operation of the ferry."
PortsToronto, owners and operators of Billy Bishop Airport, celebrated the return to service of the Marilyn Bell I following its conversion to 100 per cent electric power. In operation since 2010, and upgraded to bio-diesel fuel in 2018, the vessel's diesel generators and engines were removed in 2021 to make way for a new electric power and propulsion system and a suite of lithium-ion batteries fueled by 100 per cent Bullfrog Power renewable electricity.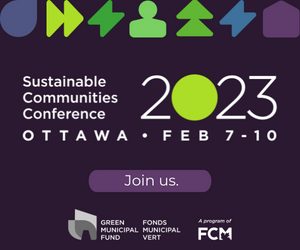 "Toronto's waterfront has long been a driving force for environmental action, innovation, and leadership," added Councillor Joe Cressy, Ward 10, Spadina-Fort York. "The introduction of the first zero-emissions ferry in Canada to be powered entirely by electricity from wind and solar sources, is an example of this essential work. Congratulations to PortsToronto on this important achievement."
Powered entirely by electricity from clean wind and solar sources provided by Bullfrog Power, the retrofitted Marilyn Bell I has eliminated greenhouse gas emissions from the ferry operation, reducing the airport's direct emissions by approximately 530 tonnes per year. In addition to operating more efficiently and eliminating related air emissions, the retrofitted vessel builds on the airport's award-winning Noise Management Program, as it will operate far more quietly, dramatically reducing related noise in the surrounding community.
"I would like to congratulate PortsToronto, owners and operators of Billy Bishop Toronto City Airport, on this Canadian-first achievement in providing clean and green transportation that will reduce pollution and bring us all closer to our climate change targets," said Canada's Minister of Transportation, Omar Alghabra. "The conversion of the Marilyn Bell ferry to 100 per cent electric power is an example of the effort and innovation that can be realized to reduce the impact of transportation infrastructure on the environment, and the leadership position that is necessary to make a difference in protecting the environment and promoting sustainable operations."
Featured image: PortsToronto CEO Geoffrey Wilson was joined by Project Manager Jelena Ognjanovic (centre), and MP Kevin Vuong, Deputy Mayor Michael Thompson, Stephanie Dexter, representative of the ferry's namesake Marilyn Bell, MPP Chris Glover, and PortsToronto Board Members Hellen Siwanowicz and Darin Deschamps (left to right) in a ribbon-cutting ceremony to celebrate the completion of this remarkable project. (PortsToronto)