After extensive planning and preparation, two new pedestrian bridges were recently lifted and set in place at Milliken GO Station.
The bridges, which cross over the new Steeles Avenue East underpass, will provide pedestrians and cyclists another route for getting safely to the station.
The structures each span over 50 metres in length and now rest alongside the new railway bridge.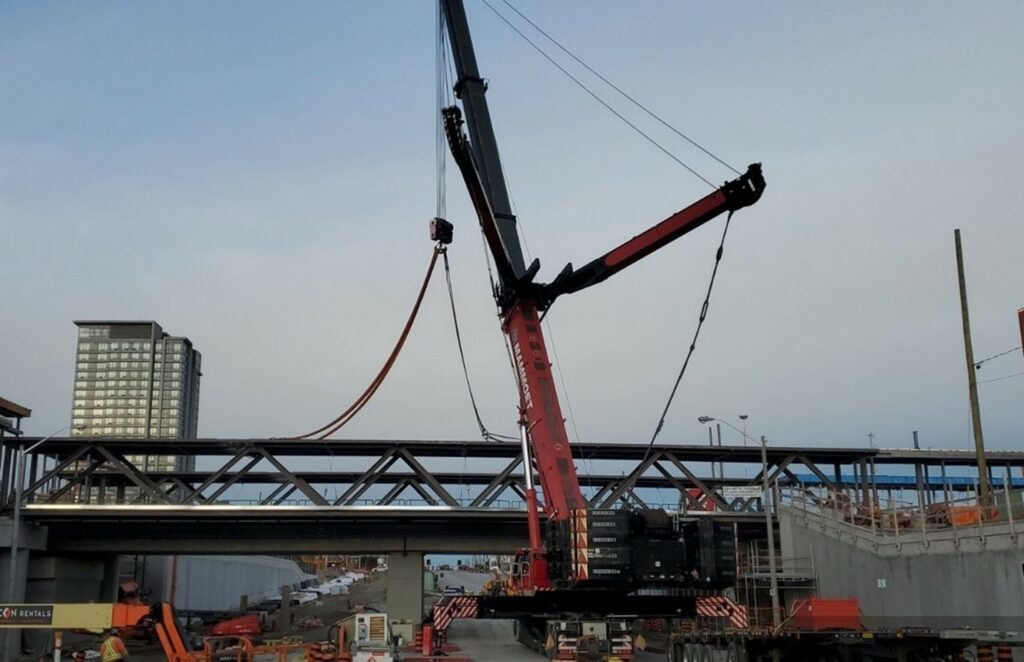 How the bridges were installed
The work happened earlier this month while the roadway was safely closed to traffic.
Metrolinx's contractor used a large crane to successfully hoist the two structures into place. Crews will now continue with concrete, glazing and roofing work on both bridges.
The underpass (a grade separation) at the Steeles Avenue East intersection is between Kennedy Road and Midland Avenue.
The project supports GO Expansion for future all-day, two-way frequent GO train service on the Stouffville Line.
By separating the road from the rails, vehicles can travel under the railway, without having to stop and wait for trains. The investment and improvements today will help bring faster and quieter trains to get people where they need to go.
Featured image: After rigging the bridge to the crane and performing the required safety checks, the pedestrian bridge at the Milliken GO Station is lifted up to the rail bridge for installation. (Metrolinx photo)