Representatives from three levels of government gathered in Markham, Ontario to announce that the Cornell Bus Terminal – a new transit hub – is expected to reach completion and open for service this summer.
The Cornell Bus Terminal's attractive modern design provides weather protected and heated waiting areas, welcoming pedestrian plazas under beautiful wooden trellises, space for future retail, large planters, bike racks and a passenger pick-up and drop-off area. Strategically located in the heart of Cornell Centre near Highway 7 and Ninth Line, the 11-bus bay terminal connects York Region Transit, Durham Transit, and GO Transit and is a short walk from the Markham Stouffville Hospital and the Cornell Community Centre and Library, serving those who live and work in York Region and neighbouring regions.
"As the York Region and the Greater Toronto Area continue to grow, the Cornell Bus Terminal will fulfill an important role as a central hub that helps commuters with affordable and efficient means to get around the region," said Helena Jaczek, Minister responsible for Federal Economic Development Agency for Southern Ontario.
"Transport Canada has been involved with York Region's VIVA Bus Rapid Transit project since it began in 2011, said Omar Alghabra, federal Minister of Transport.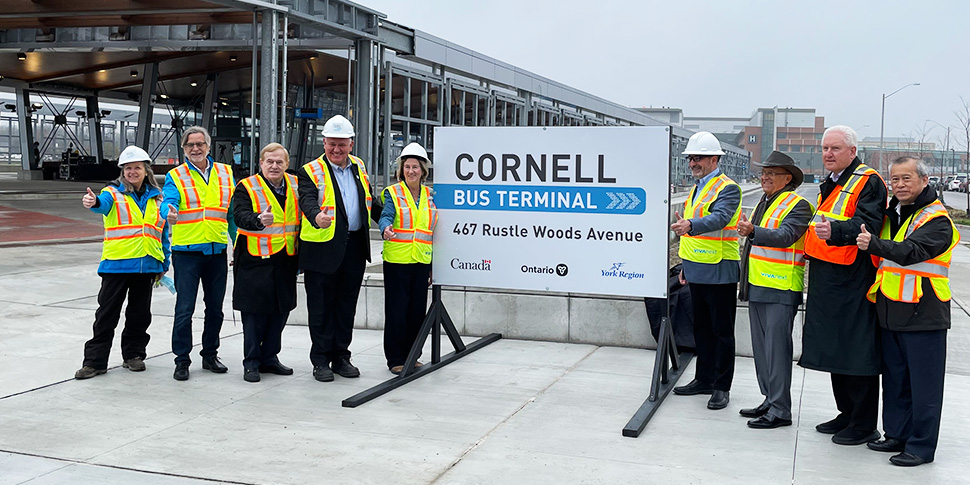 "Along with the immediate benefits this transit hub will bring to residents, once complete, the future Yonge North Subway Extension – one of Premier Ford's priority transit projects – will provide more high quality transit connections for the residents across York Region," said Caroline Mulroney, Ontario Minister of Transportation.
"This new terminal strengthens transit connections and is a great addition to the community hub which includes the Markham Stouffville Hospital and Cornell Community Centre. The new terminal provides convenient connections to numerous transit routes including the 34-kilometre bus rapid transit network and the future Yonge North Subway Extension," said Frank Scarpitti, chair of the Board of York Region Rapid Transit Corporation and Mayor of the City of Markham.
Cornell Bus Terminal's total project cost is $50.8 million; with the Government of Canada contributing $10.4 million, the Province of Ontario providing $18.6 million and The Regional Municipality of York contributing $21.8 million. The remaining finishing work to the terminal will be completed prior to the terminal opening for service this summer, which coincides with a change in YRT bus routes and the completion of bus driver training.
Featured image: Rendering of the future Cornell Bus Terminal in Markham, Ontario. (YRT)