The Government of Ontario announced the start of construction on a bridge crossing over the future Bradford Bypass.
"Building the Bradford Bypass is a key part of our plan to fight gridlock in the Greater Golden Horseshoe, helping commuters spend less time in traffic while creating good paying jobs for the people of this region." said Ontario Premier Doug Ford.
In April 2022, Brennan Paving & Construction Ltd. was awarded the contract to design and construct the new bridge which will allow County of Simcoe Road 4 (Yonge Street) between 8th Line and 9th Line to cross over the future Bradford Bypass. The project will also include widening County Road 4 from two to four lanes.
"This important milestone brings us another step closer to getting the Bradford Bypass built, improving economic productivity and eliminating the gridlock that hurts us all." said Caroline Mulroney, Minister of Transportation.
To promote efficiencies between the Bradford Bypass project and the County of Simcoe's planned expansion work on County Road 4, an agreement is in place to better coordinate the construction approach and reduce the risk of construction delays.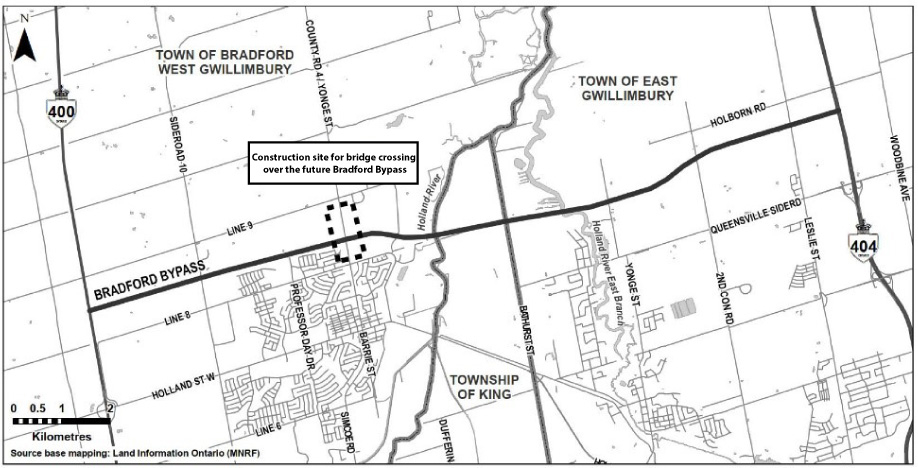 "Proceeding with the overpass is a major step towards construction of the highway and demonstrates great cooperation between the province and Simcoe County," said Bradford West Gwillimbury Mayor Rob Keffer.
"This Bypass is needed and welcomed by the road building industry as more than $785 million of goods per day move on Ontario's highways, making the transportation system the backbone of our export-driven economy. Furthermore, the Bradford Bypass will relieve congestion on existing east-west roads in Bradford and provide a northern connection between Highway 400 and Highway 404, saving time and reducing greenhouse gases," said Kevin Machej, president, Ontario Road Builders' Association.
Featured image: (Twitter – @ONRoadBuilders)