The Canadian Environmental Assessment Agency must decide whether a federal environmental assessment is required for the proposed Cascade Power Plant Project, located in Yellowhead County, 12 kilometres southwest of Edson, Alberta.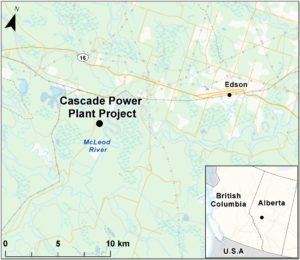 The proposed project would involve the construction of a 900-megawatt gas-fred electrical generating facility that would deliver power to the Alberta Interconnected Electric System.
To help inform this decision, the Agency is seeking comments from the public and Indigenous groups on the project and its potential effects on the environment, as described in the summary of the project description.
As a next step, the Agency will post a decision on its website stating whether an environmental assessment is required. If one is required, the public will have three more opportunities to comment on the environmental assessment of the project.
All comments received will be considered public. Written comments in either official language must be submitted by March 3, 2019 to:
Cascade Power Plant Project
Canadian Environmental Assessment Agency
Canada Place
9700 Jasper Avenue, Suite 1145
Edmonton, Alberta T5J 4C3
Telephone: 780-495-2037
Email: [email protected]