Newfoundland and Labrador Premier Dwight Ball announced that Avalon Healthcare Partnership has been selected to design, build, finance, and maintain a new adult mental health and addictions hospital in St. John's.
The project includes:
A 240,000 square foot, six-storey, 102-bed hospital;
A parking garage with space for 1,000 vehicles; and,
A new 60-bed hostel to replace the Agnes Cowan Hostel.
Early site work and demolition of the Agnes Cowan Hostel will start in the coming weeks and continue throughout the fall to make way for construction of the hospital beginning next spring.
During the construction phase, Avalon Healthcare Partnership will:
Host a job fair for skilled labourers looking to work on the construction;
Develop an apprenticeship training program for local apprentices; and
Develop a plan to assist with hiring tradeswomen to work on the construction site.
"Today marks a major step forward on the province's new adult mental health and addictions hospital. We look forward to continuing discussions with Eastern Health, health care providers, persons with lived experience and their families, community-based agencies and organizations, members on the Recovery Council and the Mental Health and Addictions Advisory Council, and the public to move this project forward," said John Haggie, Minister of Health and Community Services.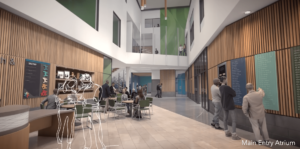 Construction on the parking garage will start this fall and will be completed in late 2021. Construction of the hospital will be completed in late 2024.
The estimated net present value of the new hospital contract is $330 million.
Click here to view a video of the design of the new hospital.
The Avalon Healthcare Partnership consists of:
Plenary Americas LP
Respondent Team Lead, Equity Provider
Marco Group Limited
G.J. Cahill (1979) Limited 
Service Provider & Design Builder
B+H Architects Inc. 
John Hearn Architect Ltd.   
Smith and Andersen Consulting Engineering
Mechanical and Electrical, Design Consultant
R.V. Anderson Associates Ltd.
Entuitive
Structural Design Consultant
S+A Footprint 
Energy and Sustainability Consultant
Rowan, Williams, Davies & Irwin Inc.
Acoustics and Vibration Design, Consultant
BA Group Consulting Group Ltd. 
Traffic Design Consultant
Mills & Wright Landscape Architecture Inc.
Landscape Design, Consultant
Newton Group Ltd.
Parking Garage Design-Builder