Canadian Pacific Railway Limited (CP) and Kansas City Southern (KCS) have entered into a merger agreement, under which CP has agreed to acquire KCS in a transaction representing value of approximately US $29 billion.
Following final approval from the Surface Transportation Board (STB), the transaction will combine the two railroads to create the first rail network connecting Canada, the United States, and Mexico. CP and KCS together will connect customers via single-network transportation offerings between points on CP's system throughout Canada, the U.S. Midwest, and the U.S. Northeast and points on KCS' system throughout Mexico and the South Central U.S.
The combined network's new single-line offerings will deliver dramatically expanded market reach for customers served by CP and KCS, provide new competitive transportation service options, and support North American economic growth. The transaction is also expected to create jobs across the combined network. Additionally, efficiency and service improvements are expected to achieve meaningful environmental benefits.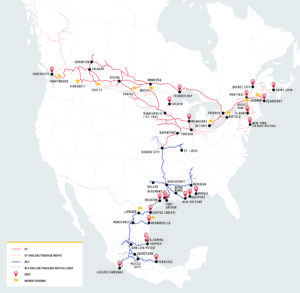 While remaining the smallest of six U.S. Class 1 railroads by revenue, the combined company will be a much larger and more competitive network, operating approximately 20,000 miles of rail, employing close to 20,000 people and generating total revenues of approximately $8.7 billion based on 2020 actual revenues.
"This transaction will be transformative for North America, providing significant positive impacts for our respective employees, customers, communities, and shareholders," said Keith Creel, president and chief executive officer of CP. "This will create the first U.S.-Mexico-Canada railroad, bringing together two railroads that have been keenly focused on providing quality service to their customers to unlock the full potential of their networks. CP and KCS have been the two best performing Class 1 railroads for the past three years on a revenue growth basis."
The new rail infrastructure network is expected to provide an enhanced competitive alternative to existing rail service providers and is expected to result in improved service to customers of all sizes. Grain, automotive, auto-parts, energy, intermodal, and other shippers, will benefit from the increased efficiency and simplicity of the combined network, which is expected to spur greater rail-to-rail competition and support customers in growing their rail volumes.
"In combining with CP, customers will have access to new, single-line transportation services that will provide them with the best value for their transportation dollar and a strong competitive alternative to the larger Class 1s. Our companies' cultures are aligned and rooted in the highest safety, service and performance standards," said Patrick Ottensmeyer, president and chief executive officer of KCS.
Creel and Ottensmeyer also provided a joint statement: "We have been champions for the environment recognizing the important role rail plays in lowering overall transportation emissions. This combination advances our shared science-based pledges in-line with the Paris Agreement to improve fuel efficiency and lower emissions in support of a more sustainable North American supply chain."
CP and KCS interchange and operate an existing shared facility in Kansas City, Missouri, which is the one point where they connect. This transaction will alleviate the need for a time consuming and expensive interchange, improving efficiency and reducing transit times and costs.
The new single-line routes made possible by the transaction are expected to shift trucks off crowded highways, yielding reduced highway traffic, lower emissions, and less need for public investments in road and highway bridge repairs.
Rail transportation is estimated to be four times more fuel efficient than trucking, and one train can keep more than 300 trucks off public roads and produce 75 per cent less greenhouse gas emissions. CP is currently developing North America's first line-haul hydrogen-powered locomotive.
Featured images from Canadian Pacific Railway.