The exterior design of the Place des Arts du Grand Sudbury has been unveiled. The building will be home to eight French-language cultural organizations at the corner of Elgin and Larch north of Medina Lane in Sudbury.
"This is a flagship building with a long story to tell," said Stéphane Gauthier, president of Place des Arts du Grand Sudbury. "It was inspired by the driving force of the Nouvel-Ontario cultural movement and carried along by a whole generation's will to make it happen. Nouvel-Ontario was the birthplace of French Ontario's oldest cultural centre, first creation theatre, first publishing house, first provincial music festival and first art gallery. So we had to imagine an edifice emerging from the landscape as if certain shapes had always been there, naturally, forming part of the urban panorama. It is a memorial, a shared space, contemporary and open to great hopes for the future," explained Mr. Gauthier.
The outside of the building will be made of a rich material with colours typical of ore from Northern Ontario: corten steel. When exposed to the elements, it oxidizes naturally and stabilizes to form a patina that ranges from golden yellow to orangey brown. This unique patina protects the material and makes it durable and strong.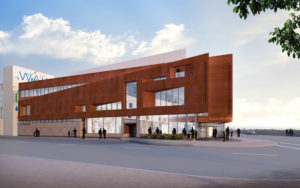 "Corten was almost an unavoidable choice, inspired by the 300 years of existence and creation shared by the seven founding members of Place des Arts. It heralds a new building with unique architecture, but with an external façade that pays tribute to a celebrated past that will continue to support the vitality of the Franco-Ontarian community," said Louis Bélanger, a Sudburian and senior architect at Yallowega Bélanger Salach Architecture.
The consortium of Yallowega Bélanger Salach Architecture and Moriyama Teshima Architects designed the future four-storey multidisciplinary arts centre, whose 40,000 square feet will house a concert hall, a multifunction studio, a contemporary art gallery, a bistro with a seasonal sidewalk terrace, a gift and book shop, an early childhood arts centre with a playground, and office space.
"We are proud of the result and the challenge of optimizing spaces in more than one way without losing anything in the process. It is a great honour to design this inviting, shared space for the entire community, a space that blends seamlessly into the urban dynamic of the downtown area," added Jason Philippe, a native from Sturgeon Falls and the senior architect at Moriyama Teshima Architects.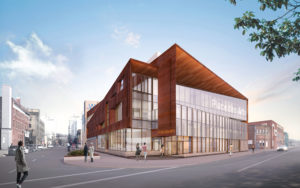 Place des Arts will house the seven founding arts and culture organizations: the Carrefour francophone de Sudbury (1950), the Centre franco-ontarien de folklore (1960), Théâtre du Nouvel-Ontario (1971), Éditions Prise de parole (1973), Concerts La Nuit sur l'étang (1973), Galerie du Nouvel-Ontario (1995) and the Salon du livre du Grand Sudbury (2004).
The Place des Arts project will cost a total of $30 million to complete. Phase 2 of the construction work will begin in late spring, with the official opening expected during the 2020-2021 performance season.
The $30 million project is being supported by funding providers such as Canadian Heritage, FedNor, the 
Northern Ontario Heritage Fund Corporation, the Ministry of Tourism, Culture and Sport of Ontario, and the City of Greater Sudbury.