The Centennial College A Block Expansion Project is looking to be one of the first mass timber, net-zero carbon post secondary education facilities, and was recently certified Zero Carbon under the Canada Green Building Council's Zero Carbon Building Standard v1.
"We wanted to raise the bar for future post-secondary projects," said Craig Stephenson, Centennial College's president and CEO. "At Centennial we view sustainability, inclusivity and Indigeneity as wholly interconnected ideas and we wanted a building that demonstrates that crucial relationship."
The $105-million addition on the Progress Campus of Ontario's first public college will provide 150,000 square feet of space for academic rooms and common areas to house the College's School of Engineering Technology and Applied Science programmes (ICET). Over 133,000 square of that space is new construction, and the other 16,000 is renovation of the existing facility. The adjacent structure will also be renovated and link to two levels of the new building. The building includes classrooms, labs, spaces for student engagement, administration and faculty offices.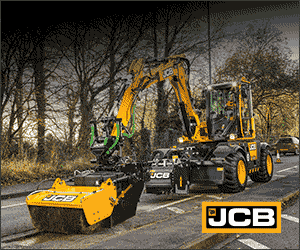 Using engineered wood products to create building structures instead of steel or concrete, in line with the sustainable vision of the college, the project is set to become the first post-secondary mass timber facility completed in Toronto.
The A Block Expansion project began with interior A Block renovation work commencing in June 2020, as well as early works site preparation, such as rerouting underground utility lines and vegetation and bridge removal over the late spring and summer. Full site mobilization and construction started last fall. Substantial completion is anticipated by fall 2022, and building occupancy is scheduled for January 2023.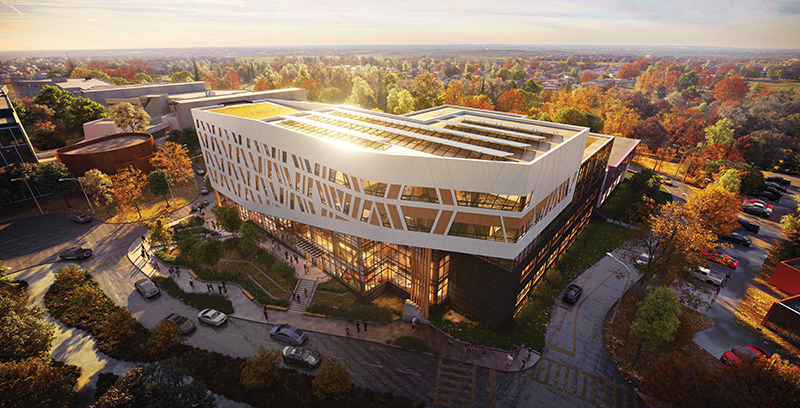 Design-build collaboration
As the design-builder of this contemporary six-storey building, EllisDon pulled together a world-class team, including DIALOG and Smoke Architecture, to design and construct the facility as an example of excellence in architecture, sustainability, community building and higher education.
"EllisDon's mass timber specialists eagerly anticipate working closely with Centennial College and our design partners to create this precedent-setting project," said Geoff Smith, EllisDon's CEO. "Centennial College's A Block [expansion] project delivers us all the wonderful opportunity to construct sustainable structures that are not only beautifully functional, but more importantly help immediately address the critical challenges posed by climate change."
Translating the owner's sustainability aspirations and requirements into a realistic and viable design required true collaboration throughout the entire project life cycle, according to EllisDon.
"Working in concert with the owner, engineers and architects has been fundamental to ensuring sustainability goals are accomplished throughout the design," stated the company. "EllisDon's extensive experience with manufacturers and suppliers will continue to complement these efforts throughout the construction process and will ensure that the first-class sustainability targets are achieved for the project."
The low carbon, highly energy efficient, mass timber building will be constructed with a combination of cross and glue-laminated locally sourced Canadian timber. The mass timber structure will be manufactured locally—with materials sourced via Nordic Structures in Montreal—through sustainably harvested and FSC-certified wood.
"After working with our partners to make sure the aesthetic vision was achieved, then it was about where to source the timber from and we felt it was important that it was local, so we partnered with Noridic," said Vincent Davenport, director, Construction Sciences, with EllisDon. "It's all black spruce from the boreal forests of northern Quebec."
The volume of timber being used is roughly 3,600 square metres.
"This project will be a clear demonstration of how higher-education facilities can make an important contribution to reducing environmental harm by eliminating CO2 emissions," said Craig Applegath, project principal, DIALOG. "Its zero-carbon emissions design, and its ability to store thousands of tonnes of carbon in its sustainably harvested mass timber wood structure, will be an important precedent in both Canada and around the world."
EllisDon's internal Sustainable Building Solutions team is managing the sustainability targets, which included certification under WELL V2 and LEED V4. RDH Building Sciences Inc. was brought in to help manage the net zero carbon features and has been instrumental in the project achieving Zero Carbon certification.
According to Navisa Jain, project manager, Sustainable Building Solutions, with EllisDon, the LEED and net zero carbon features of the project focused on a high-performance building enclosure to reduce heating and cooling loads on the building, efficient mechanical system design in order to provide exceptional occupant comfort as well as renewable energy integration (i.e. 5 per cent onsite renewable energy generation) to supplement building energy use with clean power.
"The college was pretty clear on their vision for the building and that sustainability was the top priority," said Jain. "As part of the design-build team, what we did was we looked for synergies across all three rating systems and chose those particular credits to pursue on the project."
EllisDon also conducted a life cycle assessment to evaluate the embodied carbon footprint of the project. The intent of this analysis was to estimate the embodied carbon, identify impact reduction measures, quantify potential savings, and benchmark against the CaGBC Zero Carbon certification requirements. This assessment, conducted only on the design's primary material assemblies (foundation, structure, and enclosure), contributed to the project's overarching low carbon sustainability goals and toward the Zero Carbon certification and reduced the total amount of carbon offsets to be purchased.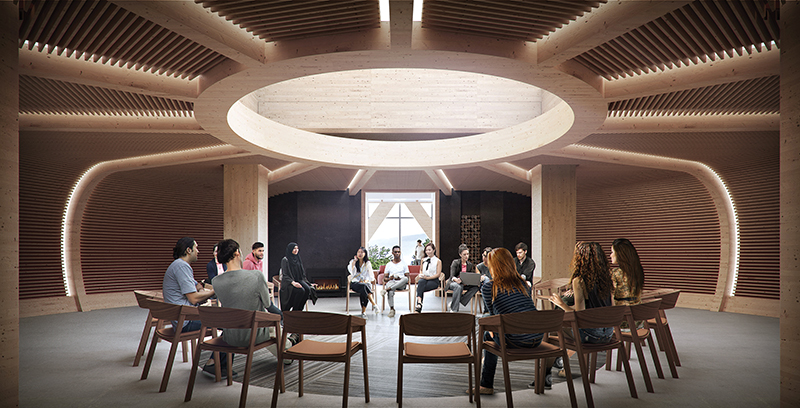 Indigenous inspired
The building will also draw heavily from Indigenous principles and references nature and designs from Indigenous peoples, which is instrumental to the project, and was a stated goal of Centennial College from the outset.
"This building is a significant first step towards realizing the goals outlined in the College's Indigenous Framework and advancing our commitment to Truth and Reconciliation with the Indigenous peoples of Canada," stated the College when it unveiled the design. "The building design inside and out will reflect Indigenous values and principles and is based on the concept of 'two-eyed seeing'—viewing the world through the lens of Indigenous knowledge and the lens of Western knowledge."
The building form is inspired by Indigenous principles and the Mi'kmaq concept of two-eyed seeing (seeing through both an Indigenous lens and Western lens). The main entry is at the east, the traditional location for the entrance in Indigenous structures. A grand stair ascends from the East entrance towards the west, lined with Indigenous stories and forming part of Wisdom Hall, a highly transparent, four-storey diagonal atrium space for faculty, staff, students and visitor engagement and study zones. Connected to the atrium at Level 2 is the Indigenous Commons, a large multi-purpose space that serves to organize the building program around it and forms the heart of the building.
The new building connects to the existing street edge and includes a large, landscaped area filled with Indigenous plantings. It also seamlessly connects to the existing A-Block Building and transforms the south-west corner of the campus, forming a gateway and yielding greater pedestrian connections that enhance the public realm.
According to Eladia Smoke, principal of Smoke Architecture, the design was inspired by regional Anishinaabe architecture. Students will enter the building from the east into an active multi-story space of convergence. Revolving around an Indigenous Commons that opens up into a central courtyard with native plantings, the project reinterprets Indigenous concepts of community, biophilia, and sustainability.
"This project grows beyond the simplistic application of Indigenous elements onto a mainstream design," said Smoke. 
"This design is rooted in Indigenous principles, evoked in a contemporary setting. The building's narrative is a story of seed, growth, culmination, and balance, revealing the seven directions teachings in a cyclical view of an interconnected world.
[This article originally appeared in the January/February 2022 edition of  ReNew Canada.]
John Tenpenny is the editor of ReNew Canada.
Featured image: Substantial completion of the Centennial College A Block Expansion Project is anticipated by fall 2022, and building occupancy is scheduled for January 2023. (Centennial College)