Delta Mayor George V. Harvie has been appointed to the new Metro Vancouver George Massey Crossing Task Force.
The Task Force will be responsible for:
Reviewing project-related materials and providing feedback to provincial representatives;
Considering project-related impacts to Metro Vancouver assets, plans, and infrastructure; and
Reporting to the Metro Vancouver Board through the Metro Vancouver Finance and Intergovernment Committee with advice and recommendations about the project.
The Task Force includes representation from the City of Delta, City of Langley, Township of Langley, City of Richmond, City of Surrey, Tsawwassen First Nation, City of Vancouver, City of White Rock, the Mayors' Council, and the Metro Vancouver Board. Mayor Harvie brought almost all of these entities together on February 21, 2019 to achieve consensus and present a united voice to the provincial government about the need to take immediate action to solve traffic congestion at the George Massey Tunnel.
"I am very pleased that Chair Dhaliwal has demonstrated leadership by taking this step to appoint the Metro Vancouver George Massey Crossing Task Force," said Harvie. "When I brought other Mayors and First Nation Chiefs together on February 21 it was with the goal of moving this project forward quickly. I am looking forward to working with this Task Force to achieve that goal."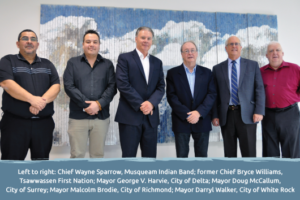 After the NDP-Green alliance took power in B.C. following the May 2017 election, plans to replace the Massey Tunnel with a 10-lane bridge were cancelled. The $3.5-billion replacement project was at the Request for Proposals stage of development at the time of the cancellation.
On December 17, 2018, the provincial government released its "Independent Technical Review of the George Massey Crossing." Based on the provincial government's stated timeline, commuters are unlikely to see any relief from congestion until 2030.