With major work wrapping up on the Kipling Transit Hub, more amenities are now open for travelers in Toronto's west end. Customers can have access to a new pedestrian bridge and underground tunnel.
The major Etobicoke transit centre has recently opened the pedestrian bridge and a portion of the underground tunnel connecting to the TTC Passenger Pick-Up and Drop-Off (PPUDO) building that has achieved substantial completion, the stage when a construction project is considered sufficiently completed and all the major infrastructure can be opened for customer use.
Kipling Transit Hub provides essential transit connections by integrating GO Transit (rail and future bus service), MiWay bus service and access to the TTC in one location.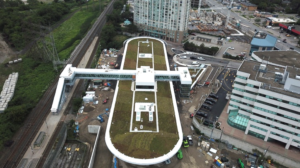 The upgraded Kipling Transit Hub has reached substantial completion.
(Metrolinx photo)
"We started this project to connect communities and improve the customer experience," said James Schick, project delivery team manager at Metrolinx, who adds that work was done in close partnership with EllisDon and surrounding communities.
New amenities and upgrades include the following:
New Kipling Bus Terminal (GO & MiWay) building complete with access to MiWay bus service.
New pedestrian bridge over the train tracks – complete with stairs and elevators to connect the new bus terminal to the GO train platform. A refresh of the GO station building with more space for customers to use, as well as a new ceiling, tiles, floor, skylight and glass walls overlooking the train platform.
Upgrades to the GO train platform, including new accessible boarding area, ramps and safety markings.
Access to the underground pedestrian tunnel linking the bus terminal to the TTC PPUDO building. In the near future, the tunnel will also provide underground access to the TTC station.
Covered bike parking, open bike parking and bike lockers.
Interior of bus terminal – stairway, lighting, colourful wall tiles, and wayfinding signage.
(Metrolinx photo)
While some minor landscaping work will take place in the spring, when better weather permits, project completion is expected in the next couple of months – when all major infrastructure will be open for customers.
Construction began in 2018 and now Kipling Transit Hub enters 2021 with new infrastructure for pedestrians, cyclists and all commuters looking to hop on a bus, train or subway.