It's been a long time coming but the City of Whitehorse has officially opened its new operations building. The ribbon was cut at a ceremony on September 24, 2020 where capacity was limited due to COVID-19 social distancing requirements.
"On behalf of council, both past and present, we're so proud to finally be able to unveil this beautiful new facility," said Whitehorse Mayor Dan Curtis. "Our staff have been working in sub-par conditions for a long time so we are very excited to provide them with a modern and spacious work environment."
The building is the new hub for the city's operations, engineering, water and waste services, human resources and transit departments. It features more than 1,050 solar panels stationed on the building's roof that help power the 11,567-square-metre structure, which makes it the Yukon's largest solar farm. In addition, infrastructure is in place to add biomass heating in the future.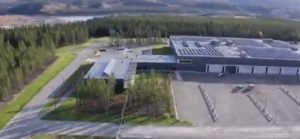 The new operations building for the City of Whitehorse.
The lead contractor on the project was local Ketza Construction, in Whitehorse, Yukon.
According to reports from city staff, the project is on target to come in under the $55-million budget at a cost of $53.5 million. Of that, $23.06 million is coming from the federal government through gas tax funding.
"Our communities can best serve those who call it home when the spaces they operate out of are modern, efficient, and welcoming," said Yukon MP Larry Bagnell. "As the city continues to grow and thrive, it is critical that the services, which so many in Whitehorse rely on, are provided as effectively as possible, and the federal government is proud to contribute to help make that a reality."
Take a tour of the new building: