Ontario Power Generation (OPG) is advancing engineering and design work with three grid-scale Small Modular Reactor (SMR) developers: GE Hitachi, Terrestrial Energy and X-energy.
"OPG is leveraging more than 50 years of nuclear experience to support the development of carbon-free nuclear technology. Our work with these three developers, along with our partnership with Global First Power and its SMR project to support remote energy needs, demonstrates OPG's unique position to become a world leader in SMRs," said Ken Hartwick, president and CEO of OPG. "SMRs will play a key role in helping to reinvigorate Ontario's economy and further support the province and Canada as they work toward meeting their climate change targets of zero-emission electricity."
On December 1, 2019, the provinces of Ontario, New Brunswick and Saskatchewan signed a Memorandum of Understanding (MOU) that puts into place a framework for action on the deployment of SMRs in their respective jurisdictions. In August 2020, Alberta also signalled its intention to enter into the MOU.
"For decades, Ontario has led Canada's nuclear industry in safe, carbon free, reliable nuclear generation," said Bill Walker, Ontario's Associate Minister of Energy. "With over 70,000 jobs supporting this key sector of our economy – the vast majority based here in Ontario – we are poised to lead the world in the development and deployment of small modular reactors."
OPG recently concluded a due diligence process, in collaboration with other major energy utilities, to advance the development of an SMR in Ontario that would pave the way for the potential deployment of SMRs in other jurisdictions.
The deployment of SMRs in Ontario is expected to accomplish the following:
capitalize on the existing nuclear supply chain within the province and enable other provinces to transition away from coal;
provide alternative energy options to benefit energy intensive industries;
drive national job creation and innovation;
facilitate deep, economically sustainable reductions in greenhouse gas emissions; and,
accelerate the transition from fossil fuels to a zero emissions electrical grid in Canada.
The Canadian nuclear industry is growing in size and now accounts for 76,000 jobs across Canada (an increase from 60,000 jobs in 2012), with most of those jobs concentrated in Ontario.
By generating from one megawatt to 300 megawatts of energy, SMRs are expected to be a reliable alternate energy source to replace diesel in rural communities and mines and to eliminate the need for coal plants.
"It is a privilege to be working with OPG to advance the engineering work in Canada for our Xe-100 design," says Clay Sell, CEO of X-energy. "OPG has demonstrated incredible leadership in advancing reliable and affordable low-carbon power options."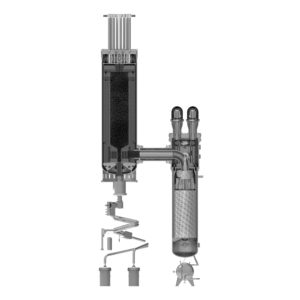 The X-Energy small modular reactor Xe-100 design.
X-energy is currently in the vendor design review (VDR) process with Canada's nuclear regulator and is working with some of Canada's leading nuclear supply companies to advance progress on Xe-100 deployment.
Similarly, the GE Hitachi BWRX-300 is also in the VDR process. The submittals include focus areas of core design, nuclear fuel, and emergency core cooling.
"GE applauds the bold leadership and commitment of the Canadian government and the provinces who have been strong advocates for nuclear power," said Heather Chalmers, president and CEO of GE Canada.