The City of Ottawa has announced the successful proponents for the Stage 2 light rail transit (LRT) system, which now carries an expanded budget of $4.657 billion.
A technical briefing was accompanied by a report that outlines the results of the Request for Proposal (RFP) process for Council approval. The report will go to Council on March 6. Once approved, construction will begin in 2019 to extend the O-Train farther south, east, and west and is anticipated to open in stages starting in 2022 with full construction completion date in 2025.
Stage 2 is made up of two projects extending the Confederation and Trillium Lines totalling 44 kilometres of new rail and 24 new LRT stations. It will extend the existing Trillium Line south to Riverside South with a link to the Ottawa Macdonald-Cartier International Airport, and it will extend the Confederation Line, scheduled to open this spring, farther east to Trim Road and west to both Moodie Drive and Algonquin College.
The Stage 2 project is funded by the Government of Canada, the Province of Ontario, and the City of Ottawa. The project has been divided into three separate contracts, the Confederation Line Extension (including east and west extensions) as a Design-Build-Finance (DBF), and the Trillium Line South Extension as a Design, Build, Finance, and Maintain (DBFM) Project, and a Memorandum of Understanding for 38 Vehicles, the construction of the Belfast Yard Maintenance and Storage Facility expansion, and for civil and vehicle maintenance and lifecycle.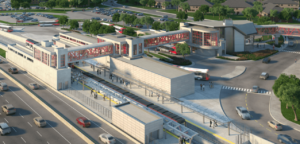 East-West Connectors (led by Kiewit and Vinci) has been recommended as the private sector partner for the Stage 2 Confederation Line Extension, which adds 12.5km of new rail and five new stations in the east, extending the line from Blair Station to Trim Station, and 15 km of new rail and 11 new stations in the west, extending the line from Tunney's Pasture Station to Moodie and Baseline station.
TransitNEXT (led by SNC-Lavalin) has been recommended as the preferred proponent to design, build, finance and maintain the Stage 2 Trillium Line Extension, which adds 16 km of new rail and eight new stations extending the line farther south from Greenboro Station to Limebank Station, with a link to the Ottawa Macdonald-Cartier International Airport. The preferred proponent will also be responsible for upgrading the existing stations as well as maintenance for the existing infrastructure and rolling stock.
Funding for the project will be supported through $2.366-billion in federal and provincial funding grants, as well as gas taxes, transit taxes, development charges, and additional municipal revenue sources.
The preferred proponent's submissions indicate staggered construction completion dates with the Trillium Line South Extension completed in 2022, with the Confederation Line east and west extensions opening in 2024 and 2025, respectively.