The B.C. Ministry of Transportation and Infrastructure announced that permanent repairs to Coquihalla Highway 5 are complete after it was washed out during unprecedented flooding two years ago.
"Climate-resilient highways are crucial for British Columbia. The province has improved infrastructure to handle more frequent extreme-weather events in the future," said Rob Fleming, Minister of Transportation and Infrastructure. "Today, we are honouring the efforts of British Columbians who worked to rebuild after the atmospheric river event, two years ago. Thank you to the Nlaka'pamux communities, Silyx Nation, Peters First Nation and Yale First Nation along with their monitors, for their support through the washout and rebuild process; and to the many contractors, unions, ministry and road-maintenance staff who worked to rebuild this piece of highway that is so important to the movement of goods in our province."
The repaired highway features six new climate-resilient bridges built in place of the ones that were lost in November 2021.  The six bridge spans located at three different locations have been rebuilt to handle extreme weather. The new permanent bridges are now finished at Bottletop Bridge, 50 kilometres south of Merritt, and Jessica Bridge, 20 kilometres north of Hope. The bridges at Juliet, 53 kilometres south of Merritt, were completed earlier this year.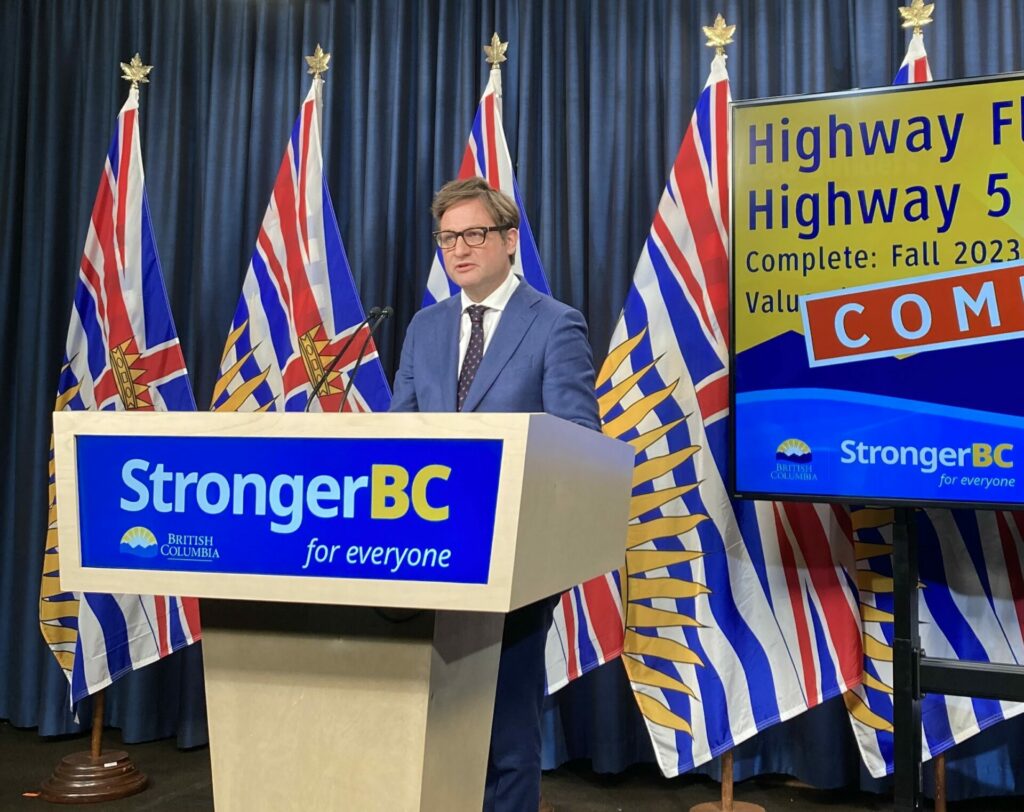 Ryan Tones, district manager for Kiewit, said: "The ability to successfully complete this work ahead of schedule is a testament to the experience and expertise of the skilled workers, construction professionals and design engineers in British Columbia. The emergency and permanent repairs to the Coquihalla Highway demonstrate the benefits of alliance-contracting models and the challenges we can overcome when working together. We are grateful for the guidance we've received from local First Nation communities throughout the process and to have helped make a key transportation corridor more resilient for years to come."
KEA5, a joint venture between Kiewit Infrastructure British Columbia and Emil Anderson Construction, completed the bridges two months ahead of schedule.
The new bridges are built to withstand high water levels by using deep-pile footings and longer spans. Large rock protection has been added to protect the bridges from erosion and scour. Trees, shrubs and grasses have been planted to encourage stream-side re-vegetation and support overall restoration of aquatic and land habitat.
Repairs to highways damaged in the floods are progressing well across southwestern B.C. In addition to the completion of the full rebuild of Highway 5, two of the three bridge replacements on Highway 1 are underway at Nicomen and Falls Creek. Design of the third bridge replacement at Tank hill is underway with construction expected to start next year.  The ministry is working with local First Nation communities to fully re-build Highway 8 between Merritt and Spences Bridge. On Vancouver Island, permanent repairs are complete at the Tunnel Hill section of the Malahat that was washed out by flooding.
Featured image: Bottletop Bridge, 50 kilometres south of Merritt, is one of six new climate-resilient bridges built in place of the ones that were lost in November 2021. (BC Ministry of Transportation and Infrastructure)