The Quebec Ministry of Transportation has selected a consortium to rehabilitate the 1.5-kilometre Louis-Hippolyte-Lafontaine tunnel in Montreal.
The $1.143 billion design-build-finance contract has been awarded to Renouveau La Fontaine, which consists of three companies: a 50-50 joint venture between France-based Vinci subsidiaries Eurovia and Dodin Campenon Bernard and Quebec-based Pomerleau. 
The rehabilitation work aims to improve tunnel safety, optimize traffic and promote car-sharing and public transport. The work will be carried out between early 2021 and July 2025 and will include the following:
Tunnel: Repairing the structure; installing new fire protection facings; landscaping and architectural finishes; modernizing all electrical, electromechanical, and supervisory infrastructure; and, deploying new technologies to increase operator and user safety.
Access roads: Widening the A20 motorway with the addition of a new bus and car-sharing lane, as well as rehabilitating 25 km of pavement (on the A25 and A20) and an interchange.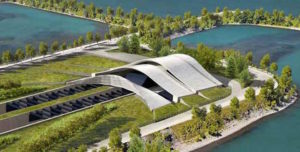 Image of the tunnel project from Vinci.
The financing package includes a bank loan from a syndicate of five Canadian banks and a Japanese bank. The federal government will contribute $427 million to the project while the cities of Montreal and Boucherville are contributing $3 million and $1.1 million, respectively.
The tunnel was opened in 1967 and is the longest underwater structure in Canada, covering a distance of 1.5 km beneath the Saint-Lawrence River. It is a critical transport corridor for the Montreal area, linking the eastern part of the Island of Montreal to the city of Longueuil. Approximately 120,000 vehicles travel through the tunnel on a daily basis.
To view a video about the project click here: