The governments of Canada and Ontario, the United Counties of Stormont, Dundas and Glengarry (SDG), and the Municipality of South Dundas marked the official unveiling of the new Morrisburg Roundabout & Streetscape.
"Roads in good shape are essential to the growth and prosperity of our rural communities," said Francis Drouin, MP for Glengarry-Prescott-Russell. "Working with our provincial, regional and municipal partners, we are building and maintaining the roads rural Canadians rely on every day to safely reach their destinations. The Morrisburg Roundabout is the result of a successful partnership that will beautify and secure a key intersection in our region, to the benefit of all residents."
The $4.6-million project to replace the former lighted intersection with a new roundabout is now complete. The project was partially funded through the Rural and Northern Infrastructure Stream of the Investing in Canada Infrastructure Program. The Government of Canada and Government of Ontario contributed over $3 million, as well as investments totalling $1.6 million from SDG and South Dundas.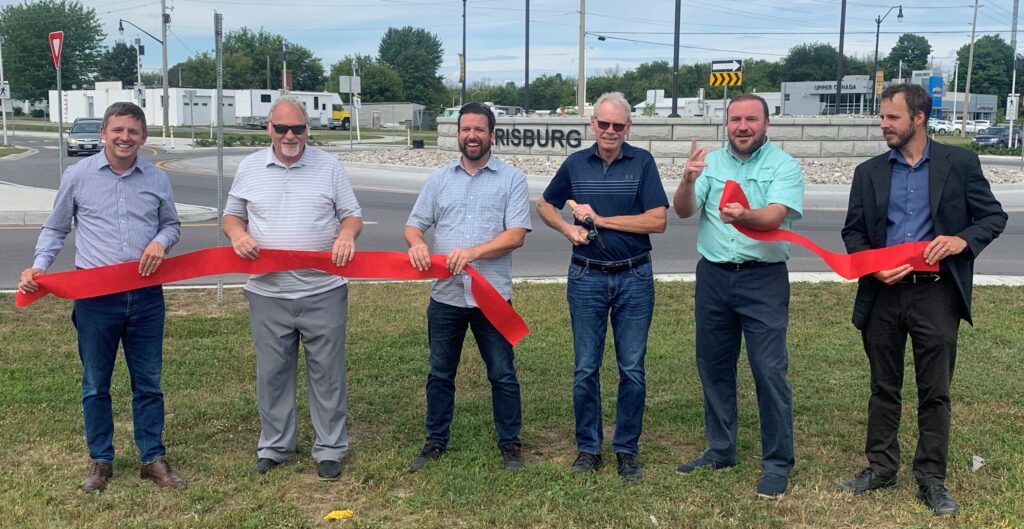 The project has resulted in the construction of the roundabout, a centre display for flags, the reconstruction of much of County Road 2 in Morrisburg, entrance reconstruction for property and business owners on County Road 2, and streetscape work including decorative light standards, a multi-use path and crosswalks.
"This project reiterates the Municipality's commitment to our community. Not only does it benefit our residents with safer walking paths and the beautification of our Main Street, but it also works to promote our downtown as destination for visitors," said Mayor Steven Byvelds. "The investment has supported our downtown business owners and our community as a whole."
The construction began about a year ago and and Coco Paving was selected as the contractor for the project.
"The United Counties of SDG administers one of the largest rural road networks in the province," said Warden Carma Williams. "This project has long been a priority for our Transportation Services department. The Counties, by way of its sizeable investment, understands how improvements to traffic hubs can benefit the motoring public, as well as nearby businesses and property owners."
Featured image: (United Counties of Stormont, Dundas and Glengarry)