The Association of Consulting Engineering Companies – Canada (ACEC-Canada) handed out the 54th annual Canadian Consulting Engineering Awards at a celebration in Ottawa, that included five Special Achievement Awards, singled out from among the Top 20 Award of Excellence winners.
"By pushing boundaries and delivering ground-breaking solutions to the problems we face, these consulting engineering firms are paving the way forward in the field of engineering," said John Gamble, President and CEO of ACEC. "Consulting engineers have the remarkable opportunity and responsibility of shaping Canada's future. Their work greatly contributes to a growing economy and thriving neighbourhoods in every corner of this country – as celebrated ACEC members, this year's award winners are doing just that. Their achievements are a testament to their unparalleled ingenuity, as well as their dedication to building stronger and more sustainable communities."
The top prize, the Schreyer Award, went to Stantec for the Calgary International Airport East Deicing Apron.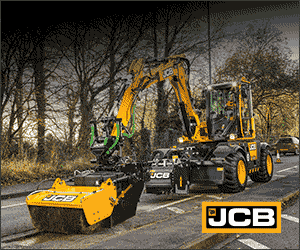 Three other special awards were announced at the celebration for four projects:
The Engineering a Better Canada Award – Hedgehog Technologies for the Fort Severn First Nation Solar Array in Northern Ontario.
The Tree for Life Award – Associated Engineering (AE) for Phase 1 of the Blatchford District Energy System in Edmonton.
Ambassador Award – AECOM for the Gordie Howe International Bridge Environmental Management Program; and Entuitive, for the Buddy Holly Hall of Performing Arts and Sciences in Lubbock, Texas
ACEC-Canada also presented the 2022 Beaubien Award to Richard Tiller, CEO of Tiller Engineering, for his lifetime contributions to consulting engineering; and the 2022 Allen D. Williams Scholarship to Tia Hill of AE.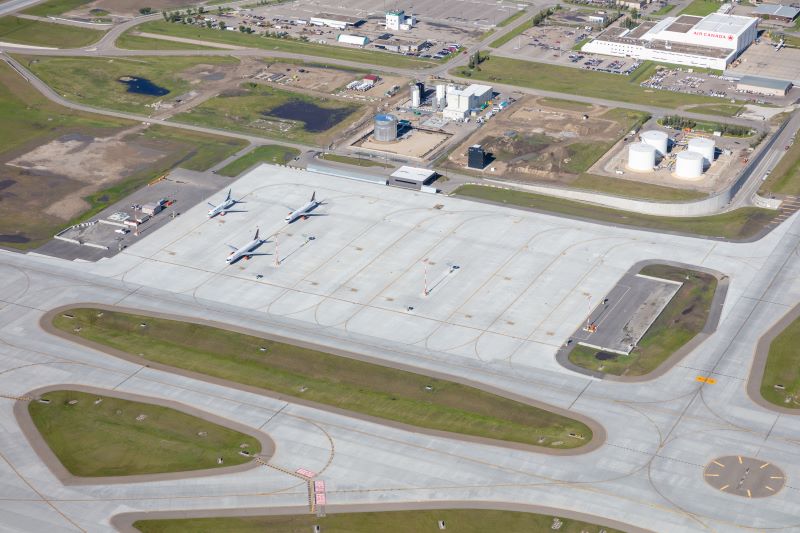 Schreyer Award
Calgary International Airport East De-icing Apron – Stantec Consulting Ltd.
The Calgary Airport Authority needed a centralized de-icing facility to improve operational efficiency. Stantec designed the East De-icing Apron with a diversion structure to treat glycol runoff. The project successfully reduced average taxi times from 40 to 17 minutes, improved passenger experience, and reinforced the Airport Authority's environmental stewardship. This project allows the airport to be self-sufficient in recycling spent glycol and removes the chemical treatment burden off the City of Calgary.
"It's an honor to contribute to a project that provides global and local benefit. Locally, we've reduced waste with the added benefit of reducing glycol through recycling. Globally, the reduction in de-icing time means more flights can leave on time from YYC, of key importance with current pressures on air travel." – Dave Crawford, P.Eng., Senior Associate.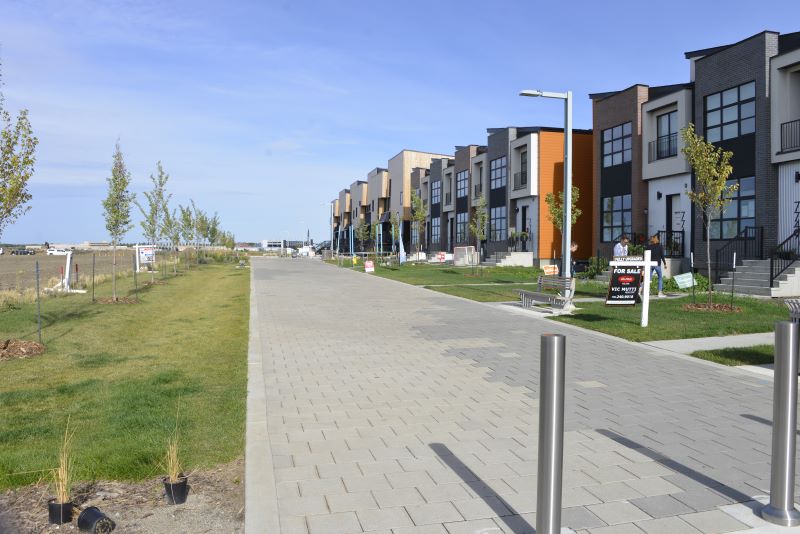 Tree for Life Award
Blatchford District Energy System – Phase 1 – Associated Engineering
With the closure of its municipal airport, the City of Edmonton sought to develop the 536-acre area into an environmentally friendly community. Associated Engineering collaborated with the city to design Blatchford Neighbourhood's District Energy Sharing System, powered by renewable energy for heating, cooling, and hot water. The largest system of its kind in Canada, homes employ heat pumps to share unused energy, reducing greenhouse gas emissions. Sustainable by design, Blatchford's visionary neighbourhood District Energy Sharing System provides residents with energy from renewable sources and ensures the community's energy resilience.
"The Blatchford Neighbourhood exemplifies a community of the future, today, in Edmonton. Blatchford's residents enjoy a sustainable lifestyle, with the amenities to live, work and play in this carbon-neutral neighbourhood, powered by renewable energy." – Owen Mierke P.Eng., Manager, Community Infrastructure.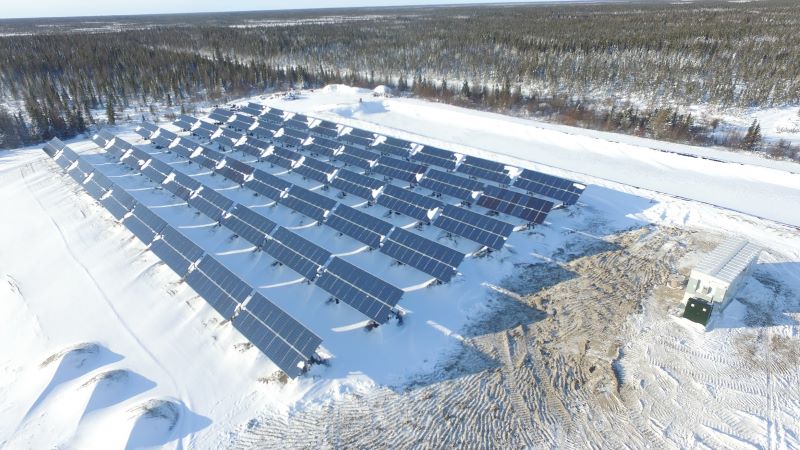 Engineering a Better Canada Award
Fort Severn First Nation Solar Array – Hedgehog Technologies
The Fort Severn First Nation wanted to complete a 300-kW solar array to offset the remote community's energy demand. Hedgehog Technologies led the project management, engineering, and coordination of logistics. In collaboration with the First Nation, community training programs were developed to support the array's maintenance after completion. This project showcases how renewable energy can operate on microgrids and that First Nation communities can independently manage their own energy needs. By using advanced technology, Fort Severn First Nation improved their ancestral connection to the ecosystem while forging strong partnerships required to make this project successful.
"Today, we are not just celebrating a Fort Severn First Nation success story but also a blueprint for other remote communities to follow. receiving the Award of Excellence is a reminder about the power of community-building." – Dr. Michael Wrinch, P. Eng., F.S. Eng., PMP, Founder & President.
Ambassador Award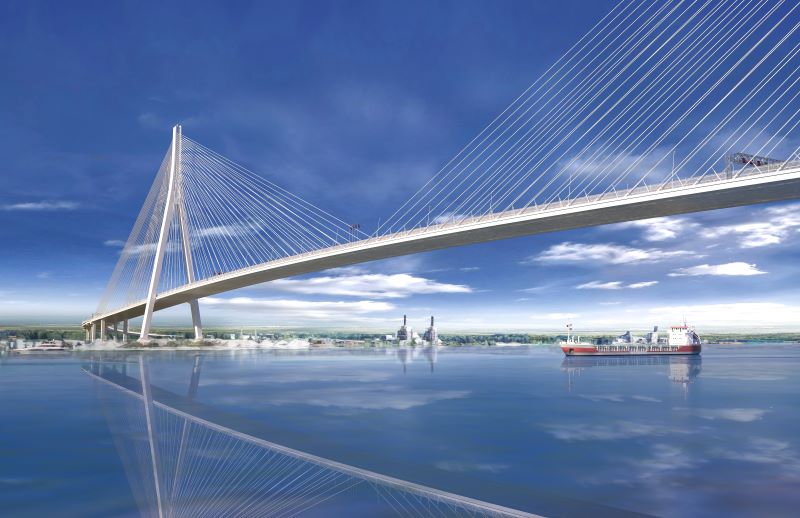 Gordie Howe International Bridge Environmental Management Program – AECOM Canada Ltd.
AECOM, as a member of Bridging North America (BNA), is lead designer on the Gordie Howe International Bridge working on behalf of Windsor-Detroit Bridge Authority (WDBA). Establishing the Environmental Management System (EMS) was a complex process that needed to satisfy environmental regulations from Canada, the U.S., Ontario, and Michigan. In addition to the complex regulatory framework, the EMS follows the requirements of various environmental assessments that were completed in the project planning stage which spanned over a decade. Together with WDBA and BNA, AECOM's environmental team developed and implemented an award-winning, ISO Certified Environmental Management System that meets Canadian and American regulatory requirements, one of the first P3 projects in Canada to achieve this certification.
"We are extremely proud of this award for developing and implementing an Environmental Management Program that effectively mitigates negative impacts and drives regulatory compliance during design and construction of the Gordie Howe International Bridge. This honour truly reflects our commitment to creating sustainable legacies and delivering a better world." – Bruce McCuaig, MPA, Senior Vice President, Transportation Business Lead for Canada.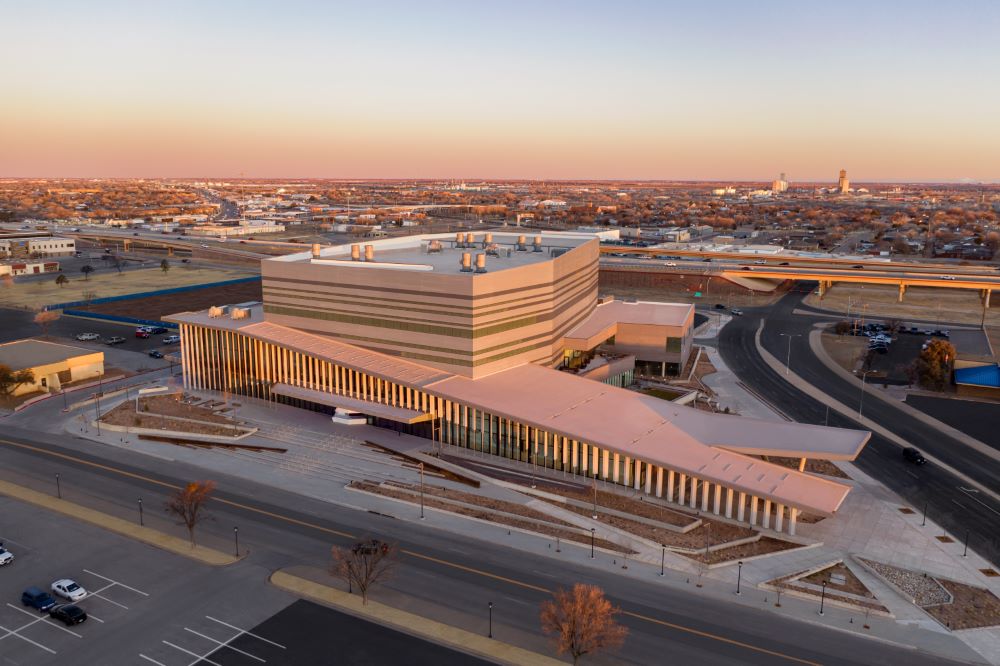 The Buddy Holly Hall of Performing Arts and Sciences – Entuitive
The Buddy Holly Hall of Performing Arts and Sciences in Lubbock, Texas, is a world-class venue which fulfilled the aim of creating a hub for the arts and culture community. Collaborating with the Lubbock Entertainment and Performing Arts Association and a talented team of AEC professionals, Entuitive's structural engineers designed the over 2,000-seat theatre and main lobby including the monumental staircase. With two world-class theaters, a multi-purpose room, a ballet studio, and a bistro, the Hall anchors the cultural arts district and serves as a catalyst for downtown revitalization.
"The Buddy Holly Hall is an amazing venue and was a truly unique, community-building project. Entuitive was privileged to collaborate with a world class team of AEC professionals on the project. It is an incredible honor to have our work recognized with a Canadian Consulting Engineering Award of Excellence." – Barry Charnish, P.Eng., Principal.
2022 ACEC-CANADA TOP 20 AWARDS OF EXCELLENCE WINNERS:
BUILDINGS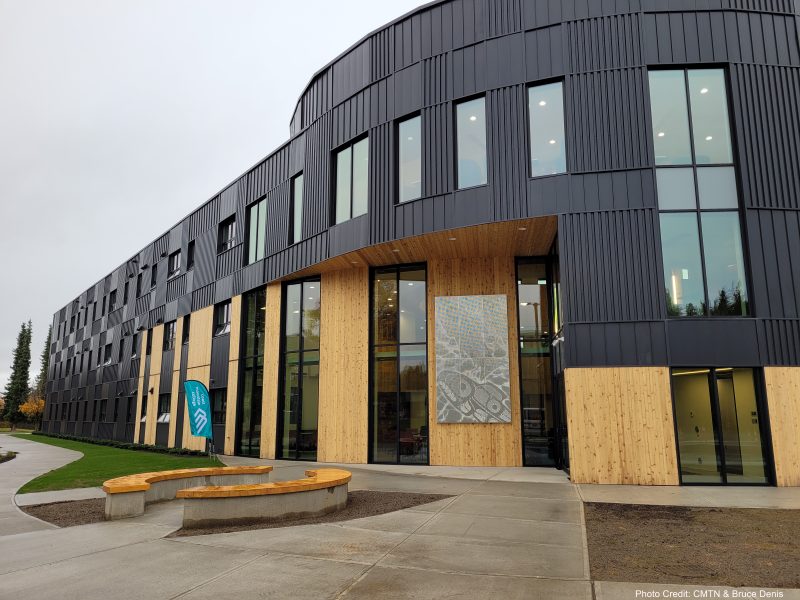 Wii Gyemsiga Siwilaawksat Student Building – Morrison Hershfield
Wii Gyemsiga Siwilaawksat Student Building at Coast Mountain College in Terrace, BC integrates light wood framed modular housing units with a site-built, mass timber central atrium. The new culturally supportive building exceeds goals for durability and energy efficiency. Morrison Hershfield's extensive energy modeling and airtightness testing resulted in a high-performing building envelope that exceeds BC Energy Step Code 4 energy requirements in a Northern coastal climate and contributes significantly to the residence being net-zero ready.
"Having a role in creating this beautiful, durable, energy efficient and culturally supportive space for Coast Mountain College students was our privilege. To win an Award of Excellence is a special honour that we share with the College and the entire project team." – Anthony Karakatsanis, P.Eng., President & Chief Executive Officer.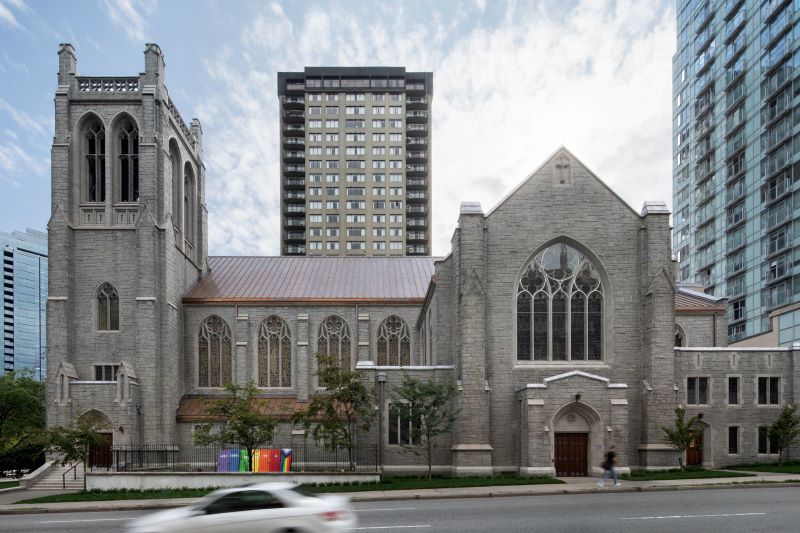 St. Andrew's Wesley United Church Heritage Conservation and Seismic Upgrade –RJC Engineers
RJC Engineers led the renewal of St. Andrew's Wesley United Church, a notable Vancouver landmark originally built in the early 1930s. The structure's long-term future was preserved through key improvements to seismic resiliency, envelope durability, and occupant safety and accessibility. Through a concerted heritage restoration process, the revitalized exterior thoughtfully reflects the building's heritage while the restored interior renews its original glory for generations to come.
"We are thankful for the honour bestowed by CCE, resulting from this one-of-a-kind project to revitalize a heritage landmark in the City of Vancouver. The St. Andrews Wesley United Church is now an enhanced image of its original glory. A well-oiled team dynamic between Owner, Consultant, and Constructor played a critical role in the success of the project." – Dennis Gam, M.Eng., P.Eng., Principal.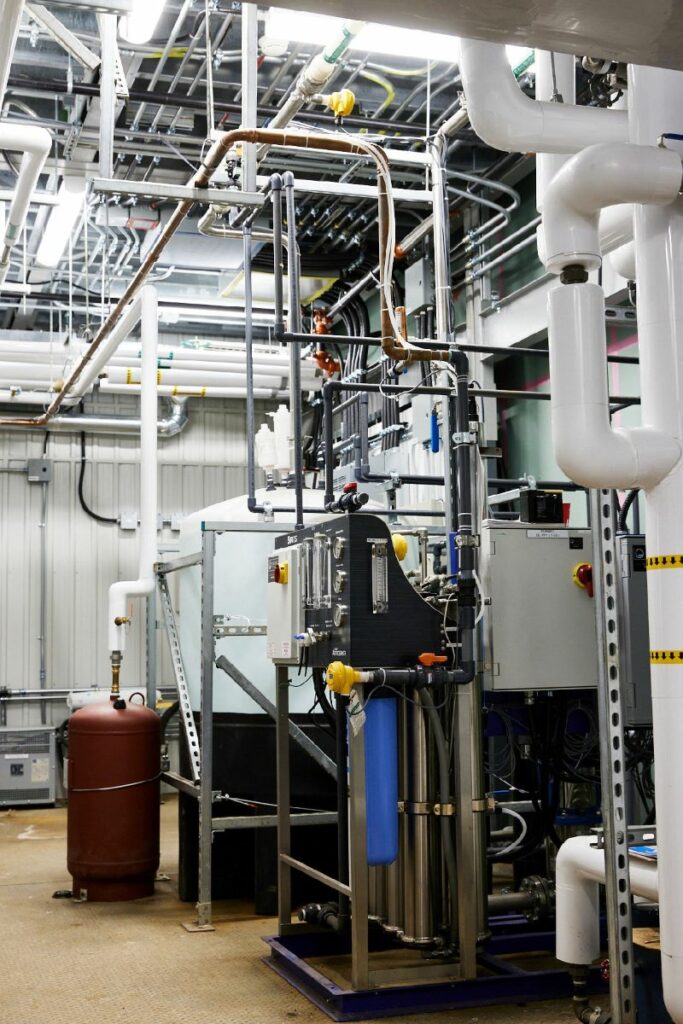 Unité de Stérilisation Mobile pour le CISSS des Laurentides – gbi
gbi was chosen to design a mobile medical device reprocessing unit, a first in Quebec for this type of equipment. This extraordinary project required ingenious solutions, as it included its installation at the Mont-Laurier Hospital, then its relocation and installation at the Saint-Jérôme Hospital. The mobility of this equipment is a real innovation that allows the modernization of two workplaces, while continuing this essential service for hospitals.
"For the second year in a row, gbi is honored to receive an Award of Excellence from the Association of Consulting Engineering Companies of Canada. This award recognizes the know-how of our people and the selected project allows two hospitals to have access to mobile and flexible facilities. This recognition is a source of pride for gbi" – Pierre-Samuel Beaudoin, Engineer, Vice President, Strategic Consulting and Senior Partner.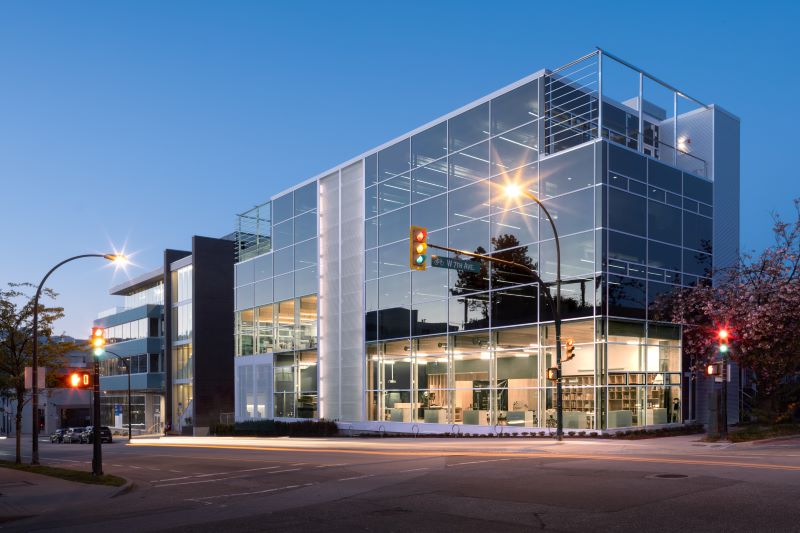 Fast + Epp Home Office Building – Fast + Epp.
Fast + Epp's four-storey home office building embraces design elegance and stimulates curiosity – traits the firm has become known for. The office serves as a 'living laboratory' with new ideas and technologies being tested both during construction and throughout the life-cycle of the building. With an emphasis on promoting employee wellness and productivity, the building combines the latest in sustainable design strategies while taking full advantage of the spectacular mountain views to the north.
"We are honoured to receive this award for our Vancouver Home office, which we accept on behalf of our talented team and project partners. This project allowed us to push the boundaries on innovation and help us build on our legacy of delivering high-end, architecturally expressive structural projects." – Paul Fast, P.Eng., Struct.Eng., P.E., F.I.Struct.E., IngKH (de), Hon. AIBC, Founding Partner.
TRANSPORTATION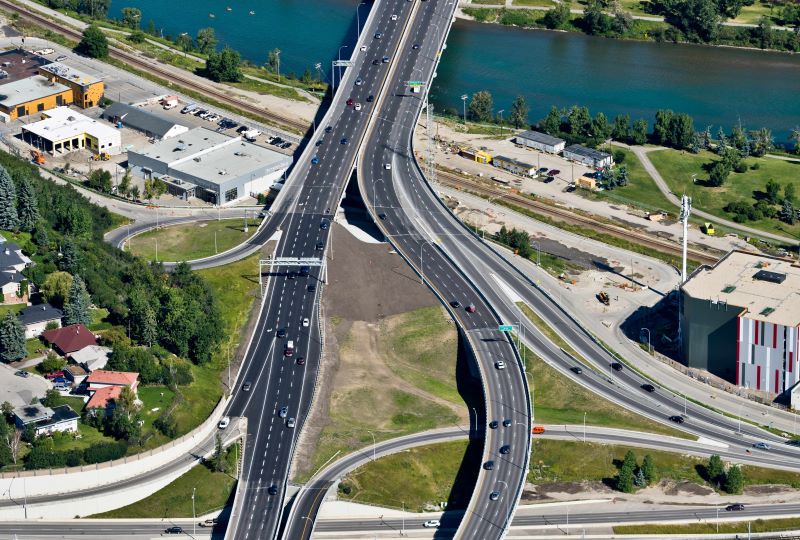 Crowchild Trail Bow River Bridge Widening and Rehabilitation – AE
Associated Engineering's innovative design for rehabilitating and widening Calgary's Crowchild Trail Bow River Bridge Interchange improves functionality and safety and extends the life of the 50-year-old structure. The cost-effective, sustainable solution reused the existing structure, reducing demolition, limiting waste, and protecting the river. The complex traffic staging plan mitigated interruption to commuters, railways, and businesses. Widening the bridge and realigning the access ramps relieves congestion, decreases emissions, and improves the experience for over 100,000 daily commuters.
"The cost-effective restoration of the Crowchild Trail Bow River Bridge Interchange has improved the quality of life for commuters and established an efficient transportation network that will serve Calgary for generations to come." – David Nagy, MBA, P.Eng., National Practice Lead, Alternative & Major Projects.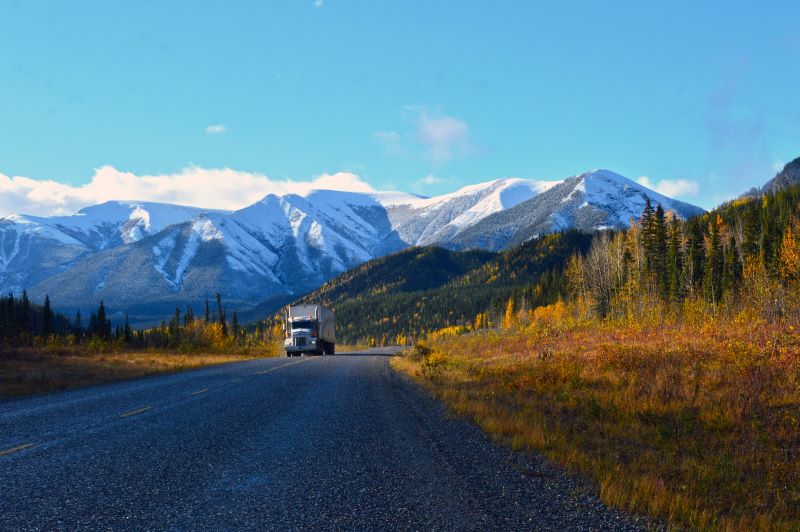 Adapting Infrastructure in the Face of Extreme Weather – Tetra Tech
Public Services and Procurement Canada teamed with Tetra Tech to develop a multi-disciplinary study on the infrastructure vulnerability and risk assessment due to changing climate and extreme weather events for the Alaska Highway. The project posed many unique challenges, including the incorporation of 410 culverts, 74 geotechnical assets, and 24 bridges into the asset decision-making framework. While the study's approach addresses unique characteristics of the strategically important Alaska Highway corridor, the principals can conceptually be applied to any asset network, anywhere in the world.
"We are honored to be recognized for our commitment to Leading with Science® and leveraging technology to provide innovative, sustainable solutions for our clients and communities. On behalf of everyone at Tetra Tech, I thank our client for their continued confidence in our work and our dedicated staff—the best engineers, scientists, and technical specialists—for their dedication to adapting infrastructure due to climate change". – Bernie Teufele, P.Eng., Division President.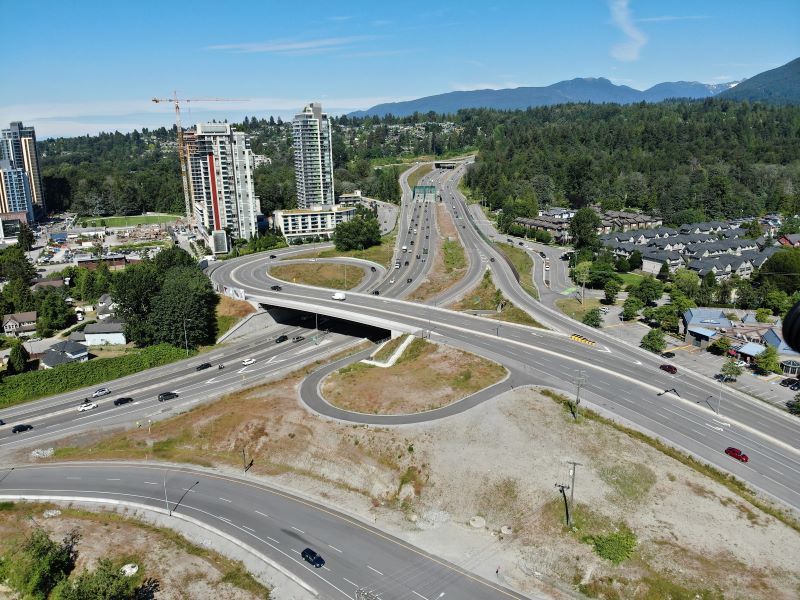 Highway 1 Keith Road / Mt. Seymour Parkway Interchange – McElhanney
The Highway 1 Keith Road Mt Seymour Parkway Interchange Project & Lynn Creek Connectivity Improvement Program relieved highway congestion, improved road safety, and addressed municipal connectivity and active transportation needs for the communities of Vancouver's North Shore. The project had a constrained timeline tied to funding with no room for budget overruns. McElhanney successfully delivered this project for the Ministry of Transportation and Infrastructure using innovative design and scheduling strategies, while incorporating significant environmental and active transportation improvements to the region.
"We are honoured to receive the CCE Award of Excellence in Transportation and would like to thank all our partners who made this project happen. It is always rewarding to work on projects that align with McElhanney's values and support the Ministry of Transportation and Infrastructure's vision for a safer BC." – Kevin Leggett, P.Eng., Coordinating Professional Engineer / Highway Engineer of Record.
WATER RESOURCES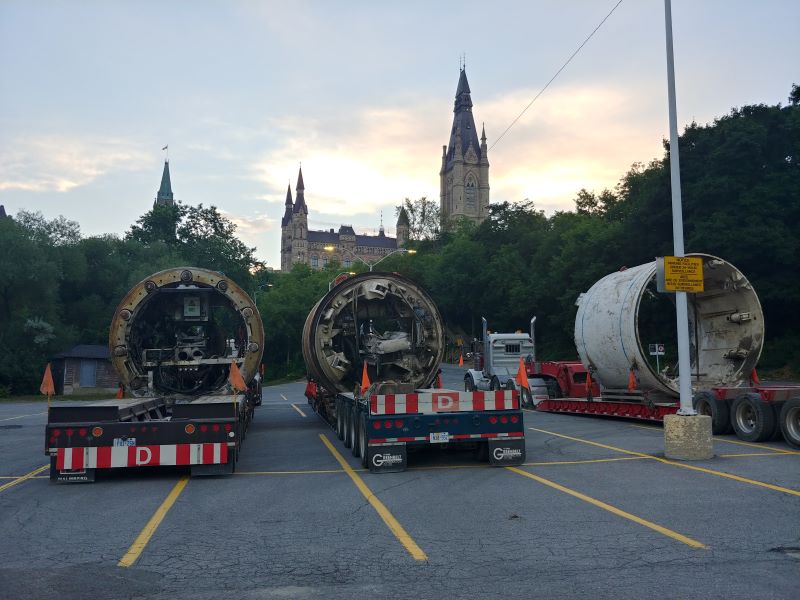 Combined Sewage Storage Tunnel – Stantec
Stantec designed a multi-purpose Combined Sewage Storage Tunnel (CSST) facility for the City of Ottawa to reduce the volume and frequency of combined sewer overflows into the Ottawa River. The CSST also provides basement flood risk reduction in Centertown, twins an existing critical sewer through the downtown core, and is integrated with the City's real-time-control system thereby providing operational resiliency. It acts as a flow conveyance and storage tunnel that drains by gravity, thus avoiding a costly dewatering pumping station. The CSST will improve the health of the Ottawa River, benefiting the City of Ottawa, the environment and the people who live, work, visit, and play in our nation's capital.
"It's a great honour to have our CSST project recognized by the Canadian Consulting Engineering Awards. For over a decade, many talented people have contributed to the development and implementation of the CSST. It was a privilege to help the City of Ottawa make the CSST a reality for our community." – Adrien Comeau, M.Eng., P.Eng., CSST Project Manager, Vice President, Wet Weather Practice Leader.
ENVIRONMENTAL REMEDIATION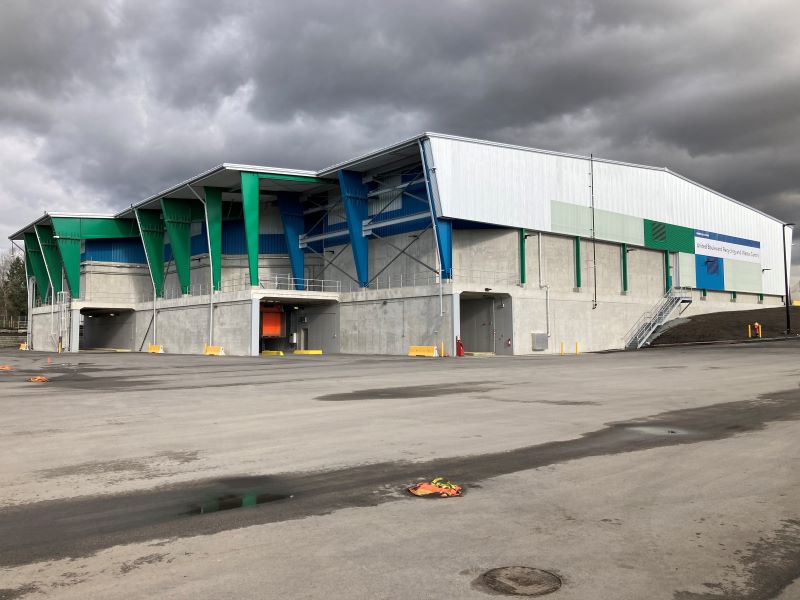 United Boulevard Recycling and Waste Centre – Morrison Hershfield
Metro Vancouver's new United Boulevard Recycling and Waste Centre sits on 6.2 hectares of brownfield on the former Coquitlam Landfill. Morrison Hershfield's project team implemented innovative and sustainable engineering solutions, overcoming unique geotechnical, structural and environmental challenges and allowing for the safe and reliable development of this large centre on a closed landfill site. This facility has a vital role in Metro Vancouver's efforts to reduce waste, meet ambitious regional recycling goals and move the city to a circular economy.
"Working with Metro Vancouver to complete this project was a tremendous opportunity to transform an underutilized brownfield site into a state-of-the-art recycling and waste centre and directly support the region's climate and environmental goals. We are honored to be recognized with an Award of Excellence and share it with all our project partners." – Don McCallum, P.Eng., Vice President, Environment.
NATURAL RESOURCES, MINING, INDUSTRY AND ENERGY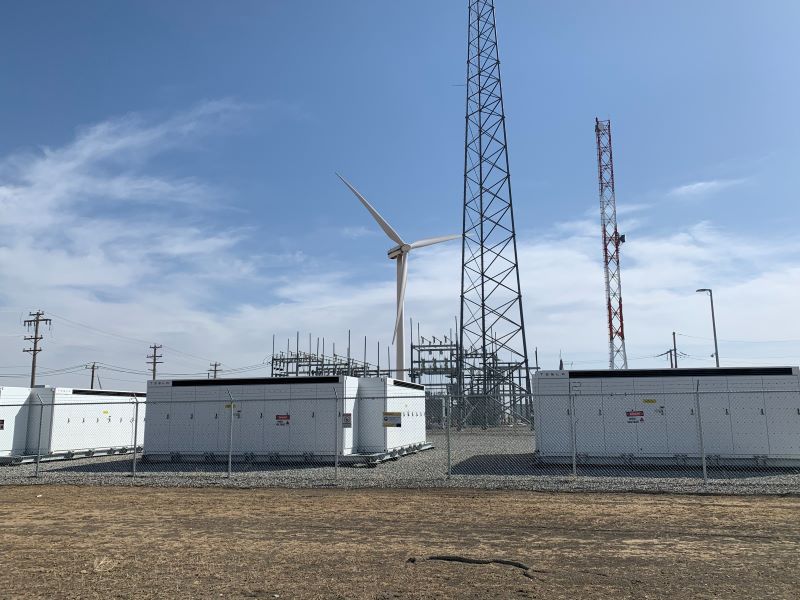 Alberta's First Grid-scale Battery Energy Storage System – BBA
BBA participated in the design and commissioning of Alberta's first grid-scale battery energy storage system (BESS). The facility, owned by TransAlta Renewables, captures and stores energy generated at the 66 megawatt Summerview II wind farm. It then discharges it to the grid during times of peak demand or low wind conditions. With a nameplate capacity of 10 megawatts, a total energy storage capability of 20 megawatt-hour and 2-hour charge time, the facility officially began its commercial operations in October 2020. By supporting decarbonization, this innovative project has set Alberta on a course for a greener future.
"We're deeply honoured to be receiving an Award of Excellence for this valuable project, which successfully demonstrates the use of utility-scale BESS for renewables. It paves the way for more widespread use of green power generation and supplies emission-free energy. It's truly ground breaking for the future of all Canadians." – François Vitez, P.Eng., Director, Renewable Energy / Renewable Power, Management.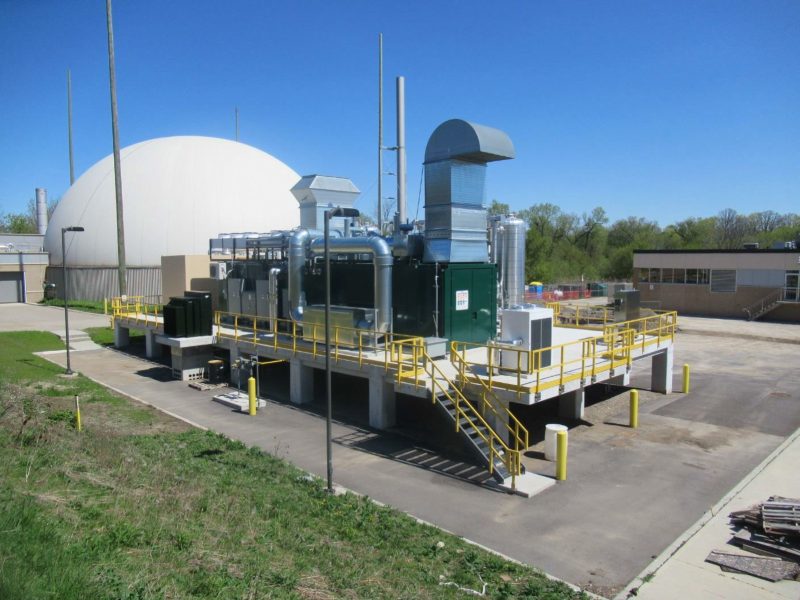 Region of Waterloo Cogeneration Facilities – Jacobs
The Region of Waterloo operates several conventional wastewater treatment plants that produce digester gas as a waste by-product. CH2M HILL Canada Limited, a Jacobs Company, led the design and services during construction for the installation of cogeneration facilities at the Region's three largest plants: Waterloo, Kitchener, and Galt. The team delivered a practical and innovative design that offered economic and environmental benefits to the Region and its residents. By capturing the energy in digester gas and using it to generate both electricity and heat, the Region took a substantial step towards a greener future.
"Jacobs is ecstatic to receive an Award of Excellence from ACEC for the Region of Waterloo Cogeneration Project. This award is a celebration of an effective partnership between the Consultants, Client and Contractor to successfully deliver an exciting project." – Elizabeth Kroonen, B.Sc., Manager of Projects.
PROJECT MANAGEMENT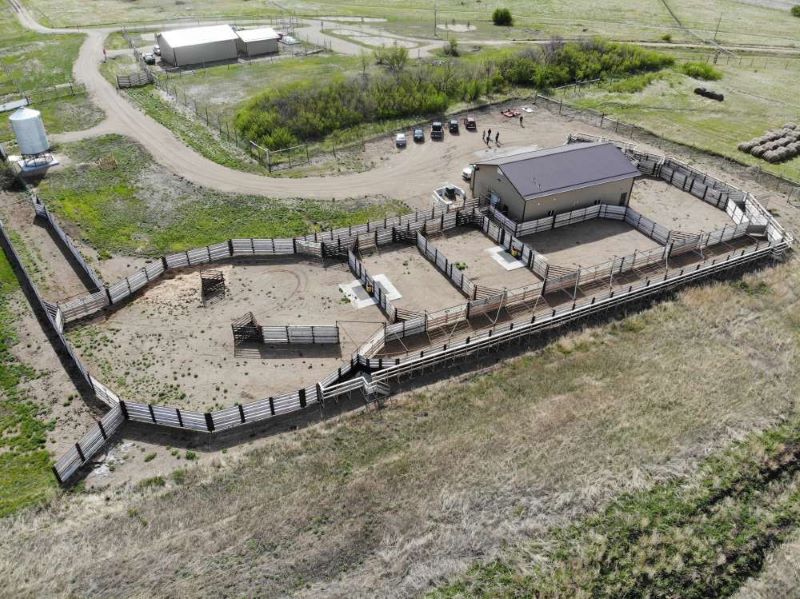 Wanuskewin Heritage Park Bison Facilities – AE
Wanuskewin Heritage Park near Saskatoon is a world-renowned research centre that honours Indigenous peoples and educates visitors about local Indigenous tribes. The Park Authority saw an opportunity to return a resident herd of genetically pure bison to the Northern Plains. Associated Engineering was retained to design, tender, oversee construction, and manage the $3.5 million program to build facilities to protect and care for the bison. In 2019, 150 years after they were driven near extinction, bison returned to the Northern Plains.
"The unique collaborative effort between the Wanuskewin Heritage Park Authority, First Nations, Elders, stakeholders, and our project team, was critical to achieving a shared vision, development of the site, and the positive environmental impact on the land." – Doug Thomson, P.Eng., Senior Project Manager.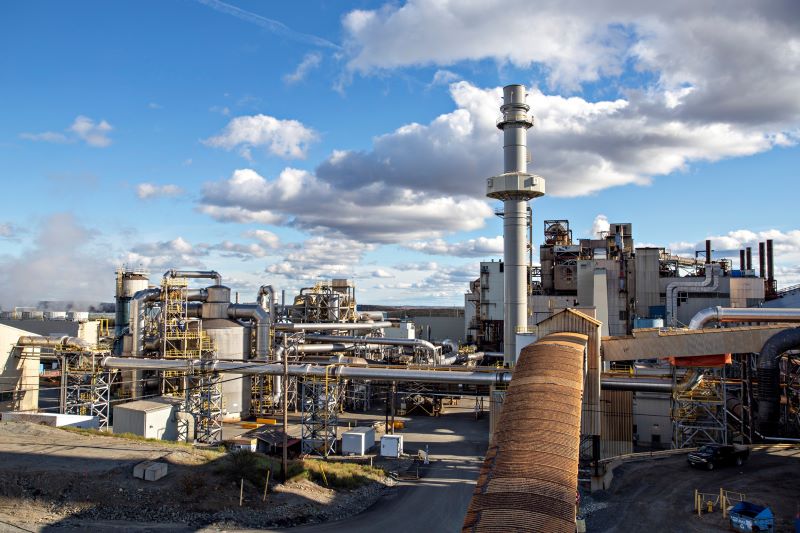 Process Gas Project and Particulate Emissions Project – Hatch
Glencore engaged Hatch to provide full engineering, procurement, and construction management services on $288 million in process upgrade projects to reduce sulfur dioxide (SO2) and particulate emissions at their smelter in Sudbury, Ontario. Critical to the long-term viability of their Sudbury Integrated Nickel Operation, these projects were complex, brownfield executions that involved modifying virtually every major smelter process while maintaining 24-hour-per-day operations. Community engagement was critical, particularly given the project's goal to reduce environmental impacts.
"Our team is very proud to be recognized alongside our client, Glencore, for the achievements of this extraordinary project. The CCE Award of Excellence is a celebration of disciplined project management, the outstanding efforts of the individuals involved with this project, and the strong collaboration between our teams." – Ben Paille, PGP/PEP Project Manager and Darryl Pike, PGP/PEP Glencore Project Manager.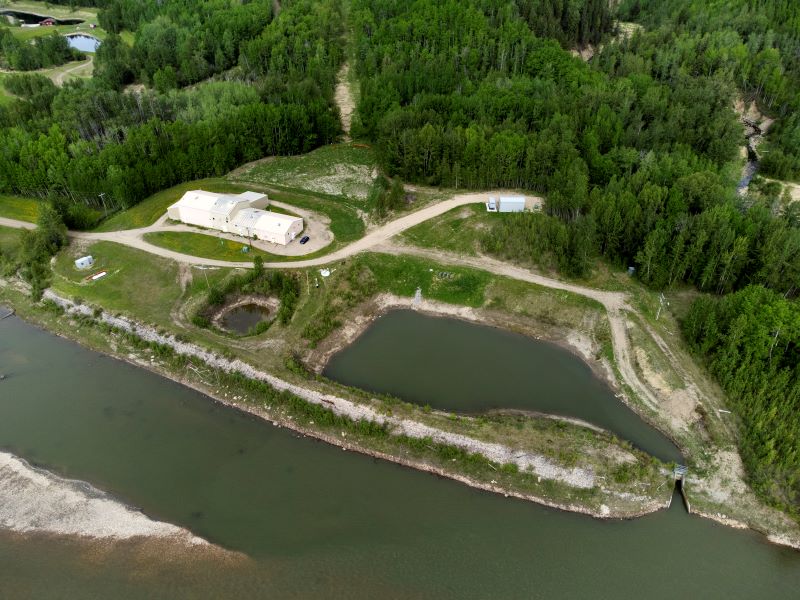 Drayton Valley Raw Water Pump Station – ISL Engineering and Land Services
The Town of Drayton Valley's original water treatment plant was used solely to pump raw water to their new water treatment plant. ISL designed and delivered a new pump station using the Canadian Construction Documents Committee (CCDC30) contract for Integrated Project Delivery, a first for a Canadian municipal infrastructure project. Designing and building a visually unobtrusive pump station on a flood plain carried substantial challenges. This project could only succeed with early collaboration and innovative thinking that challenged traditional methods. This revolutionary approach required leveraging ISL's experience, ensuring construction informed design and eliminating the preventable adversity often seen in traditional project deliveries.
"Being recognized with an ACEC Award of Excellence is among the highest honours an engineering consultant in Canada can achieve – the award highlights our expertise, dedication, innovative thinking, and professionalism while bonding our team to our clients and communities through challenging project work." – Rod Peacock, P.Eng., President & CEO.
Stantec Inclusion and Diversity Program – Stantec
Stantec's Inclusion and Diversity (I&D) program recognizes the importance distinct perspectives and experiences have on delivering innovation and producing transformational work. The program not only focuses on driving I&D in Stantec's offices and projects, but also within the larger engineering industry and community. By providing a range of opportunities, resources, and events, the company encourages employees to take personal accountability and drive change internally and in the communities they serve.
"Stantec has always placed importance on creating opportunity by inviting, embracing, and celebrating differences. It is an honour to be recognized by the 2022 Canadian Consulting Engineering Awards, and this reaffirms our commitment to an Inclusion & Diversity program that is making a difference in our company and communities." – Asifa Samji, MBA, B.Sc., B.Tech, EVP and Chief People & Inclusion Officer.
Featured image: Buddy Holly Hall of Performing Arts and Sciences. (Casey Dunn/Entuitive)