The Government of British Columbia has announced major facility upgrades at Burnaby Hospital and two new patient-care towers, which will give people in this growing community faster access to better health care.
"Burnaby is growing rapidly, and the hospital needs to be upgraded and modernized to keep up. This significant investment will help deliver the health care people in Burnaby need in world-class facilities," said Premier John Horgan.
The redevelopment, which at more than $1.3 billion will be among the province's largest-ever health care investments, will impact every part of the existing hospital campus. It will add two new patient-care towers with new wards and operating rooms, a total of almost 400 beds (the majority in single rooms), a bigger emergency department, and a new cancer treatment centre. The last big upgrades at Burnaby Hospital happened more than 40 years ago.
"This project is an investment that will benefit patients, clients, staff and the community over the years to come. This development will touch every part of the existing hospital, to improve care and infection control, increase access to specialty services and incorporate capacity for the future," said Dr. Victoria Lee, president and CEO of Fraser Health.
In November 2017, the government directed Fraser Health to begin planning a complete redevelopment for the hospital – a significantly more substantive commitment than the conceptual renewal plan for the hospital announced in April 2017.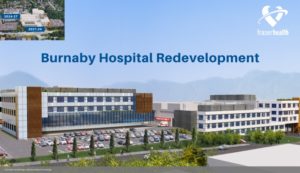 The redevelopment begins with a new six-storey, 11,858 square-metre, 78-bed, patient-care tower. The tower will include an upgraded mental health and substance use inpatient unit, and a new maternity ward to offer enhanced care for new parents and their families. The tower is expected to open in 2023, with construction starting in 2021.
The redevelopment will also upgrade the support facilities building on campus, creating a larger emergency department, increasing the number of treatment bays from 47 to 62, and adding a new medical device reprocessing unit. It will also add four new operating rooms, bringing the total to nine; as well as 18 new pre-operative and post-operative recovery spaces. These upgrades are expected to be complete by 2024.
The second patient-care tower will have 160 new beds and a state-of-the-art cancer treatment centre. It is expected to open in 2027. Detailed business planning for the tower is underway, with construction expected to begin in 2024.
The 297-bed Burnaby Hospital opened in 1952 and provides acute and emergency care, as well as general and internal medicine, general surgery, neonatal intensive care, palliative care and an adult mental health and substance use in-patient unit.
Burnaby is the province's third-largest city, and the number of patients requiring hospital care there is expected to increase almost 60 per cent by 2036.
Concept planning outlines a high-level vision, providing a preliminary cost estimate, and a framework for projected health services and infrastructure. The business plan confirms scope, cost estimate, procurement and timeline. All new hospitals in B.C. are planned to a LEED (Leadership in Energy and Environmental Design) Gold standard.