The Canada Infrastructure Bank (CIB) is helping to accelerate the reduction of greenhouse gas emissions in Ontario by making a $200-million loan available through a partnership with Enbridge Sustain to enable deep retrofits of large buildings.
Enbridge Sustain intends to leverage this capital to execute deep energy retrofit projects in existing buildings. CIB and Enbridge Sustain expect the total retrofit program value to be up to approximately $300 million.
"CIB's loan towards Enbridge Sustain's projects with Blackstone to retrofit large buildings will have a major impact on reducing greenhouse gas emissions. Deep retrofits, particularly in post-secondary education and hospital buildings are key to reducing energy use, lowering heating and cooling costs and supporting the environmental goals of building owners," said Ehren Cory, CEO, Canada Infrastructure Bank.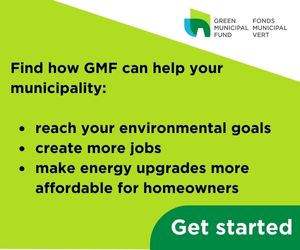 Projects will be developed and executed through a partnership between Enbridge Sustain and Blackstone Energy Services (Blackstone).
"This investment by the Canada Infrastructure Bank to retrofit large buildings in Ontario will help cut emissions and reduce pollution. The work that comes with these deep retrofits will create good jobs in the skilled trades and help reduce energy use – proving that building a clean economy is both good for workers and the environment," said Sean Fraser, Minister of Housing, Infrastructure and Communities.
The partnership will provide Enbridge Sustain and Blackstone customers, including but not limited to colleges, universities, multi-residential buildings and hospitals, with a suite of decarbonization solutions from design through construction, operation, and maintenance.
Blackstone and Enbridge Sustain will offer retrofit solutions such as the conversion of heating/cooling systems to geothermal, solar generation, electric vehicle infrastructure, heat recovery, smart building controls and backup power generation.
"We are excited to announce our collaboration with the Canada Infrastructure Bank (CIB) and Blackstone Energy Services to launch an initiative that offers a practical and affordable solution to large energy users such as universities, hospitals, municipalities, and multi-unit residential properties. This initiative aims to implement deep energy building retrofits that are expected to result in a minimum of 30% emissions reduction. Our collective efforts towards decarbonization are designed to contribute to a greener future for generations to come," said Mark Irvine, vice president, Unregulated Business, Enbridge Gas Inc.
"The Blackstone team is thankful for our new partnership, as it will aid in providing necessary capital to support our clients in their energy transition. With over 75 million square feet of decarbonization studies and action plans completed, many of our clients are poised to move forward implementing their green infrastructure projects. The CIB and Enbridge Sustain capital structure is truly unique, and their commitment to long-term energy-as-a-service agreements offer one of the best client solutions in the market," said Ryan Duffy, CEO, Blackstone Energy Services.
The retrofits will replace existing lower-efficiency equipment with new technologies aimed at driving long-term energy savings which are used to repay the initial capital costs.
The Enbridge Sustain agreement has pushed the CIB above $1 billion in financing towards sustainable building retrofits. Buildings are one of the largest sources of GHGs in Canada, accounting for around 18 per cent of total emissions.
The proposed transactions described in this announcement are subject to the completion of definitive agreements among CIB, Enbridge Sustain, and Blackstone.
Featured image: Large building undergoes energy retrofits with the installation of solar panels. (CNW Group/Canada Infrastructure Bank)