The Canada Infrastructure Bank (CIB) is collaborating with Public Services and Procurement Canada, Transport Canada, and Infrastructure Canada to examine the transportation needs of Asia-Pacific Gateway transportation network, including New Westminster Rail Bridge in Vancouver, British Columbia.
The transportation network under examination encompasses ports, rail, highways, and intermodal facilities connecting western Canada with Asia-Pacific economies.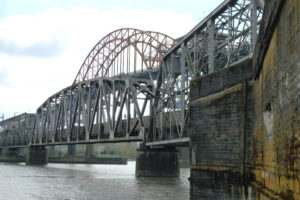 The New Westminster Rail Bridge is a swing bridge that crosses the
Fraser River and connects New Westminster with Surrey, B.C.
The capacity and feasibility study is part of the CIB's Project Acceleration initiative and will:
Identify the traffic needs of the New Westminster Rail Bridge and develop options for the crossing
Improve understanding of the Asia-Pacific Gateway transportation network
Review infrastructure bottlenecks in British Columbia's Lower Mainland and the Prince Rupert transportation networks
Develop recommendations for improving the capacity of the British Columbia Lower Mainland, Prince Rupert and New Westminster Rail Bridge transportation networks
Large projects such as these generally take years to plan and develop and are often delayed due to limited availability of development funding. The CIB's funding is expected to expedite assessment work.
For further information: