Construction will start this fall to expand the Trans-Canada Highway through Salmon Arm from two to four lanes and build a new Salmon River Bridge.
A $29.7-million contract for the 1st Avenue SW to 10th Avenue SW four-laning project has been awarded to Springline Construction Services Ltd. of Delta, British Columbia. Hiring local workers will be made a priority through the Community Benefits Agreement.
"This major work to add lanes, a multi-use pathway, a bridge and a new interchange to Highway 1 through Salmon Arm will make the route safer and easier to navigate for local residents," said Catherine McKenna, federal Minister of Infrastructure and Communities. "It will also improve traffic flow along one of British Columbia's key trade and commuter corridors."
Along with widening 2.2 kilometres of Highway 1 to four lanes with a concrete median barrier, work on this segment of the Salmon Arm West project will include:
construction of a new Salmon River Bridge;
construction of an interchange with frontage and side-road connections;
construction of frontage roads to consolidate access to and from Highway 1; and
a multi-use pathway for pedestrians, cyclists and people using other forms of active transportation.
"Providing good-paying construction jobs to local workers will help us build out of the COVID-19 pandemic and provide a boost to the regional economy," said Claire Trevena, B.C.'s Minister of Transportation and Infrastructure. "Large-scale infrastructure projects like this one are more important than ever, as the financial benefits are felt not just in the construction sector but the supporting sectors as well."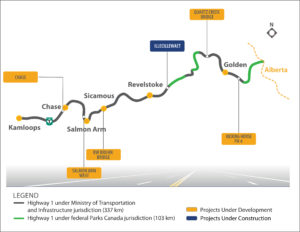 Highway 1 – Kamloops to Alberta – Four Laning Project
"The City of Salmon Arm is pleased that the TCH Salmon Arm West Project tender has been awarded, and we look forward to the start of the next phase of the project," said Alan Harrison, mayor of Salmon Arm. "The planned four-laning and other improvements will provide a number of benefits to our community, including a new bridge over the Salmon River, a completed access road on the south side of the highway, wider shoulders and a separated path that will increase safety and mobility for pedestrians and cyclists, and enhanced access through the corridor. We appreciate the work that the Ministry of Transportation and Infrastructure has done to bring this to fruition."
Provincial construction sites have protocols and policies in place following the requirements of the provincial health officer to help prevent the spread of COVID-19. These measures include physical distancing and other protocols to ensure worker and public safety.
Under the Community Benefits Agreement, the project will prioritize hiring local workers, Indigenous peoples, women, people with disabilities and other under-represented groups who are qualified to do the work in a safe, welcoming environment. Additionally, this project will provide opportunities for Red Seal apprentices to work on site and gain the experience they need to launch careers in the trades.
For further information about this project, click here.
To learn about job opportunities for this project, click here.