EllisDon has announced several new appointments to its senior level management. These appointments have been established to ensure sufficient oversight and seamless operations across EllisDon's current areas, services and market sectors, while continuing its strategic growth and seeking new opportunities.
Kieran Hawe has been appointed as Chief Operating Officer and Executive Vice-President, Construction Operations. He will be responsible for EllisDon's core Buildings, Civil and Industrial divisions, across Canada and abroad, an operation currently with annual revenues in excess of $4 billion.
Hawe joined EllisDon in 2000 and has over 20 years' experience in commercial, institutional, and residential construction on major projects in Canada, the United States, Germany, Ireland, and Singapore. He began his career in the mechanical and electrical field and progressed to project and construction manager roles. In 2013 Kieran was appointed Toronto Area Manager and Vice-President, and quickly progressed to Area Manager and Senior Vice-President, Central Canada. In 2016 Hawe was appointed to Executive Vice-President, Buildings Division, where he was overseeing every area across Canada.
Joey Comeau has been appointed as Chief Operating Officer and Executive Vice-President, Capital Division. He will be responsible for diversification into new sectors including private sector equity partnerships and real estate development, as well as new geographic markets while continuing to pursue opportunities in infrastructure through public-private-partnerships.
Comeau has over 15 years' experience in investing across a diverse set of asset classes including transportation, healthcare, justice, civil, and real estate. Since joining the company in 2014, he has been directly involved in closing 20 projects with a total capital value over $11.5 billion. During that timeframe, he has been responsible for establishing business lines for financial advisory and asset management as well as an equity partnership for its public-private partnerships.
Expanding upon her role as Chief Strategy Officer, Jody Becker has been appointed as Senior Vice-President, Services. With overall responsibility for the growth of EllisDon as a high-performance building operator, maintenance provider, and technology integrator, Becker will oversee the operations of Facilities Services, Energy & Digital Services, Project Management, Furniture, Equipment & Design, and Sustainable Building Solutions. As part of her leadership of Project Management, she will also continue to oversee EllisDon's growing operations in the Middle East.
Becker joined EllisDon in 2007 as Counsel after a successful career in construction litigation. She was subsequently appointed to the role of General Counsel before becoming Chief Strategy Officer and Senior Vice-President of Emerging Markets. Recognized by Women in Infrastructure as a shortlisted Outstanding Leader, Jody was also a recipient of the Canadian General Counsel Associations Tomorrow's Leader and most recently was shortlisted for their award for business achievement.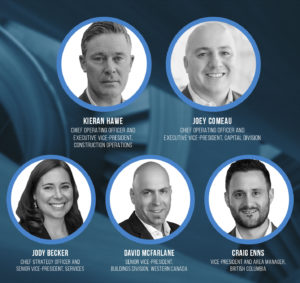 David McFarlane has been appointed to Senior Vice-President, Buildings Division, Western Canada, responsible for overseeing the Vancouver, Edmonton, and Calgary area offices.
McFarlane started his career with EllisDon in 1996 as a co-op student and has held many positions including various field operations positions and Director of Construction Management in Toronto in early 2004. In 2007 he relocated to Vancouver, B.C., to assume the role of Vice-President and Area Manager for the Pacific Region. McFarlane serves as Chair of the Vancouver Regional Construction Association.
With McFarlane stepping into his new role, Craig Enns will be taking over as Vice-President and Area Manager for British Columbia.
In 2005 Enns completed a professional Internship with EllisDon's Construction Sciences group while he worked toward his engineering degree at Queen's University. After spending some time as a structural consultant, he rejoined the company in 2008 as a Project Manager to help build and grow the British Columbia office. In recent years Enns has taken on a more senior role as a Construction Manager overseeing key projects and pursuits, and has acted as a mentor to help develop the area's growing team.