The criteria for success in delivering B.C.'s largest secondary school
In 2017, Graham was selected as the design-build provider to replace the City of New Westminster's 70-year-old high school with a state-of-the-art facility for 1,900 students and 200 staff. At the time, the biggest construction-related challenge in B.C.'s Lower Mainland was the scarcity of trades due to the hot building market. But what was regarded as manageable for an experienced builder delivering a large and richly programed project, would soon spiral into labour shortages, construction slowdowns, sub-contractor interruptions and murky supply chain disruptions—all brought about by the COVID-19 pandemic.
Still, New Westminster Secondary officially opened to students in January 2021. In addition to the standard school attributes, it has a robotics facility, a three-court gymnasium, and a theatre. Deliverance from the effects of COVID-19 was not brought about by any silver bullet. There was no swinging for the fences. Instead, explains Justin Marchiel, Graham's senior project manager on the $78.8-million, three-and-a-half year-long project, it was more like a game of inches. Keeping the project from bogging down and getting it over the finish line on-budget and to its revised deadline, says Marchiel, was accomplished through able construction management, quick response to emerging issues, and item-by-item problem-solving.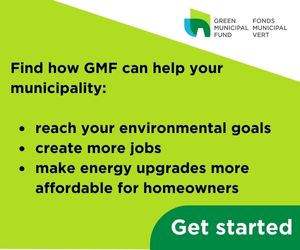 Experience in design-build contracts
The project's complexity came not from size or physical layout but from its diversity of features, or "program," in industry terms. The client and owner had laid out their many needs and wants in a statement of requirements and an "indicative design" document. This required, for example, complicated wiring to support a network of devices and range of equipment—everything from woodworking tools and dust extraction, to theatre lighting and IT networking—as well as numerous wall finishes ranging from writeable surfaces, wood art display walls, wood panelling, and painted gypsum wallboards.
Graham's deep experience with large, complex projects and sophisticated contracting models like design-build, and its access to top-flight partners—in this case KMBR Architects and Planners—met the foundational criterion for project success. "We've successfully executed countless schools and other types of large-scale projects, so our company has a proven internal process in place to deliver on an owner's vision," explains Marchiel. After the qualifying round organized by InfrastructureBC, a competitive field of proponents submitted detailed proposals that met the statement of requirements, including an initial design, and Graham was awarded the project.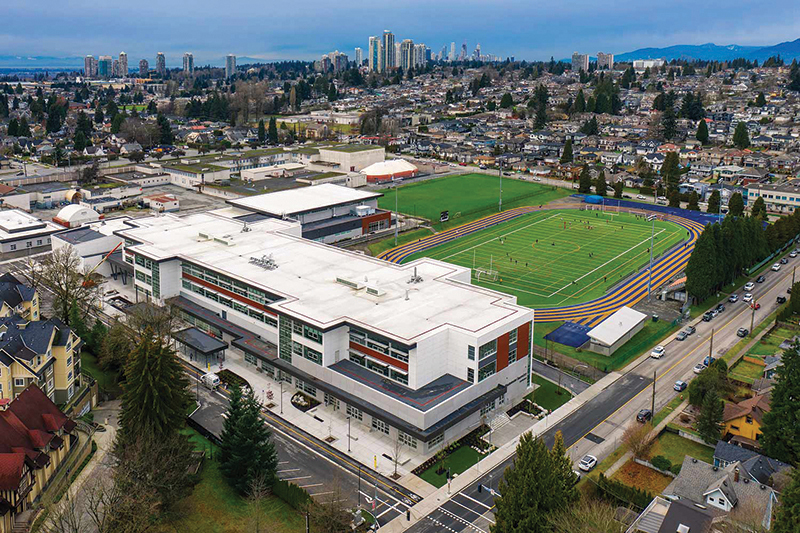 Making the most of the format
"Recognizing potential obstacles at the design stage and solving them on paper is a far better way of doing things than having to go through contortions to develop innovative work-arounds during execution," is how Marchiel puts it. Because it places a project's architecture/design/engineering provider and the construction contractor on the same team, the design-build contract model opens a path to avoid "constructability" issues stemming from design elements that are naïve, impractical, or too costly.
The team, says Marchiel, buckled down early in the 10-month-long design phase and put a lot of time into using the design-build opportunity to its full potential. "Vancouver-based KMBR have a longstanding history of doing educational facilities, designing many projects with many clients across B.C.," 
he says.
Operating flexibility
B.C.'s hot construction market required particular attentiveness to managing trades and subcontractors, making the most of availabilities, paying immediate attention to delays, and minimizing the ripple effect on other trades. Accordingly, Graham deployed more management resources to the site than usual. After COVID descended, even more would be needed. "After the challenges of lining up and scheduling trades, we were finally underway and had established good momentum, and then the pandemic hit. Things either shut down or slowed down. Some companies shut down, and some workers were no longer available," recalls Marchiel.
The response was to maintain the extra resources brought in earlier. "We broke the building down into smaller pieces and deployed sector-by-sector project managers and superintendents," says Marchiel. "One each for the exterior, for the main floor/gymnasium, and for the upper floors." The result, he says, was that "they were able to spend time really focusing and dealing directly with the details. This allowed the trades to deal with someone directly, so that we could identify emerging problems early on and manage them more swiftly and in detail."
Following all of this, recalls Marchiel, 
"… the supply chain issues sprang up. How do we deal with not having writeable surfaces for the classroom walls, or specialized wall finishes? Audio components? Kitchen equipment? Any number of items were suddenly not available when we actually needed it. Our writeable surfaces were coming from China and we were unsure when they would actually show up."
Such problems have brought thousands of construction projects and renovations to a virtual standstill. Determined that New Westminster Secondary wouldn't be one, Marchiel says the team decided "to finish all the physical systems, put all the switches and wall plates on, test and prove the systems, and then when the wall finishes finally showed up, take the plates off again, finish the walls, and replate everything." In the end, the original writeable surfaces were replaced with alternate ones. "But at least we knew the building would work," notes Marchiel.
Focus on creating the best program
Although the school board's list of requirements was detailed, it still couldn't account for everything, and Marchiel says the Graham team wanted to do better than spec wherever possible. "We looked for better products than what the owner had specified," says Marchiel. "We upgraded the fibre cement siding to phenolic panels and worked with our concrete partner to develop a thin lightweight concrete panel that was more innovative than traditional pre-cast." Inside, he says, "We spent a lot of time on acoustics. We did trial assemblies, building test walls between classrooms several different ways to make sure we had a highly-performing acoustic wall."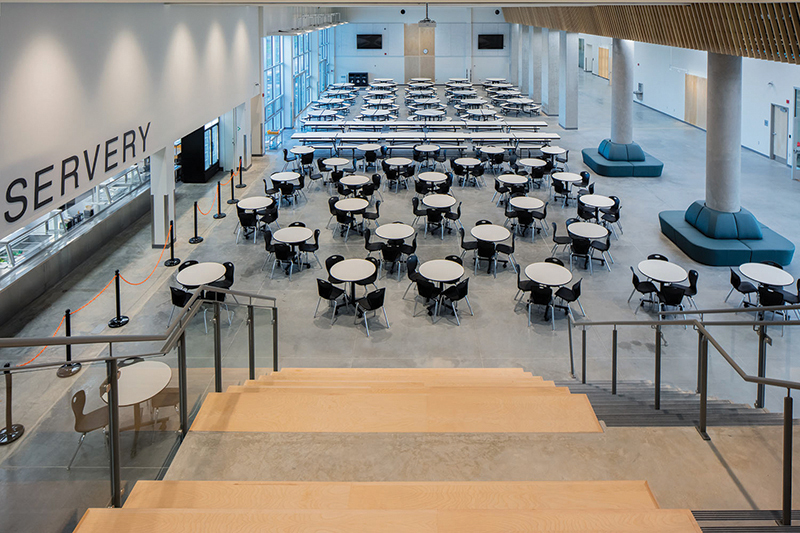 Communication
By summer 2020 it was clear the coming school year would not be a normal one and the two sides agreed upon a revised opening of January 2021. There was a lot of stress, in part because there were so many concerned parties. "Not only did the school's owner have to work with us, they had to report to the school trustees and the school board, and reassure them that we were making progress and that we would be able to open and meet the revised plan to open in January. They in turn also had to reassure concerned parents and students," says Marchiel.
What they got was the largest high school ever built in B.C. that meets LEED Gold standards, covers 236,000 square feet plus a separate IT and maintenance building serving the whole school district. LEED-related systems include energy-efficient boilers and HVAC systems, glazing on all exterior glass with heat-control shutters, water conservation measures, and use of natural light and LED options. The building's look takes inspiration from West Coast architectural styles, while optimizing the use of glazing.
New Westminster Secondary School holds an 18,500-square-foot gymnasium, 272-seat theatre plus a mini or "black box" theatre, full commercial kitchen called the "Servery," band/choir/recording studios, dedicated dance room, fully equipped tech-ed and shop spaces, eight science rooms including an engineering lab, 60 general classrooms, many multipurpose/flexible learning spaces, a wellness centre, welcoming centre, and an Indigenous Friendship Centre.
"It's always a wonderful experience, after living with a project for several years, to have people walk into the finished facility and see their eyes get big, them looking every which way and expressing awe at how great it turned out, how awesome it is, that's very gratifying," says Marchiel. "It's wonderful to know that New Westminster Secondary School is a great piece of new infrastructure that's embedded in this community and will serve thousands of people for many decades."
[This article originally appeared in the May/June 2022 edition of ReNew Canada.]
This case study was submitted by Graham Construction & Engineering Inc. of Calgary, Alberta.
Featured image: Graham was selected as the design-build provider to replace the City of New Westminster's 70-year-old high school with a state-of-the-art facility for 1,900 students. (Graham Construction)